A Missouri sex offender wanted in a manhunt for allegedly holding his former girlfriend in a locked wooden box, is now accused of killing the woman and her son.
James Horn Jr., of Sedalia, has been named the prime suspect in the slaying of 46-year-old Sandra Kay Sutton and 17-year-old Zachary Wade Sutton.
According to local media, the bodies of Sandra Sutton and her son were found by her brother inside a Clinton residence at about 4:00 a.m. Thursday morning. The residence where they were found belongs to an unidentified family member, police said.
Authorities in nearby Sedalia -- a city roughly 90 miles southeast of Kansas City -- have been searching for the 47-year-old since April 30, the day police say Sandra Sutton told them she escaped from the Sedalia residence where Horn had allegedly held her captive since January.
"When officers contacted the victim, she told them the suspect routinely locked her in a wooden box inside the residence where they lived," a spokesperson for the Sedalia Police Department told The Huffington Post earlier this month.
Officers obtained a search warrant for the residence, and upon executing it, they allegedly found a large wooden box that was "consistent" with a description the victim had provided police.
The box, according to a probable cause affidavit, was 100 inches long, 48 inches wide and 52 inches tall. It was soundproof and contained several items, including a sleeping bag, reading materials and a bucket full of urine and feces.
Prosecutors charged Horn with kidnapping, armed criminal action and unlawful use of a weapon.
It remains unclear whether authorities in Sedalia offered Sandra Sutton any form of protection following her escape. Contacted by HuffPost on Thursday, a woman who answered the phone at the police department said they had no comment.
The Clinton Police Department said they were unaware Sutton was living in their community.
"We're still investigating those details," Sonny Lynch, assistant chief of police for the Clinton Police Department, told KSHB News. "We were not notified that she was in our community."
Questions are also being raised about how Horn, a convicted sex offender who was supposed to be on supervised release, allegedly managed to keep Sutton captive in his home.
According to Fox4kc.com, Horn spent more than a decade in prison for the kidnapping and rape of his ex-wife. He was also jailed three years for the rape and kidnapping of a former girlfriend.
Horn was released from prison in December 2011 and reportedly had no further run-ins with the law until Sutton's alleged kidnapping.
Authorities suspect Horn is hiding in the Sedalia area, and have cordoned off the streets surrounding his home. Schools in the area have also been placed on lockdown, according to The Sedalia Democrat.
Check back for additional updates.
Horn is described as a brown-haired white male, who is 5 feet 11 inches tall and weighs 175 pounds. Authorities said he should be considered dangerous.
Anyone with information on the whereabouts of James Horn Jr. is asked to contact the Sedalia Police Department at 660-826-8100 or the Clinton Police Department immediately at 660-885-2679.
Like Us On Facebook |

Follow Us On Twitter |

Contact The Author
Related
Before You Go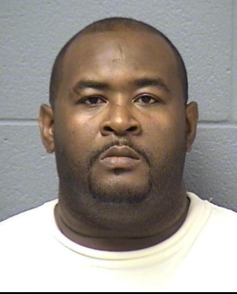 Marriages That End In Murder
Popular in the Community