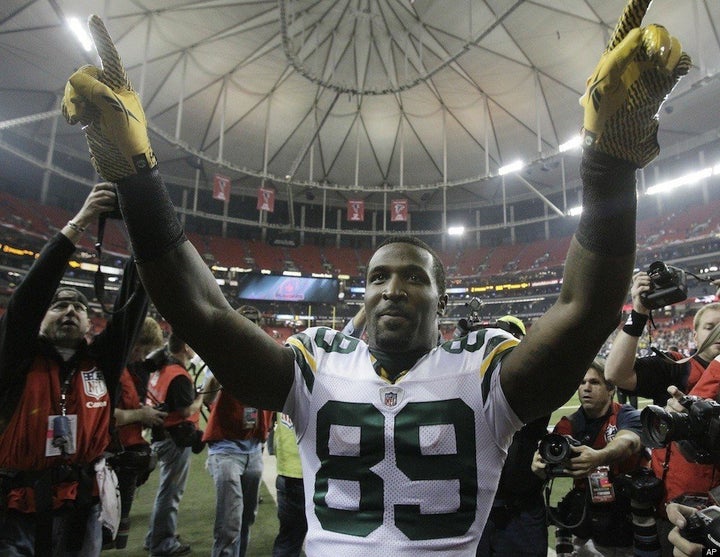 Football has gripped the nation's attention as it does each winter in the lead up to the Super Bowl. For one NFL player, the spotlight is a way to raise awareness about Americans living in poverty.
Green Bay Packers wide receiver James Jones recently opened up about growing up homeless and how his past informs his generous spirit today.
Jones told reporters Wednesday he was "homeless from coming out of the hospital until I was a freshman in high school." Now, the NFL star is enjoying a successful career with the Super Bowl-bound Packers, but he hasn't forgotten the struggles of his early life -- and he's doing what he can to help children in need.
According to Reuters, Jones explained,
"As a little kid, you don't understand why you are there. When I go back to these homeless shelters and talk to these kids, I let them know that it is not your mother's fault and better days are ahead."
Jones was eventually able to move in with his grandmother during high school. His athletic performance in basketball and football attracted a scholarship to San Jose University and he was later drafted by the NFL.
To consolidate his charitable efforts, Jones started a foundation to offer help to children in Jones' hometown San Jose, Calif. and his current city, Green Bay, Wisc. The organization partners with other nonprofits to support education, housing and other programs for poor and homeless youth.
Jones is also currently lending his support to the Brown County United Way by encouraging the community to donate to an anti-obesity campaign for children. Donors can text FITGB to 864833 to fund health initiatives for children in Green Bay.
Related
Popular in the Community