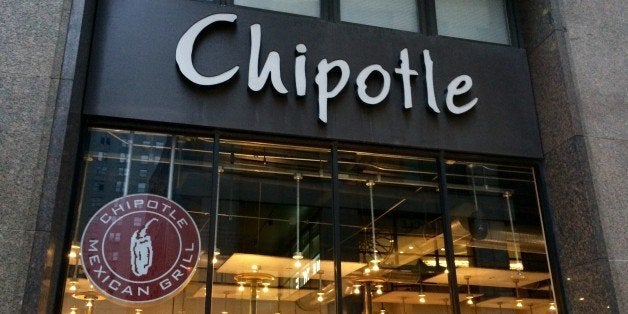 WASHINGTON -- Chipotle's right to purchase humanely raised pork is based on the same freedom that would allow a business to discriminate against LGBT individuals, according to a new op-ed from two GOP lawmakers. But much like a messy burrito from the restaurant chain itself, their argument quickly falls apart.
In a new op-ed in the Washington Examiner Wednesday, Sen. James Lankford (R-Okla.) and Rep. Randy Forbes (R-Va.) say business owners similarly should be allowed to make decisions based on their religious beliefs.
"It is crucial that the same freedom of conscience enjoyed by the leadership of Chipotle remain equally available to business owners of faith," they wrote. "Indeed, much more so, as freedom of religion is explicitly protected by the First Amendment. We cannot simultaneously laud the leaders of a business motivated by a commitment to environmental sustainability and discriminate against the leaders of a business motivated by religious belief."
The lawmakers don't name specific issues like LGBT rights in their op-ed, but opponents of same-sex marriage increasingly have been using religious freedom arguments to discriminate in hiring and service -- and as a member of the House of Representatives, Lankford himself opposed employment anti-discrimination legislation for LGBT individuals, claiming that being gay is a choice.
Chipotle scoffed at the suggestion its business decisions were similar to religious beliefs that could lead to discrimination.
"It's a pretty ridiculous comparison," Chipotle spokesman Chris Arnold told The Huffington Post. "Our decision not to serve pork that doesn't meet our standards isn't discriminating against any customers or group of customers."
The Human Rights Campaign, which advocates for LGBT equality, also slammed the comparison.
"Using Chipotle's business decision to not stock carnitas as a defense to give corporations having religious beliefs special legal protections is ludicrous," said David Stacy, government affairs director for the Human Rights Campaign. "It adds nothing and indeed trivializes a very serious debate about whether corporations should be able to refuse to hire some employees and turn away some customers based on who they are or who they love."
Both Forbes and Lankford have made national news before over controversial comments on LGBT issues. After Chick-fil-A came under fire in 2012 for anti-LGBT views held by its owner, Lankford posted to Facebook a defense of the company and "celebrated the company's demonstration of the 'freedom American private businesses' have to 'make their own decisions,'" according to ThinkProgress. In 2013, Forbes privately lobbied the National Republican Congressional Committee not to back gay candidates.
The "free exercise of religion" by business owners was also the basis for Hobby Lobby's case against the Obamacare stipulation that insurers pay for birth control, and recently in Arizona it was used to justify a bill that would have allowed businesses to deny service to anyone. (The Republican governor at the time eventually vetoed it.)
An aide for Lankford took issue with calling religion-based business decisions "discrimination."
"The word 'discrimination' has been thrown around a lot in today's culture, often incorrectly," the aide said. "What might be deemed discrimination by one group, is considered a decision made to further an organization's mission and values by others."
The aide also said, "The column says nothing about gays; it's about the importance of businesses being able to make decisions in line with their values. It's as simple as that."
Forbes did not return a request for comment.
This story has been updated to include comment from Lankford's aide.
Calling all HuffPost superfans!
Sign up for membership to become a founding member and help shape HuffPost's next chapter