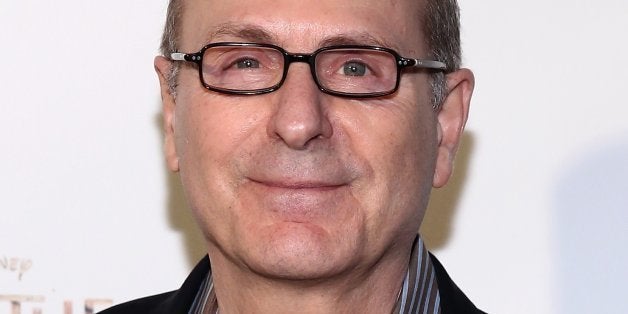 James Lapine is one of the great imaginations and interpreters in theater today but not everyone, more specifically Lapine himself, is so sentimental. In the past six months his contributions (Into the Woods, Falsettos, A New Brain) that have already advanced the art form will once again take center stage. However, even with him back at the helm, Lapine is in a balancing act to keep an eye to the future while being thoughtful with glances into his past.
"I feel like, why the fuck am I looking back? That's what I think. Why aren't I looking forward?" Lapine said with a laugh, the same week that the film adaptation of his 1987 musical with Stephen Sondheim, Into the Woods (now the sixth highest grossing musical movie of all time) was released in the U.S. on Blu-Ray and DVD. This re-imagined take on the show, with a screenplay written by Lapine and directed by Rob Marshall, is now the second version available. The original Broadway production, a fan favorite starring Bernadette Peters, was released on VHS in 1991.
As context for readers who appreciate, but may not be as well acquainted with the details of live theater, in addition to the Into the Woods film, chances are they have also seen or heard of Lapine's other projects, as well. He has authored some of the most revered stage works of the last 35 years and partnered with fellow giants, such as Stephen Sondheim and William Finn, to create cherished and critically-celebrated musicals, too (Into The Woods, Passion, Sunday in the Park With George, Falsettos). He also presides over them, ensuring that his vision is executed down to the last detail, serving as director for these and other original productions (Merrily We Roll Along, Golden Child, 25th Annual Putnam County Spelling Bee), as well as several of their revivals.
While Lapine has demonstrated fluidity throughout his career, producing a prolific body of work, when examined in totality, however, thematic trends appear. Intentional or not, they represent certain and distinct forms in his vast artistic style. Front and center through the '15/'16 theater season will be his talent as a book writer, librettist, director and collaborator on musicals that uncover universal threads in the difficult but poignant realities of human existence like death, love, uncertainty and disease.
Artists dream of having their works resonate as profoundly as Lapine's have. At the same time, it may be a double-edged sword to have the opportunity to revisit and reinterpret them after they've already made such an indelible impression on theater history. Like Seurat (the famed painter and a central figure in one of Lapine's collaborations with Sondheim) taking "another pass" at A Sunday Afternoon on the Island of La Grande Jatte, Lapine has been revisiting the resonance and relevance of every detailed point in his works that many fans consider close to, if not already, perfect.
However, like it or not, Lapine will have a hard time not reincarnating ghosts of the past. In addition to the Into the Woods film it was announced earlier this year that he has paired up with producer and president of Jujamcyn Theaters, Jordan Roth, to revive Lapine's 1992 musical, Falsettos, which he wrote with William Finn. He will also direct A New Brain (also written with Finn) for a five-performance run in the Encores! Off-Center series, which helps to bring new attention to underappreciated works. Also, while his own reinterpretations are taking shape, others are making similar efforts--including a stripped-down version of Into the Woods, produced by the Roundabout Theatre Company, which completed its run earlier this month. That production was rooted in a distinct departure from the standard setting in lush woods. Instead the creative team opted for minimal sets, costumes and instruments to bring out the essence and beauty of the piece. Therefore, the production challenged theatergoers to use their imaginations in exploring the patchwork of fairy tales that Lapine and Sondheim stitched together.
"No. I mean it's very flattering to have all these things happen," Lapine added. "But it is weird to kind of be looking back as it were. Personally, the things that I'm more interested in are the new things that I'm doing. On the other hand, I couldn't be more grateful that the things I've done in the past are still of interest and still being revisited, so it's kind of a good time."
However, Lapine went on to add more perspective, not about his individual shows, but a view of his work overall that may further surprise fans: "I just don't really think of career. I've never been driven by career... Some of the things I've done in my life, I've done to make money because I had to make money... and some things I did just because they were on my mind and they were of interest to me... some of the little plays I wrote."
Lapine's laidback approach is likely a reflection of the fact that he did not set out to be in, nor did he major in theater in college. Therefore, he didn't have an insatiable drive or a vision of who, what and where he had to be in his career by a certain point. Rather, he approached it with love and appreciation, less any strings attached.
"I went into the theater [as] a graphic designer," he said. "I designed a theater magazine that was full of plays and essays about the theater, and then I worked at a theater school," he added. "By osmosis or something, I was learning from reading plays and not being analytical about them, but when I would read them, the joy in me was mostly from imagining them in my head and visualizing them."
Focusing on this background in the visual arts, it's interesting to note how, like many artists' work, his has been influenced by life--specifically the vivid and uniquely identifiable perspective he shares with audiences. "My impulse of visualizing things [with roots as an artist] is sort of organic," he said. "I just spent countless days and weeks and months with my eye pressed up against a viewfinder [before there were digital cameras]. I was seeing the world in a certain frame and construction and composition... I think visually... so, even when I'm writing a play, I'm envisioning it."
Much like Lapine's viewfinder, his works, as with any other creative material, will change with each interpretation as well as form. Watching something on stage is a very different experience from watching it on film or even from watching the same film in the comfort of one's home. Into the Woods has, for instance, recruited throngs of fans who've enjoyed it through several stage iterations, and now the big screen adaptation. However, it's also interesting to note that given the cult-like appreciation for the original Broadway production (which is now living on via DVD), the film will itself will take on a new life, and possibly be shared between generations both taking away different messages, much as in the case with contemporary Disney and Pixar films.
However, with Into the Woods temporarily briefly behind him, Lapine is now focused on how he'll conquer his next major project: reinterpreting Falsettos nearly 25 years later for a very different and culturally-evolved theater-going audience. "That's a really good question because I don't know," Lapine said candidly, "and it's one I have been thinking a lot about."
A show that questions, and celebrates, what it means to be a family, it proves its thesis through issues that were outside our cultural norm, if not taboo, at the time of its first performance: divorce, homosexuality, religious identity, gay parenthood and HIV/AIDS. As much as we still experience litmus tests like the passion on either side of Indiana's "religious freedom bill" that remind us equality for families of every kind is far from being universal, the idea is much more acceptable to many, and at least palatable to others.
"I don't think of shows as 'That's the show about that issue, and that's the show about this issue.' I think of shows as [being] about people and how deeply and joyfully we can connect with them," Jordan Roth added. "Yes, [in Falsettos] we experience the story of gay men having children. We experience a story of struggle with AIDS. We experience a story of a man and woman divorcing. We experience a story of Judaism and grappling with Jewish identity... [However], I have been so amazed and moved by the number of people who have said, 'This is my show. This show is me.' It's for all of those different stories that people see themselves in these characters and come to sing about it and laugh about it and cry about it and come out the other side better for it."
Roth is himself among the ranks of fans who identify deeply with Falsettos, having seen it well before he earned his way to recognition as a TONY Award-winning producer. "It's a show that spoke so profoundly and deeply and directly to me when I saw it as a kid. Its music and characters have stayed with me as my friends growing up... I know that that's true for so many people. We listen to this music, we sing along to these character's lives, and they become our journey mates."
Now experiencing the opportunity to wed his love for the work as an audience member, with his creative talents and professional resources as a producer, Roth undoubtedly sees the show as having deep resonance for today's audiences. "I think the show was amazingly prophetic to think, so many years ago, [of] putting a new kind of family center stage," he said. "People who are defining for themselves who their family is and what that means. This is now what we're all doing, what marriage equality is about... and so many other ways in which we are all talking about and reflecting on, enjoying the exploration of what it is to be a family. The notion of reconnecting with [the main characters of] Marvin and Trina and Whizzer and Mendel and their collective family is really, really exciting at this moment."
Similarly, Lapine believes that the central story of Falsettos still remains a relevant history lesson today. He points to a screening he saw with his 23-year-old assistant; it was Larry Kramer's famed HIV/AIDS drama, "The Normal Heart," produced by HBO. A "bright, NYU grad," she shocked him after the film by asking, "Was this really what it was like?"
"I thought, 'Wow, it's not been that long,'" Lapine added. "It doesn't seem that long to me since I was living through it; it's one of the reasons why I thought Falsettos would be good to bring back. It really does evoke a certain era. Now that we're in same-sex marriage and a lot of these issues, I'm thinking that it shouldn't necessarily be updated. I think it has to be a period piece."
"We'll see..." He added, "I don't have an answer because I haven't cracked it yet myself to tell you the truth."
"A New Brain will be fun to do again because, that one, we never got quite right; so it's always kind of a pleasure to go back and look at it with some wisdom," Lapine added in comparison. "At the time, as authors, Bill [William Finn] and I weren't very engaged in it. Bill's mother was passing away at the time, and he was so distracted. He was so close to his mother, and his mother is a character in it. Of course, it was also about his own mortality because he went through this terrible experience with his brain. I was really not that engaged in it either, and I didn't direct it; so I think, for us, it's kind of fun to go back to something and look at it and wonder, why did we do that? Why don't we try this? It won't be radically reinvented, but I think it will be radically reinterpreted, in a way."
As much as he appreciates Falsettos, Roth also holds Lapine's larger body of work in high regard as a fan and fellow innovator of modern American theater. He added eloquently, "James is one of our great interpreters of modern culture, of what it is to be a person, what it is to be in a relationship, what it is to be a family." He said, "I think that kind of insight and that kind of storytelling will always resonate. It resonates in different ways. It unfolds for us. That's both because the work evolves and because we evolve. We evolve as people. We evolve as a culture. We evolve as a community. Great works of art always have something to say to us and for us. Those things change as we change."
REAL LIFE. REAL NEWS. REAL VOICES.
Help us tell more of the stories that matter from voices that too often remain unheard.