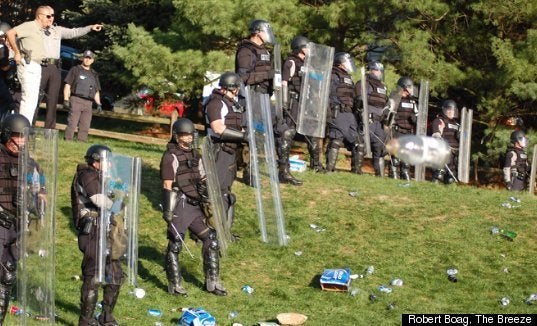 Spring is in the air. But for students at James Madison University, there's now also a hint of tear gas.
This Saturday at JMU, the school's annual Springfest block party devolved into a riot of more than 8,000 people and resulted in more than 200 police officers attempting to break it up.
After being told that they had to leave the party, people began throwing beer bottles, starting fights and breaking windows.

Officers threw grenades of tear gas at the crowd of more than 1,000, focusing their attention on those still loitering at 6:45 p.m. Some partygoers were also sprayed with pepper spray or hit with rubber bullets and beanbags.
The party resulted in more than "30 arrests, a stabbing, extensive property damage and injured police and partygoers."
Although the Police Department believes that most of the problems were caused by partygoers who didn't directly belong to the JMU community, Linwood Rose, the university's president, is still condemning the students for their actions. In an e-mail to students on Sunday, Rose said, "Your collective behavior was an embarrassment to your university and a discredit to our reputation."
Popular in the Community