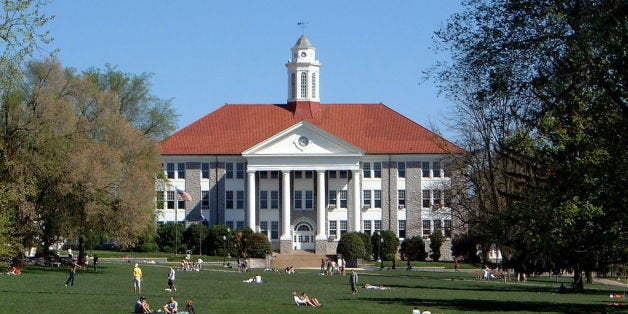 James Madison University punished three fraternity members for sexually assaulting a female student and sharing their video of the attack by banning them from campus -- after they graduate.
The school found the men responsible for sexual assault and harassment in the spring break 2013 attack on Sarah Butters, and determined that they shared the video widely with others on the JMU campus in Harrisonburg, Virginia. The unusual "expulsion after graduation" sanction allowed two of the men to graduate on time in May. The third plans to remain on campus for his senior year in 2014-15.
Butters' complaint to federal officials about the school's handling of the attack has prompted an investigation by the U.S. Department of Education's Office for Civil Rights. JMU is among four universities in Virginia and 63 nationwide to face federal scrutiny on sexual assault cases. The investigation, opened on June 4, will review whether JMU violated the gender equity law Title IX.
S. Daniel Carter, an advocate for sexual assault victims who is frequently involved in federal policy on campus safety, said he'd never heard of that kind of punishment.
Lisa Maatz, vice president of government relations at the American Association of University Women, said the sanction undermines campus safety and sends the wrong message.
"What if they rape another woman while they're allowed to finish their degrees? When this type of outcome happens, it seems like the school has dismissed the survivor's very real trauma and negated her courage in coming forward," Maatz said.
James Madison administrators declined to comment, citing federal privacy laws, except to say the school is working with the Education Department to resolve the complaint.
"James Madison University takes very seriously any allegation of sexual assault and is committed to providing a safe and inclusive environment for every member of the JMU community," university spokesman Bill Wyatt said.
Butters was in Florida during Spring Break 2013, when the assault took place, drinking with the three men, who she said she considered trusted friends. While still in Florida, she said she learned of the video and confronted the men, who denied it. Once she returned to campus, she said she found that the video was being shared and discussed on an online gossip forum. Eventually, she got a copy.
"It was kind of hard for me to deal with," Butters said in an interview. "I just tried to diminish the situation -- I didn't want to bring it up, didn't want to talk about it."
Butters and her sorority adviser spoke with an official in the school judicial affairs office, and was told there was no rush to press charges. Butters said she was later told the school could pursue punishment without her permission with the video evidence, so Butters provided a copy in April 2013.
The video shows Butters topless and being groped, while the men laugh and pull her onto their laps, trying to remove the bottom of her bathing suit. It includes audio of Butters saying, "This isn't okay, this isn't a good idea."
A judicial affairs representative told Butters it was rare for anyone to be expelled, according to documents from the adjudication process shared with The Huffington Post. The student handbook listed suspension as the harshest punishment for sexual assault.
Josh Bacon, the JMU director of judicial affairs, told Butters he couldn't determine if the video scene was consensual, according to Butters.
Butters filed a formal complaint with the judicial affairs office in January 2014. Following a series of hearings, where Butters provided screenshots of text messages from people saying the men had shared the video with other students, Bacon found the three men responsible for sexual assault and sexual harassment, punishing them with expulsion after graduation. The men would not be allowed to walk at commencement and were prohibited from coming to campus after they got their degrees.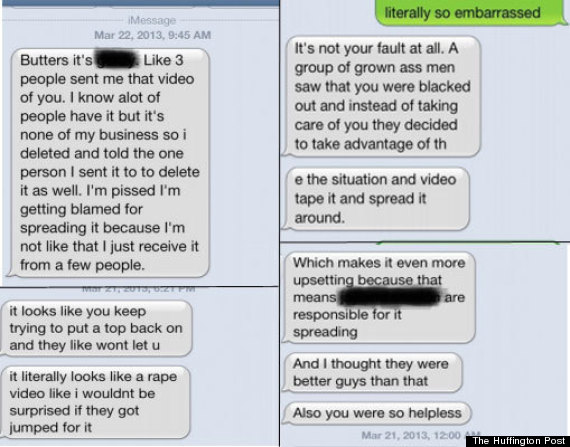 Butters said Bacon told her after his decision that if the men returned to campus, say, for tailgating in the fall, the punishment would be enforced if a police officer recognizes them. The same was true if they were caught at commencement.
Butters appealed the punishment. A hearing board decided to expel the men immediately. The three appealed, and another hearing board decided on April 2 to return to the original "expulsion after graduation" sanction. The board also prohibited the men from contacting Butters and banned them from joining student clubs.
Butters said she has decided to withdraw from the university. Her grades had slipped during the adjudication process, causing her to lose financial aid.
Butters said an official in the judicial affairs office told her during the adjudication process that this was the most serious case the office had handled.
"If this is the most serious case you've ever dealt with," Butters said, "You don't think it calls for some type of punishment like suspension or expulsion?"
Butters said she filed a complaint with the Education Department on April 30, because of the sanction and because she believed the men were afforded more rights than she was, allowing them more time to file appeals and more access to relevant documents. She said the fears the school's response will prevent other sexual assault victims from coming forward.
"What is a girl going to think that I had video proof and I still have to see these boys on campus?" Butters asked. "How would she ever feel comfortable coming forward?"
Like Us On Facebook |
Follow Us On Twitter |
Contact The Author
Related
Popular in the Community