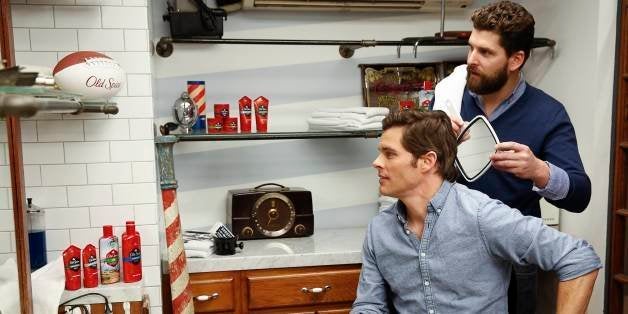 James Marsden had an exciting 2013: finishing his arc as Criss on "30 Rock," portraying John F. Kennedy in "Lee Daniels' The Butler" and starring opposite Will Ferrell as Jack Lime in "Anchorman 2: The Legend Continues." From the looks of it, 2014 is set to propel him further into the spotlight -- at least when it comes to grooming. The Huffington Post met up with Marsden at Sharps Barber and Shop in Le Parker Meridien hotel on on Jan. 31 to discuss his partnership with Old Spice (which is to help launch the company's new hair care and styling products) as well as his numerous upcoming projects.
Hi, James, it's great to meet you.
Nice to meet you, as well. Can I get you anything? A little shave?
That would actually be very nice.
I'm just going to keep going with the dumb jokes. Is it going to bother you if I just have this running during the audio? [Turns faucet on.]
Well, we probably won't get many good quotes.
That's no good. [Turns faucet off.]
Not at all. So, why did you partner up with Old Spice?
I've been a fan of the brand for a long time, and I love what they have been doing recently with their ads. They invited me to come test out some of their new hair products. I thought it would be cool, and I get to check out the Super Bowl while I'm here in New York.
What was one the funniest, or one of your favorite moments from filming "Anchorman 2"?
Oof ... there was a lot of funny stuff that ended up happening spontaneously that didn't make the movie, but I don't want to spoil it for people, because it will probably be on the DVD. I mean, every day with those guys, you know, you spent 20 percent of the time doing what was scripted, and 80 percent doing improv. It was great because there were no real boundaries; you had free reign to come up with whatever you wanted to come up with. There were too many to count, it's hard for me to name one specifically.
You have a number of films coming up this year. You have "Endangered" -- which reminds me of "The Edge" with Alec Baldwin and Anthony Hopkins -- "Walk of Shame," "The Best of Me," "The Loft." Is there any film you are most excited for it to come out?
I'm looking forward to this Vince Vaughn movie I just did called "Business Trip." They're changing the title, but Steve Conrad wrote the script. He's a really great screenwriter [who wrote "The Secret Life of Walter Mitty"], and definitely a favorite of mine. Also, this other movie with Kristen Wiig, "Welcome to Me."
In that movie you and Will Ferrell are back together, right?
Well, yes and no. He's producing it. I don't think he is in it. If he did, he came in for a very small cameo.
Just in the films coming out next year you've got comedy, romance, thriller, drama and action. How important is it to you to diversify your parts?
I don't know if it is as important as it is interesting. I think it's more important from the actor's perspective to challenge yourself in different ways, and not in a show-off-y kind of way. One of the great liberations of being an actor is that you are afforded opportunities to play different characters, and jump from one genre to another. I'm of the school of thought that if it's more interesting for you, then hopefully it should be more interesting for the audience.
Do you think it is easier for actors to get comfortable and kind of just sit in one genre?
I think you can get comfortable. My thing, you know, was that I never thought I was particularly great at just one thing. I wasn't great at everything, I was just okay at a lot of stuff, and then got better at a lot of stuff. I kind of see myself more as a character actor, I guess.
Out of any roles from your past, which one would you be best friends with, and which one would you beat up?
Umm, I don't know, I think they've all been pretty good guys. Well, Jack Lime from "Anchorman 2" you'd probably want to kick the crap out of. He's a smug, arrogant guy. Fun to play, but would also be fun to step outside with. As for best friends, I don't know. Oscar from "Death at a Funeral" is at the funeral on acid, so it'd probably be pretty fun to party with that guy.
What about Rex from "Sex Drive"?
Oh, yeah, yeah, yeah! Good call on that one, I forgot about him. I'm getting to that age where you start to forget about your credits. He'd definitely be a lot of fun.
Can we take a selfie together?
REAL LIFE. REAL NEWS. REAL VOICES.
Help us tell more of the stories that matter from voices that too often remain unheard.
BEFORE YOU GO
PHOTO GALLERY
Celebrity News & Photos