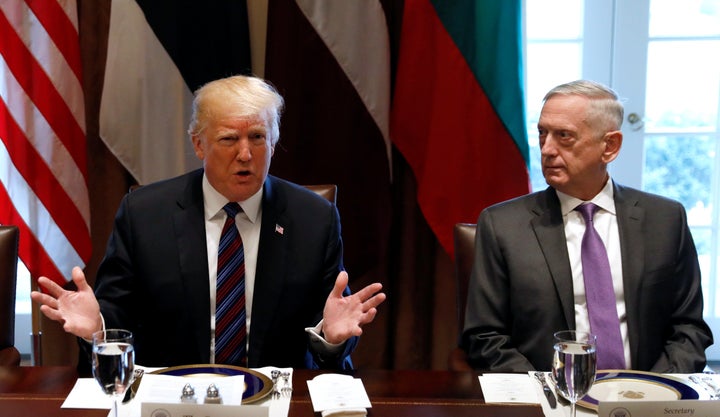 In his forthcoming book about the current administration, veteran journalist Bob Woodward reportedly paints a disturbing picture of the lengths that White House officials have gone to counter President Donald Trump's hothead impulses.
In one account shared by The Washington Post on Tuesday, Woodward writes that Trump told Secretary of Defense James Mattis he wanted to assassinate Syrian leader Bashar Assad last year. While Mattis agreed, he allegedly gave aides completely different instructions.
After Syrian leader Bashar al-Assad launched a chemical attack on civilians in April 2017, Trump called Mattis and said he wanted to assassinate the dictator. "Let's fucking kill him! Let's go in. Let's kill the fucking lot of them," Trump said, according to Woodward.

Mattis told the president that he would get right on it. But after hanging up the phone, he told a senior aide: "We're not going to do any of that. We're going to be much more measured." The national security team developed options for the more conventional airstrike that Trump ultimately ordered.
In a White House response on Tuesday to Woodward's book, which is based on in-depth interviews with administration officials and other major players, press secretary Sarah Huckabee Sanders attempted to discredit it but did not mention the Mattis story.
"This book is nothing more than fabricated stories, many by former disgruntled employees, told to make the president look bad," she said of the work by Woodward, whose reporting on the Watergate scandal in 1972 helped bring down Richard Nixon's presidency.
Mattis issued a statement, tweeted out by Trump on Tuesday evening, but also did not explicitly reference the alleged assassination request.
"The contemptuous words about the President attributed to me in Woodward's book were never uttered by me or in my presence," Mattis said, likely referring to allegations that he said Trump had the comprehension of a "fifth- or sixth-grader."
You can read more accounts from Woodward's book in The Washington Post, where he is an associate editor.
This story has been updated with a statement from Mattis.
Popular in the Community