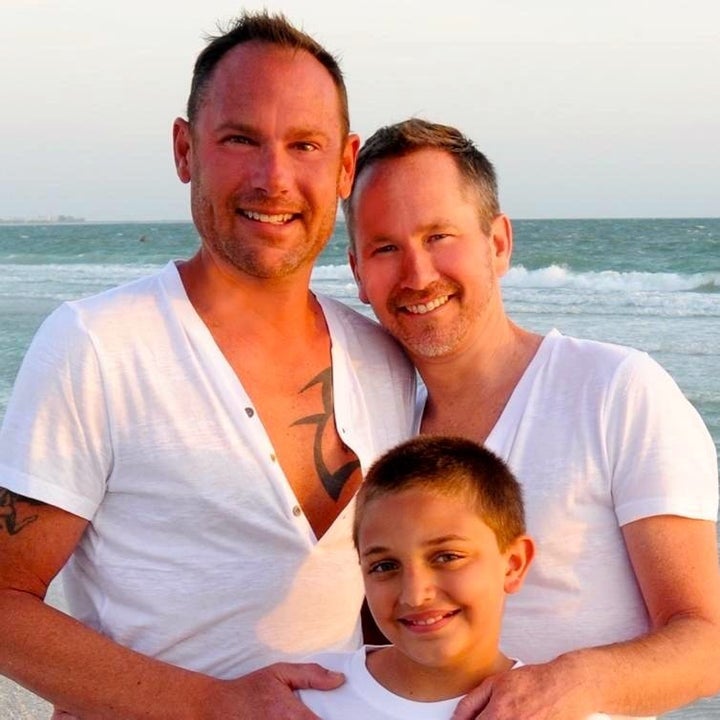 Each Friday in September, RaiseAChild celebrates foster and adoptive parents who have chosen to place the needs of children ahead of their own in a special "Let Love Define Family®" series for Huffington Post Queer Voices. This is the last of five special series installments.
James McKinney put his family together in a remarkable manner. In this "Let Love Define Family®" interview, the couple shares their unusual journey to parenthood with RaiseAChild Founder and CEO, Rich Valenza.
Of all the foster and adoptive parents I've met so far through my work at RaiseAChild, no one has a story like James McKinney. Not only are the circumstances of his path to parenthood unusual, but the parenting story he continues to build with his son Micah and his partner Bruce Walker truly epitomizes the point of this "Let Love Define Family®" special series.
JAMES McKINNEY: I was about 33 years old and working in finance at an automotive dealership in Memphis. One of the administrative assistants and I went to lunch one day. She was crying and all upset because she had a family member that had a baby and the situation was less than ideal. She said that the state was about to step in. The baby would likely be lost to social services. I told her I was interested in helping. I told her I would take the baby.
RICH: Wait. Just like that?
JAMES: I already knew that I wanted a child and I knew details of this situation. I just immediately said I'll take him. The next morning, I get a call from the grandmother. I thought she and I were going to talk more about things. But right away, the grandmother said she would have him ready when I got off work that evening.
JAMES: She pretty much told me, "I have some formula and a diaper bag. I'll have him ready at 5:30." I went to pick him up as soon as I got off work. I called my sister and she had a full nursery set up by the time I brought Micah home.
RICH: Were you nervous? Your heart was racing? Or were you just walking through this? How'd this go?
JAMES: You know, it was very surreal. I was definitely nervous. Didn't know how this would play out. The whole process started and everything was backwards from a traditional adoption. But I knew it was a bad situation and decisions had to be made quickly. It needed to be done. Someone had to step in and help this child and this family. I think I was on a bit of an adrenaline rush.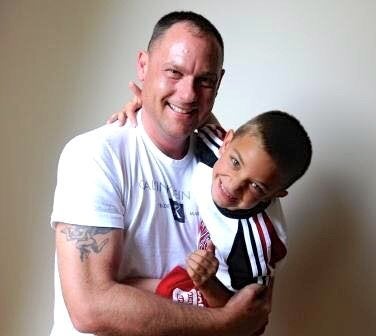 RICH: What was your life before the moment that you went to lunch with this woman? Who were you? What were you doing?
JAMES: Oh my goodness! My life was completely different prior to that lunch. I had a partner at the time, but no kids. I owned several houses, because I would buy houses, renovate them, and flip them in addition to my job. Every night, I was free to go out to dinner anywhere or wherever I wanted. I could travel on a day's notice and take a vacation any time I wanted. There was nothing tying me down in any direction.
RICH: So tell me about picking him up from his grandmother. How old was Micah at the time?
JAMES: He was four-months-old. There were some health issues and he was just screaming and crying. I put him in the car seat, in the back seat, I strapped him in, got in the car, started to drive off, and he was still screaming. I reached back and just laid my hand on top of him and he stopped crying. I drove the entire way home with my hand on him in the back seat. We spent the next year like that.
I came from a large family. I just always wanted kids. Prior to being in Memphis, I was in Mississippi, and they had passed a law banning gay adoption. I had talked to a woman with child services in the Mississippi foster care program to start an adoption process. She was willing to help, but she said that because I had a partner, one of us, on paper, would have to move out. It would have to be a single parent adoption. My former partner and I weren't willing to do that. Living in that situation, I wasn't going to go through a state process and basically lie on all these forms, then go to a courtroom and lie in order to get through this process. So it didn't happen in the state of Mississippi. Moving back to Tennessee, I knew this would be a possibility. This situation raised its head within a week of moving back to Tennessee.
RICH: Your partner at the time, how did he take to all this?
JAMES: He had a lot of hesitation. I think I was one who always wanted to adopt. It was a bigger priority for me. He came from a family of five and he was the youngest. So it just wasn't high on his list. But he was supportive.
RICH: What was the process like then? After you picked the baby up?
JAMES: Within the next week I went to juvenile court, in Tennessee, to apply for custody. I'd already spoken with an attorney and she told me this step was so easy that I could just do it myself and save a little money. I went to file a petition for custody. When I did, Micah already had an open case there because of previous family issues. The lady in the children's court accused me of buying my son. She insisted that there was something illegal going on. What I did not know in this process, was that custody had just changed to the grandmother that week. She had gone to court and accepted the custody. I did not have knowledge of that. I thought I just needed to step in and get this all cleared up. At this point, I didn't even have the right to take him to a doctor. The clerk accused me of buying him, he was in the house with two gay men, she was going to contact the sheriff's department and have him picked up. She refused to accept the petition. The next day, Memphis was shut down by a big snowstorm. The day after that I was in meetings and got a phone call where I was pulled out of the meetings because this woman from the juvenile court was calling wanting to know where the baby was. She was calling the sheriff to come pick him up. I contacted my attorney who put it all to rest within an hour. They had the supervisor at juvenile court ask me to come back in and sign the application to go through custody.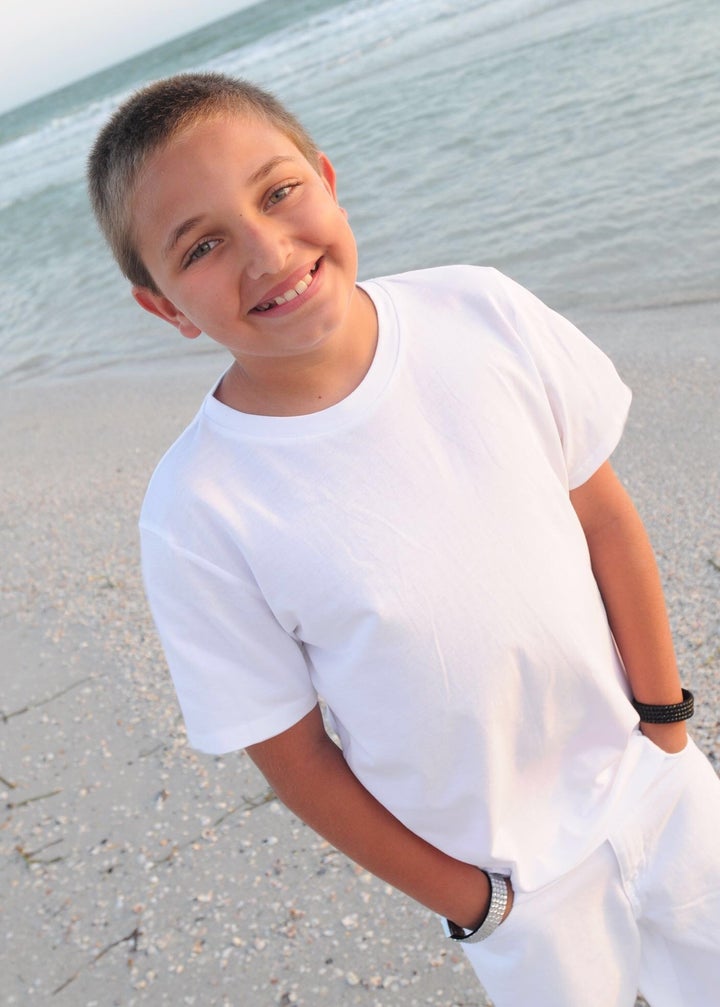 RICH: Allow me to change the subject a bit. Between the time of your relationship with your former partner and your newer relationship with Bruce, were you single for some time? How long were you a single parent?
JAMES: I did go through a single period for a while before meeting Bruce. For a little over a year.
RICH: During that period, when you were dating, would you typically make it known that you were a dad? How did you break the news to Bruce that you have a son? Did you let him know when you first met?
JAMES: I did. I thought that would kind of deter Bruce.
BRUCE WALKER: When James and I met, he told me he had a son. It wasn't an issue at all. In some ways, I think it actually drew me to him more. I felt like he was more serious about life; that there was something more to him. That is where my previous experience with R Family Vacations comes in.
BRUCE: Back in New York, I had friends who worked with R Family very early on when the company first started. R Family Vacations creates group travel opportunities for LGBT families, their relatives, and friends. I had the chance to travel on their trips, where it was full of every kind of family arrangement that you could ever imagine. Seeing all of these different types of families really opened my mind up to the idea of kids, although it was still just a passing thought. One trip in particular I met someone that had three kids. During that week I spent a lot of time with them, and his kids were what made that trip special for me. I'd had really great trips prior to that, but there was something different about that one. I did not hang with the friends I had spent time with on prior trips nearly as much, because I really enjoyed having the kids around and them wanting me to be there. It was another level of engagement in the trip. Prior to that, I'd never thought I'd be a parent. I was a gay man. I grew up in the 80's and for me it was all about being myself, frankly I was pretty self-centered! I just never thought that parenting was something that would be an option. But the R Family experience changed that for me and made me more aware of what meaning that brings to your life. What purpose that brings to your life to have a kid that's dependent on you, that needs your input, your love, sometimes your discipline and all the other things that come with it.
James and I were very honest when we met on a site that wasn't about long-term dating. I was intrigued. I really liked him. He had an edge about him that I liked but also had to check first. We chatted back and forth online. It was this very good interaction with each other. I felt there was long term potential for us. I think James felt it too, but he never admits it. So I wanted long term and James was thinking more short term.
When we first started dating, I would go to his house for our evenings together. Knowing that James had a son, and if I wanted to make this work, I was going to have to adapt to his life. I couldn't expect him to up and change his life and be out on the town most nights as I had been doing! I met Micah on my second date with James. I started spending a lot of time there. It was a very different experience than anything prior.
RICH: Bruce, do you come from a big family?
BRUCE: No. I was raised as an only child. I do have an older brother, but he's ten years older and my parents divorced when I was very young and when my mother remarried, he moved away. So from the age of about four, I was raised as an only child. My parents were very midwestern in their mindset, although I grew up in southern California.
RICH: One of the comments we often get when people read our series stories on social media is that, "the child is very lucky to have parents like the two of you." How do you feel about that comment? Is that the way the benefits go in having a child, or are there benefits that you get from being the parent?
JAMES: I think it goes both ways, definitely. Knowing the situation, our son is lucky in some aspects. But, he changed my life drastically and to something so much better. The priorities all change, and I couldn't think of a different life or a better one than the one we have right now. Micah has been such a joy for us. We've been very lucky to have him.
RICH: James, you did not have the opportunity to have nine months of planning for your son's arrival. Do you think something inside of you flipped the switch and turned on your fathering abilities quickly?
JAMES: The instincts of parenthood can be surprising. I think parenting is all about chemistry. Everything in life and interactions with people is all about a chemistry. I just knew I had those parenting abilities inside of me. I fell in love with this child the minute I picked him up. He was mine. There was no question that this was right. In that moment, my son and I started a journey together.
BRUCE: James told me early on, "Everyone thinks that you're going to be the perfect parent, until you become a parent. And then you realize you're not going to be the perfect parent, you're just going to be the best parent." It resonates still today. What helps us is that we both know we have experiences that made us who we are. Some were good. Some might not have been. But we use those to the benefit of our child.
JAMES: As parents, Bruce and I are open-minded. Micah is exposed to different things. At fourteen, he's not afraid to ask or approach any subject with me. He's come to me to have discussions on sex or drugs.
RICH: What do you hope to give Micah in his upbringing? How will you know that you're a success in raising him?
BRUCE: I would consider it my personal success if ever Micah were to say, "I have two dads. Let me tell you how cool that is. Let me tell you about the people I've met and the people I know, the experience that I've had, the kids that I've known through these same kinds of families or different kinds of families."
JAMES: I have a great aunt who is hilarious and so much fun. When Micah was just a baby, she told me "God did not put Micah here for him to be the center of your universe. Instead, you are meant to be the center of your son's universe." I didn't understand it when she first told me, when he was a baby, but as he grew in to his own personality, and I understand more and more what she meant. As a parent, my job isn't to cater to his every need, but to be strong enough to help him grow with the life skills he needs to stand on his own.
Have you considered building a family? RaiseAChild is the nationwide leader in the recruitment and support of LGBT and all prospective parents interested in building families through fostering and adoption to meet the needs of the 415,000 children in the foster care system of the United States. RaiseAChild recruits, educates and nurtures supportive relationships equally with all prospective foster and adoptive parents while partnering with agencies to improve the process of advancing foster children to safe, loving and permanent homes. Take the Next Step to Parenthood at www.RaiseAChild.org or call us now at (323) 417-1440.
Calling all HuffPost superfans!
Sign up for membership to become a founding member and help shape HuffPost's next chapter