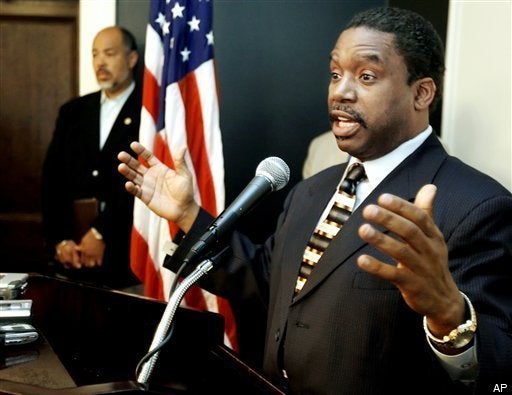 Illinois Senator James Meeks has not officially announced his bid for Chicago mayor just yet--but as he works behind the scenes to garner support, he has already angered Chicago's gay community.
Though Meeks is a Democrat, he was named one of the "leading black religious voices in the anti-gay movement" by the Southern Poverty Law Center in 2007, and has consistently worked with anti-gay conservative groups including the Illinois Family Institute, Focus on the Family, the Family Research Council and the Alliance Defense Fund.
This weekend, FOX Chicago asked Meeks if his anti-gay and anti-abortion views would impact any decisions he would make if elected mayor. His answer?
"Now, if I were sitting around bored with nothing to do, that stuff might come up," Meeks told FOX Chicago. "But I expect to be so busy with schools, crime and budget problems during my first term that I wouldn't have any time."
Meeks, who serves as the pastor of Chicago's Salem Baptist Church, told the Chicago Tribune that he began collecting signatures for a possible mayoral bid Saturday. Fox reports that he hopes to become the African-American community's "consensus candidate."
In 2006, Meeks called homosexuality "an evil sickness," and was credited by anti-gay groups for "leading African Americans in 'clearly understanding the threat of gay marriage,'" ChicagoPride.com reports.
ChicagoPride.com shared more of Meeks' history as an anti-gay politician:
Meeks also actively campaigned to defeat SB3186, an Illinois LGBT non-discrimination bill, while serving in the Illinois state legislature. He was the only African American in the Illinois Senate and House to vote against the bill.

The 54-year-old Meeks is allied with Americans for Truth, a Naperville organization which the SPLC labeled as a hate group earlier this year.
While Meeks told the Chicago Tribune that improving education would be a priority if elected mayor, his anti-gay rhetoric already has other state lawmakers speaking out.
"He opposes even the most basic forms of equality and civil rights," said Rep. Greg Harris told FOX Chicago. "We would be very alarmed if he were to become mayor."
When Mayor Richard M. Daley announced that he would not seek a seventh term last week, the gay community prepared to lose a very gay-friendly mayor.
"Mayor Daley's support of our LGBT communities has been nothing short of outstanding," Sidetrack co-owner and Equality Illinois co-founder Art Johnston, told ChicagoPride.com last week. "Chicago is arguably now the best city in America for gay people, and the name Richard M. Daley is near the top of the reasons why."
Meeks is one of the many state lawmakers who is contemplating a run for mayor. Equality Illinois' public policy director Rick Garcia told Chicago Pride that of all the possible candidates, Meeks is the "most troubling."
Related
Popular in the Community