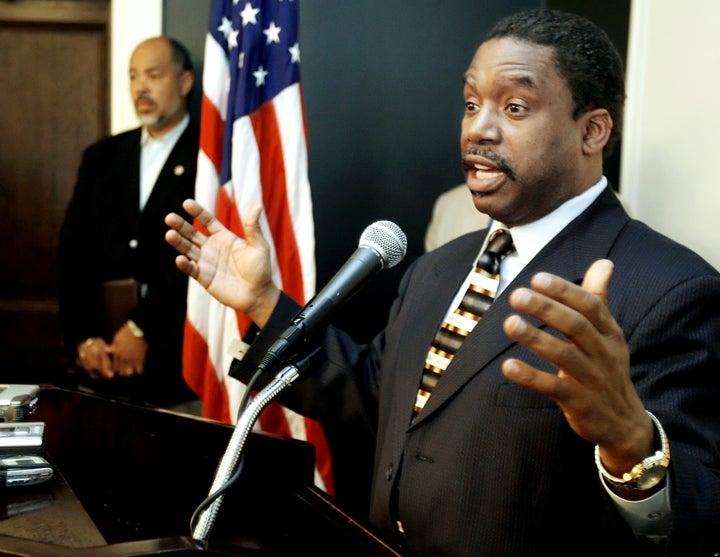 The Rev. Sen. James Meeks continued his hot and cold relationship with Chicago's gay community on Wednesday, making an appearance at Ann Sather, an iconic restaurant with an ardent following in the gay community.
"I believe in the sanctity of marriage," Meeks said at the time of the vote. "I believe that marriage is between a man and a woman. This bill is a marriage bill."
The Chicago Sun-Times reports that he faced a hostile crowd at the restaurant Wednesday:
"I wouldn't vote for him for dog-catcher," retired pharmacist Frank Nussbaum said as Meeks walked into the restaurant. "He's a homophobe. He's a religious crazy, I think. We don't need someone like that. He's got a big nerve coming here."

Throughout his career, Meeks has made several homophobic and offensive comments publicly. In 2006, he called homosexuality "an evil sickness" and also campaigned against an llinois LGBT non-discrimination bill while serving in the Illinois state legislature.
When he announced his mayoral run, however, he tried making nice with LGBT community leaders--until his "nay" vote for civil unions.
But on Wednesday, Meeks shook hands, introduced himself, and spoke about jobs, education and affordable housing. He won over many of the restaurant's patrons, and even made a favorable impression on Nussbaum, who said at one point, "I could be convinced to vote for you."
The owner of Ann Sather, Alderman Tom Tunney, wasn't at the restaurant when Meeks came by, showing up around 20 minutes later after being detained on aldermanic business. But he told the Sun-Times he was glad that Meeks came, and that his "doors are open to everyone here."
Meeks came to Tunney's ward as a part of his "50 Wards in 50 Days" tour, in which he plans on visiting all regions of the city before February's mayoral elections.
He described the visit to Tunney's 44th Ward in a news conference afterwards.
Watch Meeks speak to reporters outside of Ann Sather:
REAL LIFE. REAL NEWS. REAL VOICES.
Help us tell more of the stories that matter from voices that too often remain unheard.