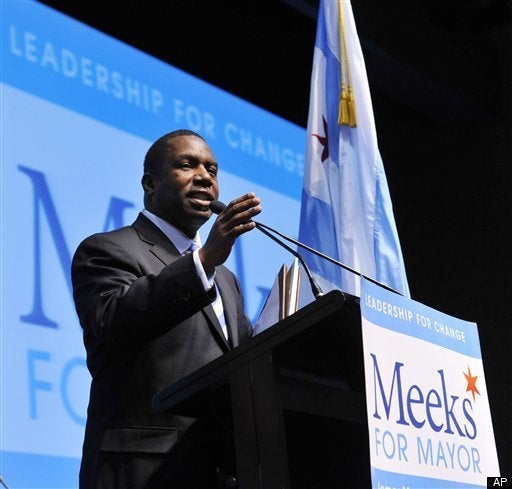 In recent weeks, candidates for mayor of Chicago have been releasing their plans for the city's struggling public school system.
Perhaps the most radical of those plans came from State Senator James Meeks, who announced today that he would push for a reform he's spent years trying to pass in the General Assembly.
Meeks announced that as mayor, he would create a voucher program that would make up to 50,000 students eligible for a $4,500 credit to attend the school of their choice.
"I see nothing wrong with giving children and their family a choice," Meeks said at a news conference, according to the Chicago Sun-Times. "I like hamburgers. I like McDonald's. But I'm glad that I can go to White Castle every now and then. I have AT&T. But, I have another child who has T-Mobile. Competition is good. Competition can only make us better. We should not be afraid of embracing vouchers for school choice."
Under the plan, students at the lowest-performing schools in the city would be able to transfer to private or parochial schools, with money in their pockets to help pay for the tuition.
Such a program faces stiff opposition from teachers' unions, which argue that vouchers would deplete resources from already ill-funded public schools. They also object that public resources should be devoted to programs that will improve the lot of all students, not just a few, and that a voucher law could be unconstitutional if it gives public funds to sectarian purposes.
Court rulings around voucher programs have been mixed, although the U.S. Supreme Court did uphold one program in Cleveland that supporters often point to as a model.
Also in Meeks's education plan, according to the Chicago Tribune, is a mandate that the Chicago Teachers Union come up with a system of identifying and firing underperforming teachers. "I think that most of our teachers are good, but we don't have a way to weed out the bad ones," Meeks said at the press conference.
He would also push to find someone with a background in education to replace Ron Huberman as the next CEO of the Chicago Public Schools, a move that unions have been advocating.
Calling all HuffPost superfans!
Sign up for membership to become a founding member and help shape HuffPost's next chapter