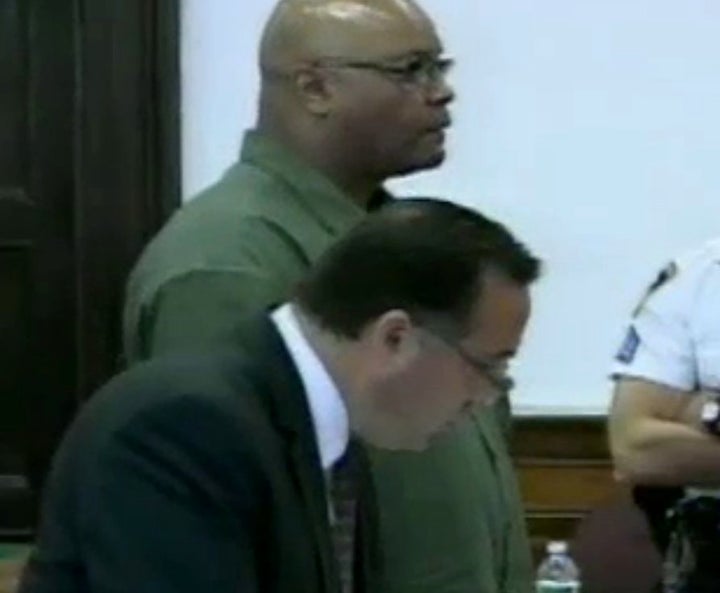 James Moss-- the Staten Island father who plead guilty to brutally beating his son, burning the child's hands and stuffing him in an oven-- was sentenced today to four months of weekends in prison.
The light sentence was delivered after an emotional plea from the victim, Moss's 11 year-old son Christopher.
"He made a big mistake, but really somewhere in his heart, he is funny, lovable, caring, and a great father," Chris Moss said of his father, according to NBC New York. "Everybody in my family ... is giving him a second chance, will you? I just can't see my dad taken away from me. Right now I'm crying because he is the only dad I need."
The New York Post reports that Judge Robert Collini then asked the boy, "Did anybody make you say those words? Are those the words you truly believe in your heart?"
Chris answered, "Yes," both times.
Collini gave the sentence and said, "This court feels compelled to temper justice with compassion." He added that James Moss had displayed "uninhibited remorse."
Moss will serve five years probation for the incident and cannot live with his son for a year. He is currently living in Brooklyn and will also be required to take anger management tests as well as be subject to drug testing.
"My son is a better man than me," said Moss, 53, who attacked Chris over a $20 bill missing from his wallet in the 2010 incident. "I'm very sorry for what I did."
The 6-foot-2, 270-pound dad threatened to kill the boy on May 12, 2010, at their Graniteville, S.I., home, authorities said. Moss took Chris to the basement and ripped off his clothes. Then he pulled the boy into the kitchen and used a spatula to beat him across his back.

The demon dad heated up two burners on the stove and held the defenseless boy's hands on them until his skin began to peel. Prosecutors said Moss punched his son in the face and then forced him into the oven.
"I'm going to burn you alive!" Moss screamed while his child begged to be freed.
He eventually let Chris out of the oven, only to then toss him naked outside the front door.
Moss had faced up to seven years in prison after pleading guilty to all seven counts of the indictment against him, including two counts of second-degree assault.
Related
Popular in the Community