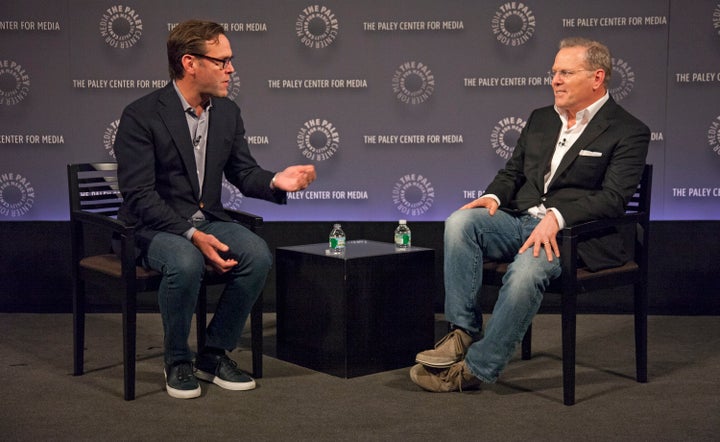 Digital advertising is stuck in the dark ages and needs to catch up, says 21st Century Fox CEO James Murdoch.
At a summit hosted by The Paley Center for Media, the son of media mogul Rupert Murdoch urged the advertising industry to be more innovative and inventive in the way it reaches consumers now that ad-free subscription services like Netflix are giving advertisers a run for their money.
"I think the one thing about advertising that we haven't seen enough of is innovation and new products," Murdoch said. "But there are lots of creative ways to go about it."
As the use of ad-blockers skyrockets, the digital ad industry has come under increasing pressure to make ads less intrusive and annoying -- especially on mobile devices, where they often degrade the user experience, slowing load times and draining battery. In October, the Interactive Advertising Bureau, the industry's largest trade group, announced an initiative to make ads more user-friendly. 
"As technologists, tasked with delivering content and services to users, we lost track of user experience," Cunningham wrote.
One way of making ads less disruptive, Murdoch said, is to seamlessly include products and brands within a show rather than promote them explicitly during commercial breaks. He cited Pepsi's recent ad campaign in Fox's hit show, "Empire," as an example. 
A number of upcoming "Empire" episodes will feature character Jamal Lyon filming a Pepsi commercial, which Murdoch says embeds advertising seamlessly into the content rather than disrupting it.
"It's a really exciting thing that came from a creative collaboration between creators of the show and the network, to bring Pepsi on board and put Pepsi into the show," Murdoch said. "Obviously, it is a music show -- and remember the faces of Pepsi, from Michael Jackson to Britney Spears? Well, why wouldn't it be Jamal Lyon?" 
Another topic Murdoch addressed on Thursday was the role that streaming services like Netflix and its rival, Hulu -- which 21st Century Fox owns a stake in -- will have in the future of content distribution.
He said that if you give customers the option to pay extra for an ad-free experience, they tend to complain less about ads because they are given a choice. He said this is why Hulu offers its regular subscriptions at $7.99 a month, while customers can now select an ad-free subscription for an additional $4 a month.  
Murdoch also humorously objected to the term "binge-watching" to describe the act of watching Netflix or Hulu for an extended period of time.  
"I prefer calling it 'marathons,'" he said. "That way, you've accomplished something at the end. Whereas, a binge is something you feel guilty about -- I don't think you should feel guilty about it."
Calling all HuffPost superfans!
Sign up for membership to become a founding member and help shape HuffPost's next chapter