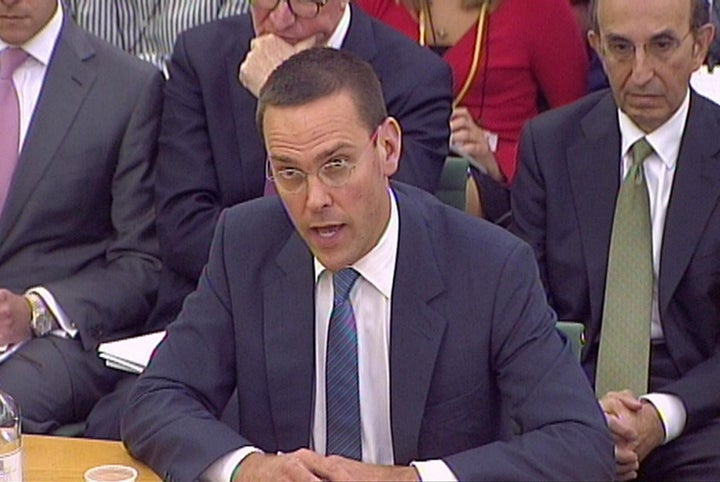 John Whittingdale and Tom Watson, members of Parliament's Culture, Media and Sport Committee, spoke Tuesday about possibly recalling Murdoch following the release of several bombshell letters that cast doubt on previous claims about investigating phone hacking at the now-shuttered News of the World and suggest a possible cover-up.
"We are simply trying to find out whether Parliament was misled and where," Watson said, noting that it's "likely we'll take Murdoch back" for additional questions.
Before the long-simmering scandal exploded in July, James Murdoch was considered heir apparent at News Corp. and was leading the company $12 billion takeover of British Sky Broadcasting -- a deal that fell apart amid shocking revelations last month. Although the BSkyB board recently expressed confidence in James' stewardship, his father appears to have lost some. Last week, Rupert Murdoch told investors that chief operating officer Chase Carey would succeed him in the short term if needed, rather than James.
It'll still be a few weeks before the DCMS committee decides whether or not to call back James Murdoch. That'll depend on a Sept. 6 hearing featuring several former News Corp. executives that's likely to be the most closely watched since Rupert, James and former chief executive Rebekah Brooks testified last month. The committee is asking former News of the World editor Colin Myler and ex-legal chief Tom Crone, among others, to appear and answer questions relating to the just-released documents.
In a March 2007 letter, Clive Goodman -- the royal reporter convicted of phone hacking just over a month earlier -- claimed that the practice of illegally intercepting phone messages was "widely discussed" in editorial meetings under then-editor (and later David Cameron's media chief) Andy Coulson. He also claimed that Crone and Coulson promised to reinstate him if he didn't implicate higher-ups.
On Tuesday, Whittingdale mentioned that the committee will need to look deeper into the "continuing difference in the accounts" of James Murdoch, Myler and Crone. Two days after Murdoch's testimony, Myler and Crone said he misled Parliament by claiming not to have known that phone hacking went beyond one reporter in 2008 when they discussed an out-of-court settlement. In separate letters, the two men reiterated the claim that Murdoch was made aware of an email showing that at least one other reporter, Neville Thurlbeck, was involved in phone hacking. Murdoch, in a letter, said he has no recollection of such an email being discussed.
In another revealing letter to the committee, Harbottle & Lewis -- an outside law firm brought in to review a set of News of the World staff emails in May 2007 -- refutes James Murdoch's claim they determined Goodman was just a "rogue reporter" and phone hacking hadn't been widespread. (Murdoch may also be asked why News Corp. provided a more heavily redacted version of the Goodman letter to Parliament that not only removes names but also the allegations of superiors knowing about the hacking.)
The committee is also requesting the appearance of former News International director of legal affairs Jon Chapman and former human resources director Daniel Cloke. Chapman and Cloke conducted an email review that's been characterized by Murdoch as a substantive investigation into widespread hacking; however, Chapman said in a letter that the review was actually "relatively limited in its scope and terms of reference" and "was never intended to be a general internal inquiry or investigation into the issue of voicemail interception at the News of the World."
"News Corporation's board has set up a Management and Standards Committee, chaired by independent Chairman Lord Grabiner, which is co-operating fully with the Metropolitan Police and is facilitating their investigation into illegal voicemail interception at the News of the World and related issues," the company said in a statement. "We recognise the seriousness of materials disclosed to the Police and Parliament and are committed to working in a constructive and open way with all the relevant authorities."
The committee also plans to contact Coulson, Brooks, ex-managing editor Stuart Kuttner and former Dow Jones chief Les Hinton to "ask them whether they wish to add anything to or amend any of the evidence they have previously given to the committee."
While Hinton received the Goodman letter in February 2007, he did not acknowledge it when testifying before Parliament the following month. At the time, Hinton confirmed to Whittingdale that the company had conducted a full investigation and he was convinced Goodman was the only reporter involved. The latest revelations show that the internal email review, along with the subsequent review by Harbottle & Lewis, weren't completed for months after Hinton's testimony.
In an ITV News interview, Watson questioned why Hinton didn't mention the letter before Parliament or notify the police. "After all there had been an allegation of widespread criminality in the organization in 2007 and he didn't want to clear it up," Watson said. "That contradicts what Rupert Murdoch told us, which is he takes a zero tolerance policy to wrongdoing in News Corp."

Related
Popular in the Community