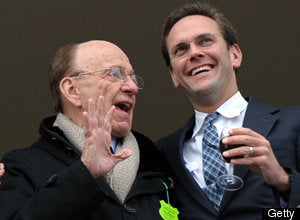 News Corp heir apparent James Murdoch stormed into a rival's office demanding to speak to the editor after that paper ran an unflattering ad about his father.
Murdoch and News International chief Rebekah Wade, the tabloid queen who oversees all of News Corp's British newspapers, crashed the London offices of The Independent Thursday. The move came after the Independent issued a series of promotional ads saying, "Rupert Murdoch won't decide this election. You will."
The Guardian reports that Murdoch "berated" Independent Editor-in-Chief Simon Kelner, launching at him with "What are you fucking playing at?" and then proceeding into his office for "frank and full discussions."
"They strode in like a scene out of Dodge City," one Independent journalist told the Guardian. "Murdoch scanned the room, you could almost hear him saying, 'Where is he?'"
Another Independent compared the visit to a mafia visit, telling the Guardian, "It was so bizarre. He came in all menace. You know the sort of thing: 'The boss has heard what you have been saying about him. He doesn't like it.'"
There is an accord among the British publications that "editors and owners do not attack each other in person - not their politics, their finances or their private lives," another Guardian article explains.