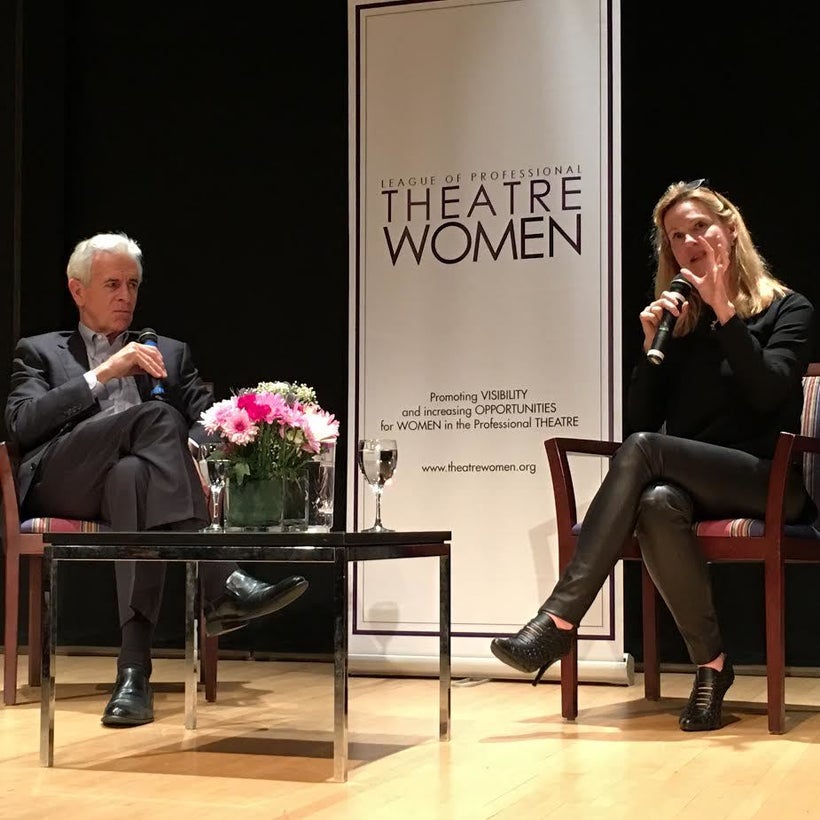 Here's a disturbing thought: Laura Linney almost didn't become an actress. "I fought against it for a long time; I felt I had to earn it," she explained in an interview with actor/director James Naughton at Lincoln Center's Bruno Walter Auditorium on March 6. Growing up backstage with her father, playwright Romulus Linney, she so revered the theatre that initially, she was "afraid to become a part of it." Fortunately for her many fans, Linney did eventually embrace the craft, enrolling at Juilliard for her training.
The inspiring and entertaining discussion between Linney and Naughton was the latest in an excellent series presented by The New York Public Library for the Performing Arts at Lincoln Center in collaboration with the League of Professional Theatre Women. Betty Corwin, Pat Addiss, and Sophia Romma produced the event.
Radiant in a simple all-black ensemble—skinny leather pants, knit top, and hip, spikey shoes—Linney looked decades younger than her 53 years. Her acting DNA predates her playwright father: her grandmother was an actress manqué. In homage to her, Linney proudly displayed the gold sunburst pendant she wore—grandma's long-ago won elocution medal.
Hailed as one of the best actresses of her generation, Laura Linney continues to captivate audiences with her work in film, television, and theatre. She is a three-time Oscar nominee, three-time Tony nominee, four-time Emmy winner, and two-time Golden Globe winner.
Throughout the hour-long interview, Linney and Naughton covered a lot of creative ground, discussing her childhood, her experience at Juilliard (where she now mentors fourth-year acting students), working with Clint Eastwood, parenthood (Linney gave birth to her son Bennett just before her 50th birthday), and how she manages to overcome her deep dislike of cameras. Throughout, Linney remained forthright, insightful, charming, and completely accessible.
Linney attributes much of her career success to the training she received at Juilliard. She is unstinting in her praise for the school, telling Naughton, "When people ask me, 'What was your big break?' I say it was going to Julliard. It's a tough school, but it for me it was like water in the desert." She continued, "Once it became clear to me that I could no longer be a 'closet actress,' that I was serious about acting, I knew I had to get trained. Juilliard was the right school for me." She then sighed, lamenting, "I miss my time at Juilliard."
The actress credited fellow actor Kevin Kline for helping her prepare for her film work with director Clint Eastwood (Eastwood directed her in Absolute Power, Mystic River, and, most recently, Sully): "Kevin told me, 'Film acting is all about relaxation.' Clint does one take and no rehearsal. So I learned how to 'simmer' all day, to save my energy. I learned how to surrender." Linney also shared that she does a huge amount of preparation for every role: "Not feeling prepared makes me nervous. I do a lot of work before I get there, which puts my own self-doubt to rest." When Naughton queried her about her disdain for cameras—ironic for an actress who works in film—she replied, "I don't like having my picture taken, so I've learned to connect with the person behind the camera. I especially love the focus pullers. Generally the camera people look down at the floor between takes, to avoid betraying their feelings. But the focus pullers, I can tell what they're thinking by their body language. They humanize it for me."
Naughton and Linney talked about Linney's work as executive producer and actress on Showtime's well-received series The Big C, about a suburban wife and mother coping with the disease. Linney won a Golden Globe for the show, which ran for four seasons. The discussion took a personal turn for both Naughton (whose wife died of pancreatic cancer in 2013) and Linney, who was raised by a single-parent mother who worked as a nurse at Sloan Kettering Cancer Center in New York City. Linney shared that she was aware of the disease from a very young age, as she got to know her mother's grateful patients. She recalled being taken to meet one of her mother's more famous patients, composer Richard Rodgers. "He hugged her in a way that really made an impression on me, showing how much her care meant to him," she said." Linney's playwright father died of cancer during the filming of The Big C, imbuing the series with a particularly personal resonance. "Comedy is a survival technique," explained Linney about the show. "We use comedy to find the truth through the chaos."
In closing, Linney told the audience, "The only career decision I ever made is to cast the net wide, to not say 'no'." She outlined what she needs to effectively practice her craft: "Sleep, quiet, and good coffee." Let's hope the universe provides all three in great abundance, for many years to come.
Broadway audiences can next catch Laura Linney in April when she will co-star with Cynthia Nixon in Manhattan Theatre Club's production of Lillian Hellman's legendary play The Little Foxes. (In an interesting twist, Linney and Nixon will alternate the lead roles of Regina and Birdie). Other upcoming projects include the film The Dinner, directed by Oren Moverman, with Richard Gere, Steve Coogan, and Rebecca Hall and Ozark, a Netflix original series where she plays opposite Jason Bateman and Julia Garner.
Calling all HuffPost superfans!
Sign up for membership to become a founding member and help shape HuffPost's next chapter
This post was published on the now-closed HuffPost Contributor platform. Contributors control their own work and posted freely to our site. If you need to flag this entry as abusive,
send us an email
.