James Norton agrees that PBS's Grantchester tantalizes viewers with that most enduring of TV questions, "Will they or won't they?"
Sadly, he says, it also seems to provide the answer: They can't.
In Grantchester, whose second six-episode season launches Sunday night at 9 ET, Norton plays Sidney Chambers, an Anglican priest in the small British town for which the series is named.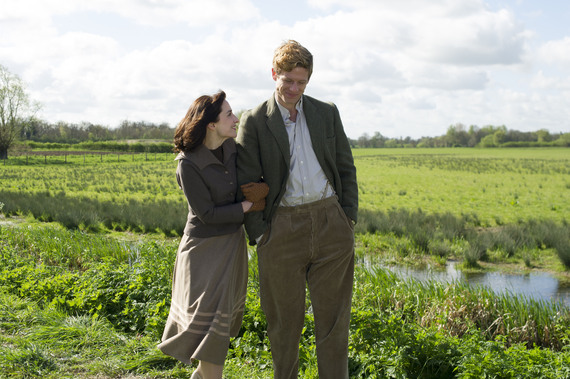 Since well before we joined the series, he has been in love with Amanda Kendall (Morven Christie), above, an heiress he met through his sister. Amanda is also in love with Sidney.
The catch is the heiress part. Her rich father has promised her to another man, Guy Hopkins (Tom Austen), and in the 1950s, when the series is set, Amanda didn't have a vote.
"The sacrifice for both Sidney and Amanda to defy her father would have been too great," says Norton. "In order to go with Sidney, Amanda would have had to break away from her family. He would have had to turn his back on his faith.
"So there's a sense of it can't happen."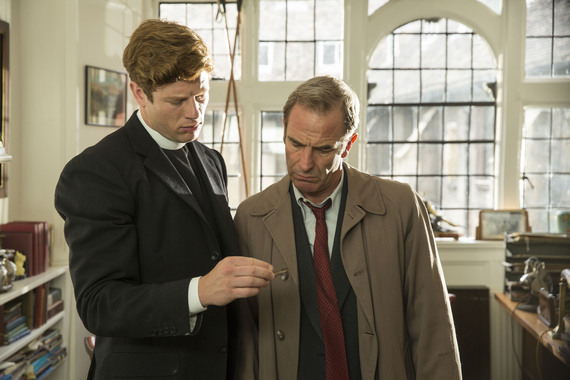 A tragically doomed romance is hardly the only thing going on in Grantchester, where Sidney teams up with Detective Inspector Geordie Keating (Robson Green) (above) to solve the remarkably high number of murders that seem to occur in this bucolic and rather sleepy little town.
The murder part, largely based on stories by James Runcie, works nicely, striking a balance between rustic whimsy and tackling tough issues from child pornography to the death penalty.
But what sets Grantchester furthest apart from its colleagues in the well-populated British detective series genre is Sidney's relationship with Amanda, and the impact it has on his life.
In the first season, when Amanda became formally engaged, he wept when he opened her wedding announcement. She also asked him to perform the ceremony.
As the second season opens, Amanda is married and living some distance away. That's not good for Sidney.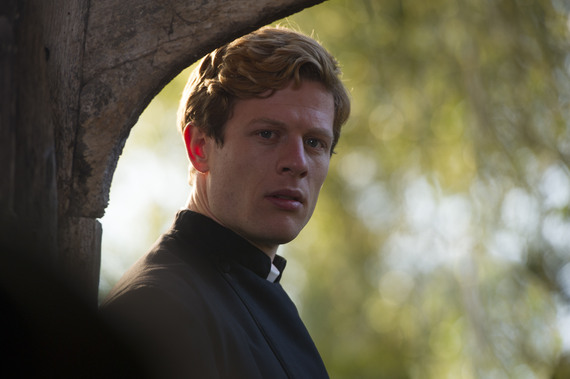 "He hits a dark place," says Norton. "When Amanda's not there, he turns to drink. It's in the tenor of the times. But he drinks rather too much."
He also rejects a string of dates with whom Keating and other well-intended friends set him up. This despite the fact he may be the most eligible bachelor between Dover and Stonehenge, an appeal underscored early in the second season when he and Keating peel down to their shorts for a swim on a group picnic outing.
Fans of classic moments in Brit period pieces may pause a moment here to recall Colin Firth in Pride & Prejudice.
If the image of Norton as a troubled young bachelor sounds vaguely familiar, he also recently starred as Alexei in the miniseries War and Peace - though Norton notes that epic offered much different trappings.
"Sidney and Amanda fall in love in very quiet scenes," he says. "When Alexei and Natasha [Lily James] fall in love, they're surrounded by 300 Russian extras in a huge palace."
Still, he says, a love scene must be a love scene.
"In the moment, you can have all the pomp and circumstance in the world," he says. "But if you don't have that intimate space between two people - just the way they look at each other - as an actor, all the rest is unimportant."
He also says he sees some similarity between the aristocrat soldier Alexei and the small-town vicar Sidney.
"They're both travelers," he says. "They're restless. They're looking for something more."
Norton says he understands that.
"As an actor, I like characters who are searching for something," he says. "I'm less interested in an action junkie than in a character who uses his imagination."
He also likes to use his own.
"I'm 30 years old and still trying to work it out myself," says Norton. "You know, why are we here? What are we doing? Why are we doing it?"
Whatever Norton's answer, Sidney Chambers's answers aren't always what one might expect from a small-town vicar.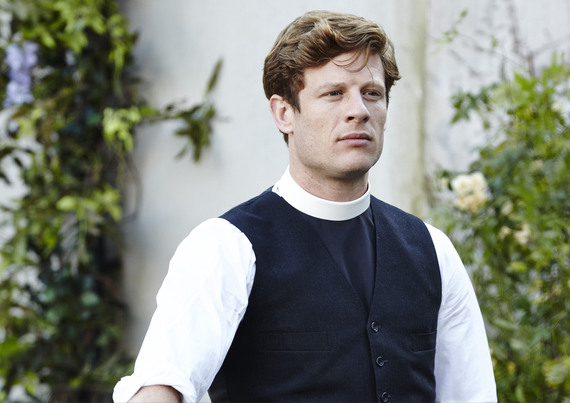 Like the time last season when a jazz group came into town and he ended up sleeping with the female vocalist.
"Think what that says about his relationships with women," says Norton. "In those days, having a one-night stand with a jazz singer was pretty extreme."
It felt extreme to Runcie, who told the magazine Cotswold Life that this was a detail in which the TV series departed from the books. Runcie admitted to some surprise when he saw it.
Nothing Sidney does, however, diminishes the fact that he's basically a good man, and Norton points to his relationship with Keating as evidence.
"Sidney humanizes Geordie a bit," suggests Sidney. "They complement each other because in spite of their very different styles, they want the same thing. They want the world to be a better, happier place."
For Sidney himself, that will require something of a journey.
"He's carrying a lot of baggage," says Norton. "But I think he learns from his mistakes. He's trying to become the best version of himself, and he's a lot closer to that person than he thinks. People respect him. They listen to him. I think he underestimates himself."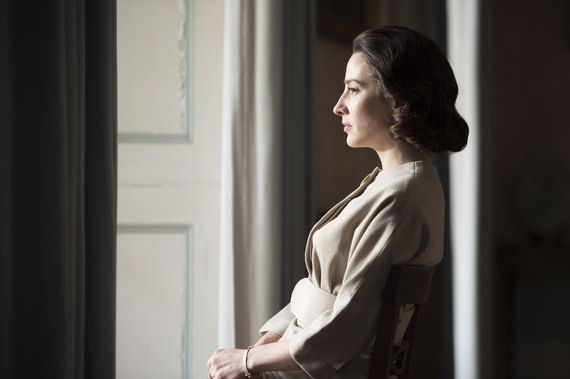 Without Amanda, of course, he may do that for the rest of his life.
"These are two people who even under the new circumstances still turn to each other," says Norton. "I suspect everyone who watches the show sees them and has to be thinking, 'There must be a way.' "
Calling all HuffPost superfans!
Sign up for membership to become a founding member and help shape HuffPost's next chapter