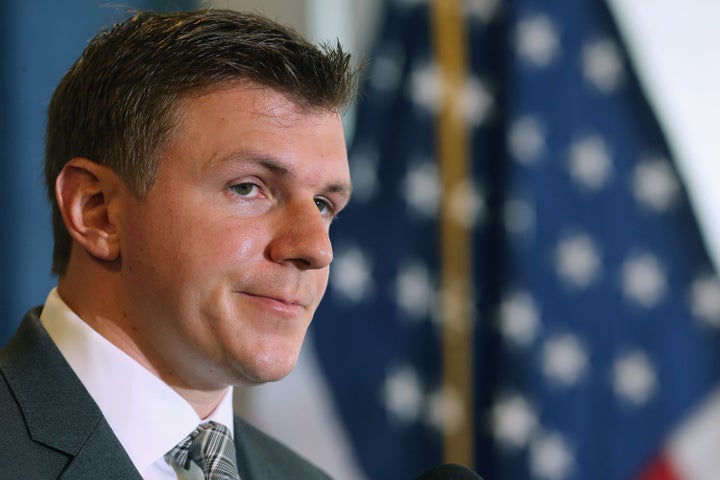 WASHINGTON ― A Justice Department prosecutor pursuing felony convictions for six of the hundreds of individuals arrested during President Donald Trump's inauguration successfully introduced to a jury on Tuesday a video of a protest planning meeting that was secretly recorded by a controversial organization run by conservative activist James O'Keefe.
The video, shot by an affiliate of O'Keefe's Project Veritas, shows a Jan. 8 meeting in a church basement in northwest Washington. It was shown to the jury during Tuesday's testimony of Officer Bryan Adelmeyer of the Metropolitan Police Department, who went undercover to suss out protesters' plans for Trump's inauguration on Jan. 20.
The Project Veritas video may play a key role in a trial that could determine the fate of an additional 181 defendants still facing trials on several felony counts over the course of the next year. More than 200 people, including numerous journalists, were arrested en masse after windows were smashed in downtown Washington before the inauguration. One defendant pleaded guilty to felony rioting charges, and 19 others have pleaded guilty to misdemeanor counts. Seven additional defendants who initially faced felonies are now scheduled to face trial on misdemeanor charges next month.
A total of 187 defendants, including the six currently on trial, have pending felony charges, with prosecutors alleging they were part of a conspiracy that resulted in extensive property damage and should therefore be held responsible for the actions of the other individuals they were arrested with. So far, prosecutors have not alleged that any of the six defendants on trial individually caused any destruction but instead argued that they enabled those who did. One of the defendants is a photographer who had taken an interest in covering demonstrations throughout the United States.
Critics have long accused Project Veritas of deceptive practices. Hours before the video was played in D.C. Superior Court, The Washington Post reported that a woman working with Project Veritas tried to convince the newspaper to print false allegations against Alabama senatorial candidate Roy Moore, who has been credibly accused by multiple women of pursuing relationships with them when he was a prosecutor in his 30s and they were teens. But videos filmed by Project Veritas, which sought to infiltrate groups planning to disrupt Trump's inauguration, have been used to secure at least one other conviction in a separate inauguration-related case.
The government maintained on Tuesday that the video provided by Project Veritas wasn't deceptively edited. But Assistant U.S. Attorney Jennifer Kerkhoff initially tried to keep Project Veritas' name out of the court record, referring to it only as a "third party provider" and objecting when one of the defense attorneys was about to name the organization.
"Who provided it is irrelevant," Kerkhoff told the judge out of the presence of the jury. "I have not disclosed the identify of the tapers."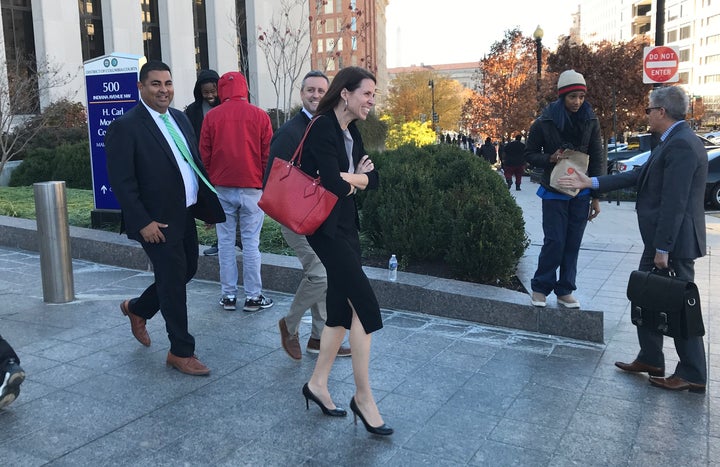 After a defense attorney told Superior Court Judge Lynn Leibovitz that the organization was "ultraconservative" and had a reason to potentially doctor the video, Kerkhoff relented, admitting to the judge it was provided by Project Veritas.
Kerkhoff even said that the government had redacted the video themselves, concealing the identity of the Project Veritas affiliate who used a button camera to record the video as well as Adelmeyer's image.
Leibovitz, over the objections of defense attorneys who believed the video had not been properly authenticated, allowed the Project Veritas video to be shown to jurors. She ruled that because Officer Adelmeyer was present for much of the discussion captured in the video, he would know if it accurately reflected what he saw.
Sam Menefee-Libey, who is handling press for a group of defendants and supporters of what has been dubbed J20 (for the Jan. 20 protests), called the government's use of the video an overreach. He believes the government doesn't want the name of the organization to come out because it undermines its credibility.
"The judge has allowed the U.S. Attorney's Office to get away with something that is incredibly questionable," Menefee-Libey said. "Veritas has been roundly denounced by every reputable journalistic organization on the planet as being deceptive."
O'Keefe did not respond to several questions posed by HuffPost in an email on Tuesday but did send a tweet directed at a HuffPost reporter referencing his organization's work during the inauguration. A Project Veritas representative provided links to prior coverage of its infiltration of protest organizations.
Adelmeyer testified Tuesday that he did not film video or record audio when he attended the Jan. 8 meeting in an undercover capacity. It was only afterward that the government learned the meeting had been recorded by Project Veritas.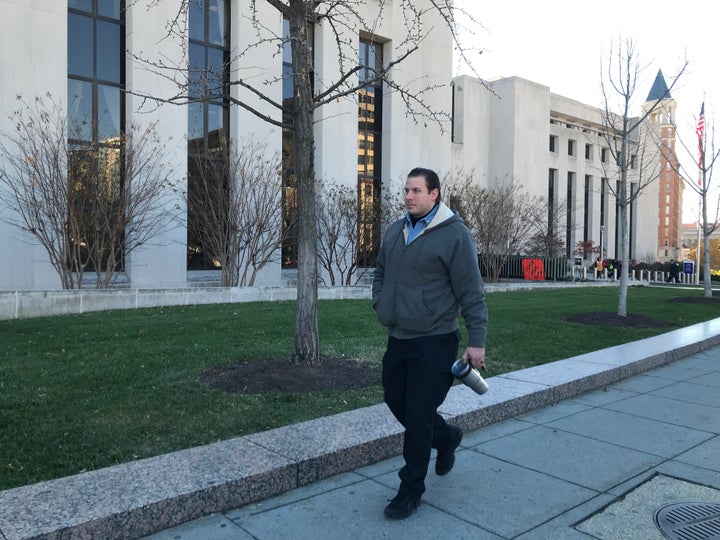 Much of the discussion captured on the tape touched on the relatively progressive approach that the D.C. Metropolitan Police Department has taken toward protesters in recent years. Organizers did not believe that police would arrest them en masse or corral them, and one person found it "comforting" that the Metropolitan Police Department would be in charge of the areas they were protesting. The leader of a group, named Dylan, said its goal was to "make inauguration a giant clusterfuck."
In the tape, there was some talk of "unarresting" people ― meaning breaking individuals out of police custody ― and "resisting" attacks from the police and Trump supporters. There was also a brief mention of breaking windows: a caution not to do so during another event.
Adelmeyer will face more aggressive questioning from defense attorneys on Tuesday morning. They're expected to ask him about a civil lawsuit brought against him as well as any internal disciplinary actions he's faced.
Prosecutors, defense attorneys and Judge Leibovitz also engaged in a lengthy discussion outside of the presence of the jury about the use of the term "antifa," which defense attorneys worried would give negative connotations to the jury. Judge Leibovitz was worried that simply saying antifa was short for anti-fascist would take away from the meaning of the term. "I assume if you polled the 15 people in the jury box, they're not too crazy about fascism either," she said. She ended up telling the jury that antifa was short for anti-fascist and that such a term should not be thought of as an indicator of violence. She also restricted the use of the term "black bloc" in the trial, saying the phrase for black-clad protesters should be used only when alleged conspirators used it.
Ryan Reilly is HuffPost's senior justice reporter, covering criminal justice, federal law enforcement and legal affairs. Have a tip? Reach him at ryan.reilly@huffpost.com or on Signal at (202) 527-9261.
Popular in the Community