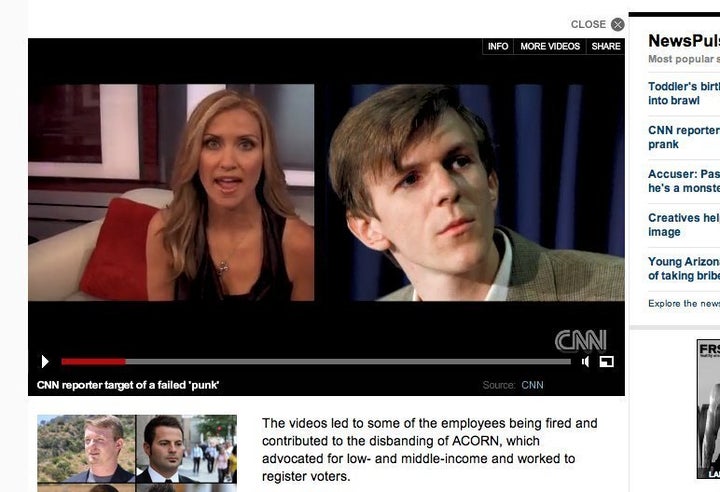 In one of the most bizarre and hilarious stories you are likely to read today, CNN's Scott Zamost reports that during the production of a CNN documentary series on young up-and-coming conservative activists, infamous "ACORN pimp" James O'Keefe hatched a strange plot to pull a prank on CNN Investigative Correspondent Abbie Boudreau, involving a staged seduction attempt on a boat, with candles and dildos. Huh, what?
A conservative activist known for making undercover videos plotted to embarrass a CNN correspondent by recording a meeting on hidden cameras aboard a floating "palace of pleasure" and making sexually suggestive comments, e-mails and a planning document show.

James O'Keefe, best known for hitting the community organizing group ACORN with an undercover video sting, hoped to get CNN Investigative Correspondent Abbie Boudreau onto a boat filled with sexually explicit props and then record the session, those documents show.
Boudreau describes the matter as a "very strange turn," which is something of an understatement.
It all basically went down like this: CNN has spent the past few months documenting the activities of some of the conservative movement's new young guns, including O'Keefe, whose undercover agitprop is a staple of an organization called Project Veritas. Believing she was going to be meeting O'Keefe to discuss a music video, Boudreau agreed to travel to Maryland to have a face-to-face meeting with O'Keefe. O'Keefe wanted Boudreau to come alone, and made it sound like his major concern was reticence over his privacy:
"I just want to talk," O'Keefe told Boudreau on the phone. "I just want to have a, you know, meeting with you, and talk to you face to face about this. Because, I don't, I feel sort of, let's just say reserved about, about letting people into my sort of inner sanctum, about letting, letting people sort of take a glimpse into, into, behind the scenes, so that's why you know, I just feel more comfortable if it was just me and you and we just had a face-to-face meeting before I agree to, to let you guys come out and shoot the video shoot out there."
That's from a recording of the phone call between O'Keefe and Boudreau, taped without her knowledge, but subsequently obtained by CNN when O'Keefe disseminated it to colleagues.
Boudreau showed up for the meeting unaware that she was about to be subsumed within one of O'Keefe's stunts. But Izzy Santa, the executive director of Project Veritas, gave up the game just as it was about to go down:
When Boudreau arrived at the address, a house located on a tributary of the Patuxent River, Santa approached her with a tape recorder in her hand and said she wanted to talk in the car, Boudreau said.

"I noticed she had a little bit of dirt on her face, her lip was shaking, she seemed really uncomfortable and I asked her if she was OK," Boudreau said. "The first thing she basically said to me was, 'I'm not recording you, I'm not recording you. Are you recording me?' I said, 'No, I'm not recording you,' and she showed me her digital recorder and it was not recording."

Santa told Boudreau that O'Keefe planned to "punk" her by getting on a boat where hidden cameras were set up. Boudreau said she would not get on the boat and asked Santa why O'Keefe wanted her there.

"Izzy told me that James was going to be dressed up and have strawberries and champagne on the boat, and he was going to hit on me the whole time," Boudreau said.
CNN obtained "a 13-page document titled 'CNN Caper,'" which elaborated on the prank in hilarious detail. For example, here is the equipment list:
Equipment needed

a. Video

1. hidden cams on the boat

2. tripod and overt recorder near the bed, an obvious sex tape machine

b. Props

1. condom jar

2. dildos

3. Music

a. Alicia keys

b. 80s romance songs, things that are typically James

c. avoid Marvin Gaye as too cliche

4. lube

5. ceiling mirror

6. posters and paintings of naked women

7. playboys and pornographic magazines

8. candles

9. Viagra and stamina pills

10. fuzzy handcuffs

11. blindfold
I mean, he thought of everything, right? After dressing the set in dildos and candles and porn and Viagra, Marvin Gaye's oeuvre really would have been "too cliche." But O'Keefe really thought that this would "turn the tables" on CNN:
James was supposed to tape the following script before the meeting on the boat.

"My name is James, I work in video activism and journalism. I've been approached by CNN for an interview where I know what their angle is: they want to portray me and my friends as crazies, as non-journalists, as unprofessional and likely as homophobes, racists or bigots of some sort..."

"Instead, I've decided to have a little fun. Instead of giving her a serious interview, I'm going to punk CNN. Abbie has been trying to seduce me to use me, in order to spin a lie about me. So, I'm going to seduce her, on camera, to use her for a video. This bubble-headed-bleach-blonde who comes on at five will get a taste of her own medicine, she'll get seduced on camera and you'll get to see the awkwardness and the aftermath."

[...]

It goes on to explain how James should "adapt" to my mood on the boat.

"As the operation is going on, James will have to adapt and adjust to her mood and her reaction. If she is pulling away, withdraw and pull her back in. If she's unsure, comfort her and reassure her. Vacillate between somewhat serious interview and the come-hither persona as needed in order to confuse her judgment and also keep her on the boat."
It would seem as if O'Keefe actually thought Boudreau would not realize something bizarre was going on, on this lube-covered boat! In fact, the documents CNN obtained more or less demonstrate that O'Keefe had little more than contempt for Boudreau, constantly deriding her intelligence and ability, referring to her as a "bubble-headed-bleach-blonde." In reality, Boudreau has had a storied career as an investigative journalist. Prior to coming to CNN, she reported on a potentially calamitous design flaw in tires manufactured by the Cooper Tire and Rubber Company. Her story led to further investigations and a product recall. She basically saved peoples' lives as a result of her work.
James sent CNN an email denying that he intended to stage this prank, claiming that it was "not my work product." But the "CNN caper" document indicates otherwise, and even includes an detailed set of instructions on what to do if CNN caught wind of the plan, and "went on the attack." Santa, who prevented this all from happening, has apparently been stripped of her "duties" at Project Veritas, but remains on that organization's payroll. Boudreau writes about the experience in her own words, here.
[Would you like to follow me on Twitter? Because why not? Also, please send tips to tv@huffingtonpost.com -- learn more about our media monitoring project here.]

Related
Popular in the Community