NEW YORK ― Two progressive activists were hospitalized overnight Sunday after they were beaten at an event featuring conservative provocateur James O'Keefe.
Neither fought back or otherwise engaged in violence, according to Peter James Callahan, a third activist at the event who captured some of it on video, screenshots of which are below.
The other injured activist, Jason Charter, said he was beaten and kicked, and his phone and camera were stolen. Both men were released from the hospital Monday.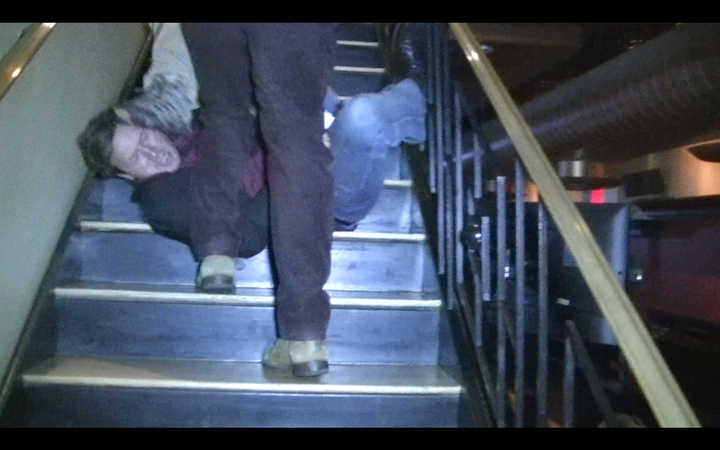 The melee broke out at a "Friends of Abe" event that featured O'Keefe at Eamonn's Bar and Grill in midtown Manhattan. Attendees were invited to ask questions. Clayton, who blogs for The Huffington Post, was handed the microphone and began singing. When attendees realized what was happening, Clayton said a man grabbed him from behind.
Clayton told HuffPost the assailant put his larynx in the nook of his elbow and began twisting his head sideways. "I felt a pop-pop-pop-pop-pop, and then there was nothing left to pop," Clayton said. "There was a moment I thought, 'Oh God, this is how I die.' Last night was the most terrifying night of my life."
Clayton said that as he was dragged through the bar, the crowd cheered his assailants and O'Keefe called out his name.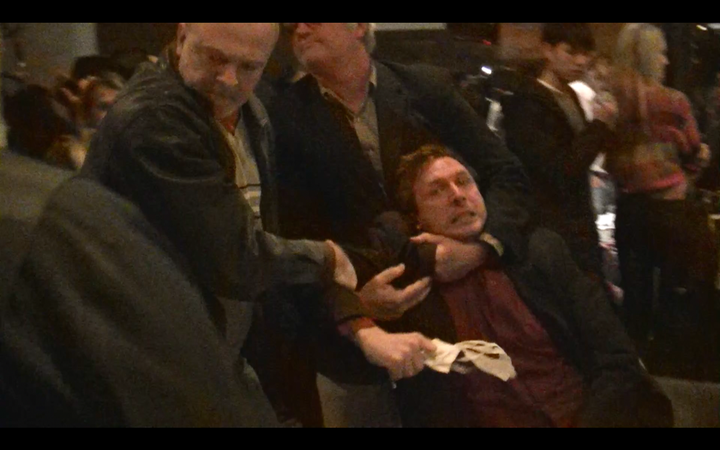 "They dragged me to the top of the stairs and I'm thinking, 'Oh boy, we're going here,'" Clayton said.
He tumbled down the stairs, but a man standing about halfway down helped break the fall. Clayton said someone kicked him in the head.
By then, the light from a video camera was illuminating the scene, and Clayton shouted to his attackers that they were being filmed, which he believes ended the beating. He said he ran out the front door of the bar.
Charter, 22, said he thinks the crowd quickly identified him as an infiltrator. He figured that when Clayton told the crowd they were being filmed, people suspected him as the cameraman. He had a camera hidden in his tie.
"Somebody looked at my neck tie and I was thrown to the ground," Charter said. "I had a foot placed on my neck and held down. My lower right abdomen is very sore from the kicks."
The foot eventually became a knee on his neck, he said, as his camera, his phone, his glasses, his tie and his wallet were taken. Charter said a man he couldn't identify got the crowd off of him and helped him leave.
Once outside, police helped him regain possession of his wallet, but he never got back the phone, camera or glasses. "I didn't do a little song and dance like Ryan did. I was pretty much just standing there," Charter said.
Police made no arrests and a spokesman said the injured men were not assaulted at the location of the O'Keefe party. The spokesman said police were called to settle a harassment complaint, not for an assault.
"We have no information on somebody being thrown down the stairs," Sgt. Lee Jones said. "That would be assault."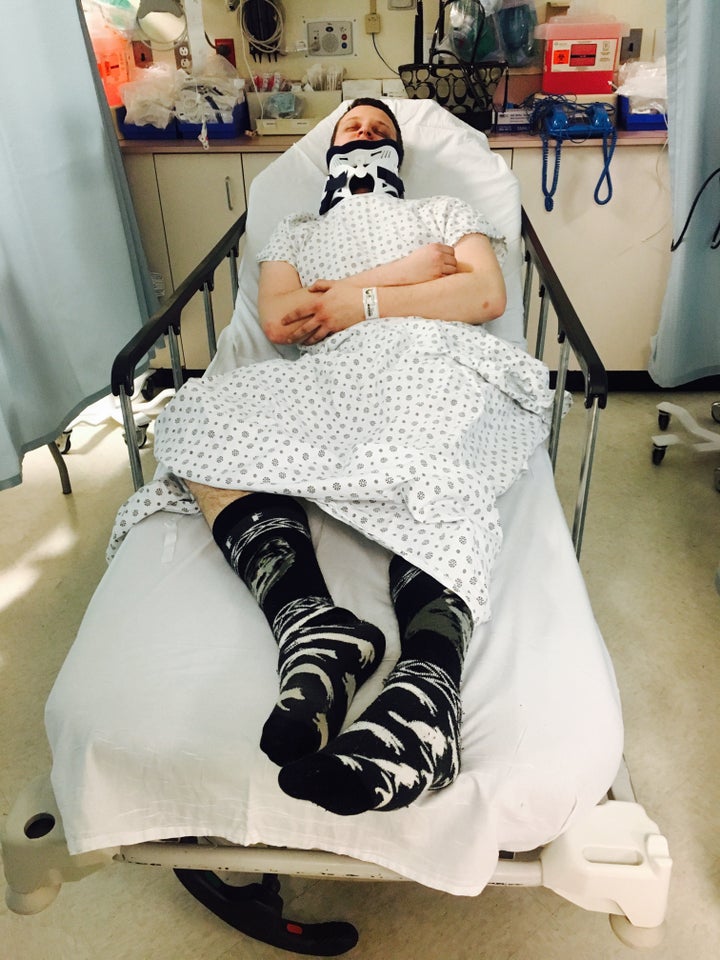 A bar manager told HuffPost the police arrived quickly.
O'Keefe, known for undercover sting videos, declined to comment on the fracas to HuffPost. In a video he posted on Twitter, O'Keefe, referring to Clayton, says: "This is the guy who said that I was a sexual predator. He comes into the event and attacks everyone."
Huffington Post contributor Ryan Clayton grabbed the microphone and started singing at the conservative Friends of Abe event. The Friends of Abe is anonymous group of conservatives in media and celebrity status who don't want to be outed as conservative in the liberal bastion of New York City. Clayton then pulled out a camera and threatened the crowd. He said he was going to film them and publish the video. That's when an audience member restrained him while two others took his video recording device.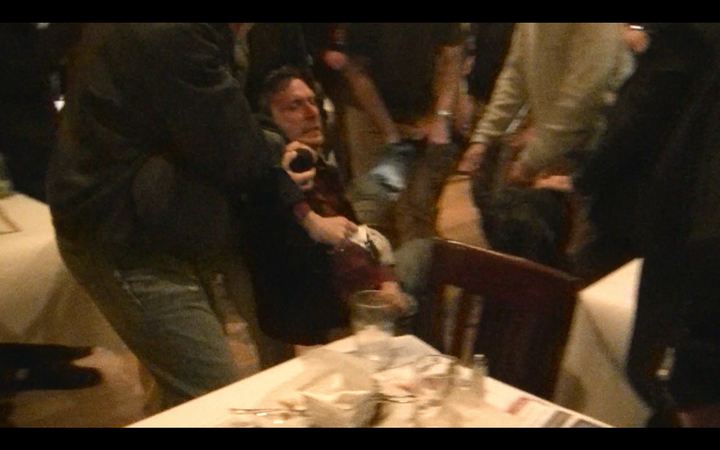 Clayton said his back and neck remain sore. "I feel like a stood face to face with fascism last night in a bar in Manhattan," he said. "The brown shirts are here."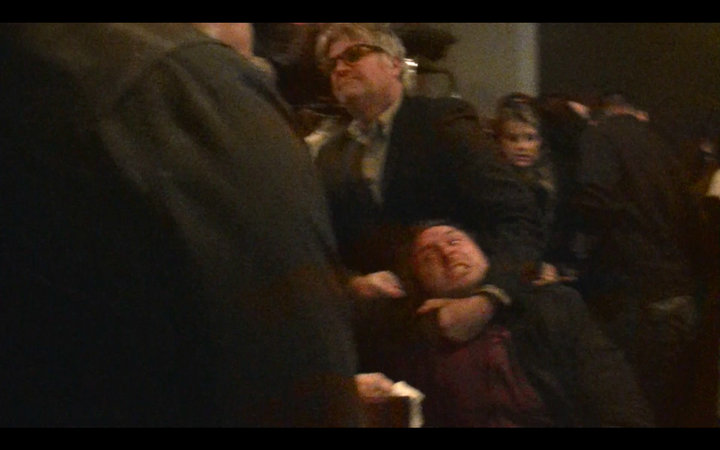 UPDATE: Jan. 31 ― O'Keefe released a video on Tuesday responding to Clayton, which includes footage from the evening Clayton recorded his meeting with an O'Keefe operative. The video confirms that at a restaurant in Washington, just before the inauguration, a liberal and a conservative sat down for a meal together, and both surreptitiously filmed the other. Each was trying to get the other to say something incriminating.
O'Keefe's new video also includes footage of Clayton and The Undercurrent's Lauren Windsor following the conservative operative out of the restaurant and taunting her with questions ― with Clayton shouting, on multiple occasions, "Gotcha bitch," and getting into a cab with her.
O'Keefe told HuffPost the tactics were over the line. "Do they think it's appropriate to harass a woman down a street, call her a bitch and follow her in a cab?" O'Keefe asked.
O'Keefe also condemned The Undercurrent for posting his personal cell phone number online; a supporter of O'Keefe responded by posting Callahan's number. [Update: O'Keefe ally Laura Loomer posted Windsor's phone number online first, which precipitated the response, according to a screenshot Windsor provided HuffPost.]
Watch O'Keefe's rebuttal to Clayton below.
CORRECTION: An earlier version misspelled Jason Charter's last name and misidentified the person in the hospital bed picture. Charter is shown in the picture.
Popular in the Community