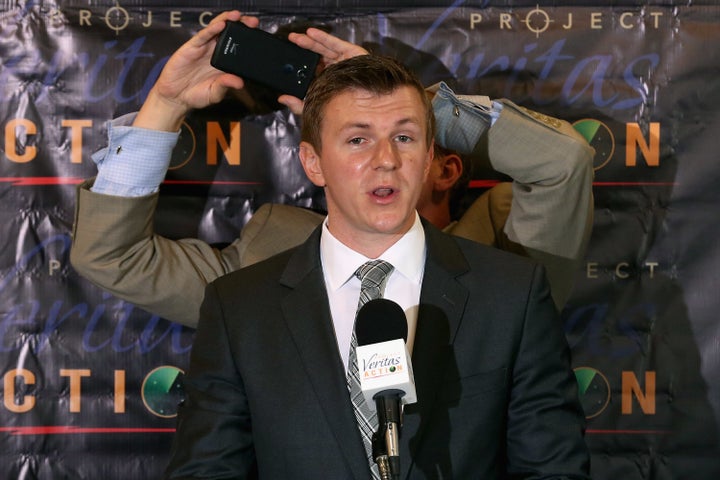 One of the men seen in a new conservative sting video, which purports to expose Democratic attempts to stir up political chaos and commit voter fraud, is calling for the release of the full, unedited tape.
Bob Creamer, a longtime Democratic operative who works closely with the Democratic National Committee, says he is the victim of an elaborate and deceptive smear campaign by the well-known conservative provocateur James O'Keefe. In some of his first comments since that video surfaced earlier this week, Creamer said O'Keefe's tapes make a misleading case, and that if the full footage were made public, those deceptions would be evident.
"Of course they should have all the raw footage up. Everything. People should be able to see the whole thing," Creamer told The Huffington Post. "Our firm and a number of others have been victims of a substantial, monthslong spying operation run by James O'Keefe that was pretty sophisticated."
This week, the fruits of that "spying operation" were made public when O'Keefe's Project Veritas Action Fund published two videos. The first focused on Democratic operative Scott Foval, who is seen boasting of his efforts to disrupt Donald Trump campaign events through "bird-dogging" ― the act of placing your own activists in prime locations at the opposition's events. The second video shows Foval describing what sounds like a voter fraud scheme, in which a campaign could send fleets of out-of-state voters into a place like Wisconsin, equipping them with fake corporate IDs, pay stubs and cars with Wisconsin plates, in order to deliver the state to Hillary Clinton. Other Democrats are featured elsewhere in the video, apparently either discussing that scheme or entertaining other nefarious campaign acts.
In conservative circles, the videos caused a stir, fed in large part by Donald Trump's campaign, which brought O'Keefe himself to the third presidential debate on Wednesday so he could shame reporters for avoiding the issue. Trump, in fact, gave O'Keefe's outfit $10,000 through his Trump Foundation, while the CEO of his campaign, Steve Bannon, regularly featured O'Keefe's work when he was executive director of Breitbart.
But like much of what Project Veritas produces, it's not clear whether or to what extent the content was manipulated before it made its way to YouTube. It's also tough to tell how significant the videos' "revelations" actually are.
As The Washington Post's Dave Weigel notes, several of the allegations appear to be overblown. Bird-dogging, for starters, is a fairly well-known tactic, common enough at campaign events that savvy reporters often see through it. And the idea that Foval was responsible, as he boasts, for stirring up a raucous, occasionally bloody protest outside a Trump rally in Chicago in March is at odds with coverage of the incident, which credited University of Illinois students with shutting the rally down.
"The portrayal was total bullshit, and these poor people were taken out of context," Creamer said.
On Thursday, The New York Times contacted an activist whom Foval claimed to have trained to deliberately instigate a violent reaction from a Trump crowd. The activist told the Times she'd actually gone to the rally of her own accord and without protest training.
As for the voter fraud video, many of the details of the proposed scheme just don't make sense. Moreover, in the video, Creamer is seen and heard expressing doubt about the legality of such a scheme, before Foval, in a separate moment, says he could try to do it without Creamer's knowledge.
The videos have, nevertheless, proved embarrassing ― not just for the subjects involved, but also for the Democratic National Committee, which has paid Creamer for work this cycle, and for the Obama White House, which Creamer frequently visited as part of regular meetings with Democratic activists.
Creamer, who said he and his group have been flooded with threatening phone calls and emails since the release of the videos, argues that what the tapes show is not some sinister scheme to get Hillary Clinton elected, but rather the mundane ways in which political organizations and operatives conduct their business.
One of the undercover Project Veritas videographers got to Creamer by posing as a donor. Creamer was introduced to the videographer by Foval, who was also under the impression that the "donor" was concerned about the immigrant community and eager to subsidize methods for mobilizing them politically.
"I met with him and he sold me completely," Creamer recalled. "He was a very genuine guy who had a whole story about his family history. He was great."
Creamer said that he first pitched the "donor" on doing a bus trip to help get out the vote. He says the Project Veritas "donor" then suggested the scheme involving hiring undocumented workers, issuing them corporate IDs and pay stubs and getting them registered in battleground states.
"Frankly, I didn't understand what he was proposing, because corporate IDs wouldn't do the job," Creamer said. "It has to be a government ID."
But instead of dismissing the man outright and ending the conversation, Creamer said, he tried to steer him toward other ideas. The "donor" struck him someone who was passionate but not well-versed in electoral law. At an earlier point, the "donor" had asked if his "niece" could intern at Creamer's group Democracy Partners, with her family paying her expenses. Creamer agreed to bring the "niece" on board three days a week ― not knowing he was allowing an O'Keefe plant into his own office.
"This guy seemed well-motivated," Creamer said. "And I thought, he is just naive about what's available, what is possible and what is legal."
But why would Foval say, after the fact, that he could go forward with the voter fraud scheme that Creamer found out of bounds? Creamer pleaded ignorance about this. Foval, he said, was a temporary subcontractor whose comments came largely before he began working for Democracy Partners' DNC project. Creamer suspected that Foval's ego played a role.
"This guy was posing as a Democratic political organizer, telling all sorts of great war stories and how smart he is," Creamer said. "This is all about 'what big fish I caught last year' to another fisherman."
Foval, who has blogged for HuffPost in the past, did not immediately respond to a request for comment.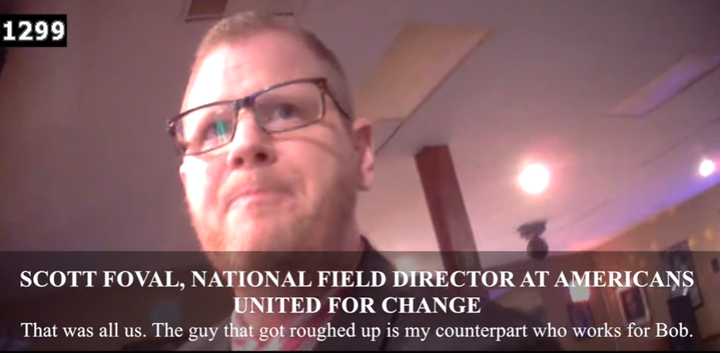 The full, unedited film would presumably show whether Creamer's hunch is correct. O'Keefe has released the full footage for some past projects. But in other cases, he has only released clips that later proved to be misleading and heavily edited. This, of course, has been of little solace to those targets who faced recriminations and even firings before the entire story was known.
In one case, Ron Schiller was forced out of an executive position at NPR after he was heard on tape calling tea party activists racist ― even though he was actually quoting a Republican saying that. In another case, a former ACORN employee was able to successfully sue after he was portrayed as having been a willful participant in an underage prostitution scheme. He had actually played along and then alerted the authorities.
I had my own brush with O'Keefe five years ago, when he surreptitiously videotaped my journalism professor saying I liked to get my sources liquored up so they'd tell me their secrets. I didn't lose my job over this. Instead, I proudly pleaded guilty.
As for Creamer and Foval, both have stepped away from their work in the aftermath of the latest O'Keefe sting. Creamer, who asked that the DNC remove him from managing their "bracketing" program, said this was not an admission of guilt, but rather a simple acknowledgement that he had become a story against his will.
"I didn't want to be a distraction to this campaign," he said. "It is simply too important to elect Hillary and defeat Trump."
UPDATE: 7 p.m. ― Foval provided the following statement to HuffPost in an email Friday evening:
This scheme to cast legitimate organizing activities as a sinister plot is nothing but a ruse. When O'Keefe's team of grifters attempted to find illegal activities going on, they were disappointed to discover, in fact, that I and my associates were only involved in above-board, legal, legitimate organizing work to counter Trump's campaign of division, misogyny, hatred, and xenophobia. Despite our attempts to redirect the conversation and actions towards positive, results-oriented, legal and ethical political organizing, O'Keefe's crew of imposters continued to walk down a path of deception and manipulation. Our team took the high road, deciding to not indulge the imposters in their dubious scheme, rather attempting to put our energies and intentions towards positive activities that garner electorally relevant results. All who view these recordings should remember that they were speculative conversations where we attempted to correct a misguided idea put forth by O'Keefe and his cronies, and we did not take the bait.
Alexander Eichler contributed reporting.
Popular in the Community