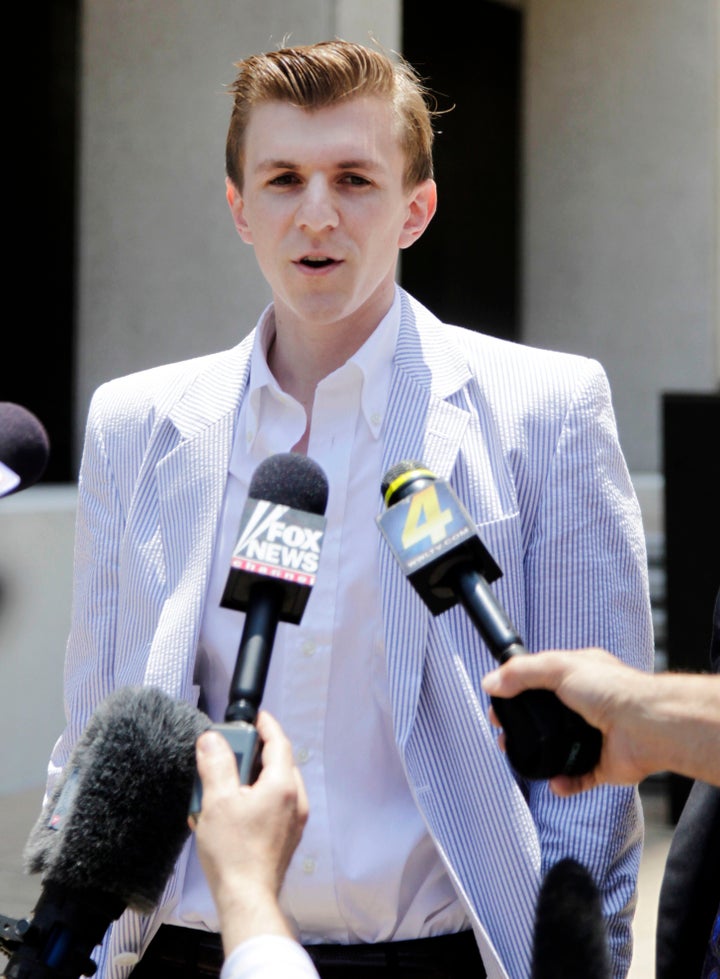 Two months ago, ACORN prankster-pimp James O'Keefe and his Project Veritas group found themselves having to pass the hat, in search of donations that would help pay down the credit card debt the group incurred in their "sting" of National Public Radio's vice president for development Ron Schiller. Two weeks later, O'Keefe hit up supporters again, looking for a cash infusion to "grow an army of truth-seekers and investigators."
Well, the news today is that the Internal Revenue Service has done O'Keefe a solid and has granted Project Veritas non-profit status. Hey! Now they're more like NPR than ever!
"It will help us expand as an organization and institution," Mr. O'Keefe said in an interview on Thursday.

He said the money saved with the status would help Project Veritas train and equip "an army" of citizen journalists to carry out its mission: "to investigate and expose corruption, dishonesty, self-dealing, waste, fraud and other misconduct in both public and private institutions in order to achieve a more ethical and transparent society."

The organization applied for tax exemption in August and received one request for further information from the I.R.S. before it granted approval. The Chronicle of Philanthropy has posted all of the documents the tax agency gave it, along with analysis.
Here are those documents. Among the more significant sections is a promise from Project Veritas' Kate Doner that the organization will not engage in lobbying activities. "No, our organization will not attempt to influence legislation," she told the I.R.S.
Elsewhere, Doner says that the organization's reports will be made "available for free to newspapers and other media," and if the organization chooses to "sell books or videos" in the future, they will "price them at the cost of producing them, to help fund their distribution." In a similar vein, the organization plans to charge a fee for training sessions, but they report to the I.R.S. that the monies collected will go to cover costs.
While O'Keefe's activities will no doubt continue in a rightward vein, their political slant is not seen as an impediment to having non-profit status. In Strom's piece, EO Tax Journal Editor Paul Streckfus compares Veritas to organizations like the Heritage Foundation, the Brookings Institution and CREW.
"But wait," you're thinking, "surely the Heritage Foundation does lobbying!" You're right. They do. And under the 501(c)(3) guidelines -- the same that would govern Veritas' activities -- Heritage is allowed to do a limited amount of lobbying as long as they report it to the I.R.S. (Now, whether Heritage is doing what they're supposed to be doing under those guidelines is an interesting question, to which the answer seems to be "no.")
Doner also states in her filing that at the time of the filing, Veritas had "not yet raised enough funds to spend as much as indicated in the forward looking budget submitted" to the I.R.S. The budget allocations for 2012 include $295,000 for expenses related to "training programs," travel, P.R., website and administrative costs, along with $275,000 for salaries, $20,000 for rent, and $50,000 for "professional fees."
To close that budget gap, O'Keefe's organization has contracted with American Target Advertising, Inc., headed by conservative author and activist Richard Viguerie, to help them fundraise. Of course, if they're not up to the task, O'Keefe could always hit up his pal Ron Schiller. Due to Veritas' handiwork, he's looking for a new job.
REAL LIFE. REAL NEWS. REAL VOICES.
Help us tell more of the stories that matter from voices that too often remain unheard.