In case, for some odd reason, you have ever had the urge to smear frosting and other delicious junk foods all over your face, we kindly ask you to refrain. The results are just too terrifying. It's "Lord of the Flies" with baked goods. Total delicious anarchy.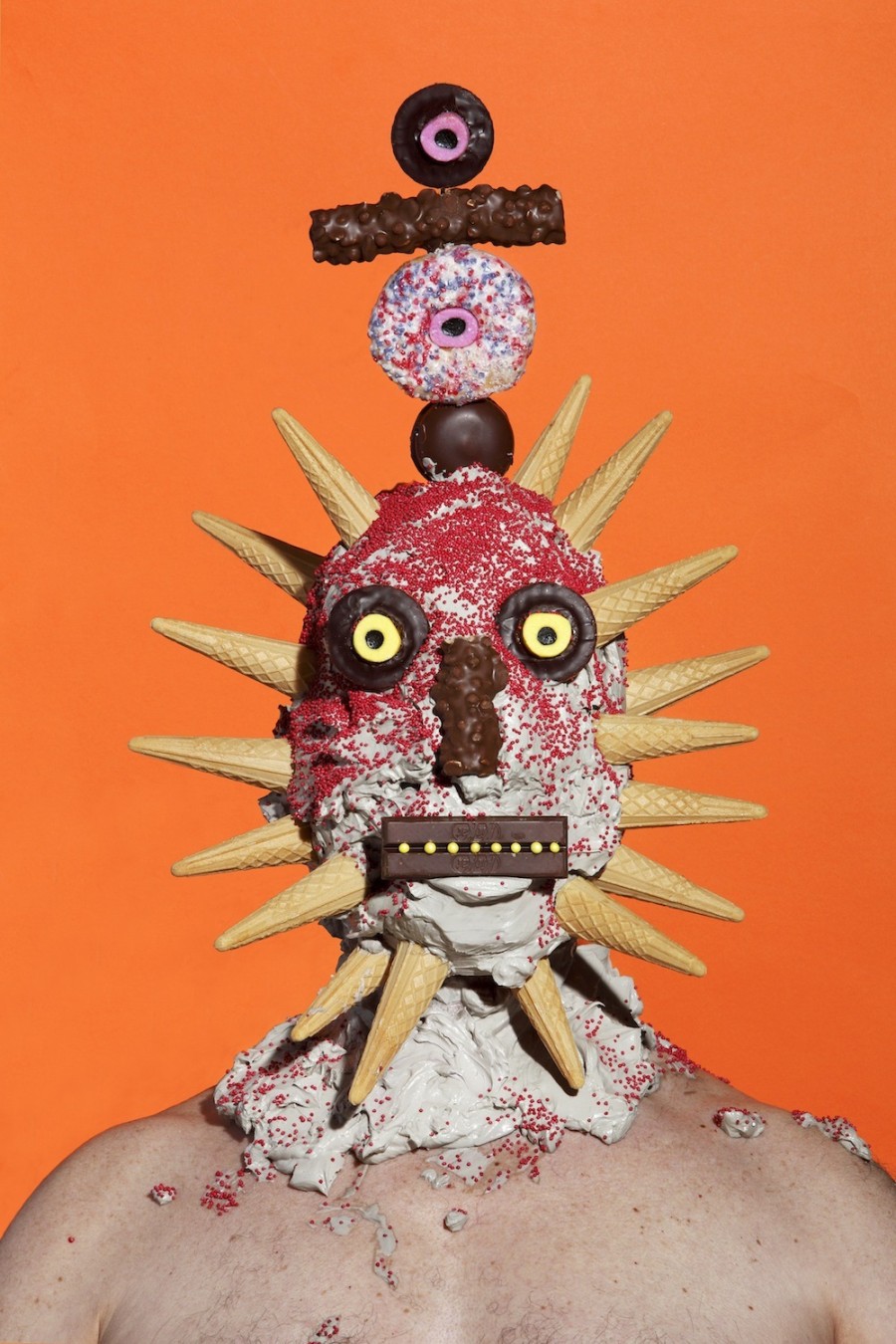 Today we're stuck ogling the bewitching junk food masks of British artist James Ostrer. The high calorie creations, landing somewhere between an ancient ritual mask and a midnight snack, are simultaneously delicious and dangerous. The uncanny folk art, despite its alluring intensity, looks far too bright to actually go inside your body, yielding an unexpected portrait of sugar's dark side.
"I started with wanting to create new tribes based on what we now eat and how far removed it is from nature," Ostrer explained to The Huffington Post. "The distance between what comes out of the ground and what we then open from a packet."
"Like most of my work It very quickly became a self-help experiment where I am as much the therapist as I am the client. The specific intent was to expose myself to such extreme levels of sugar and junk food that I would no longer want to eat it again.
I hoped to change my response to the mass of synthetic and saturated color in shops, that hums and draws me in like a fly to a zapper. I wanted to convert those feelings into something new and beautiful."
Indeed, the vibrant oranges of Cheetos and deep reds of licorice sticks do make stunning artistic materials. But this unexpected neon radiance makes us far more hesitant to actually consume them. Ostrer's artworks take a non-pedantic approach to the dangers of sugar, using their attractive aesthetics to hint at their repulsive realities. According to New York Magazine, the supplies cost Ostrer $8,000.
"In a wider context I see it as an anthropological reflection of our slavery to sugar addiction and the techniques used to get us there," the artist said. "Great advertising and packaging pulls you in with all these promises of beauty, happiness and joy then your left feeling empty and disturbed by wanting something different than yourself. I aimed to achieve this oscillation between beauty and ugliness in the works."
Calling all HuffPost superfans!
Sign up for membership to become a founding member and help shape HuffPost's next chapter
BEFORE YOU GO