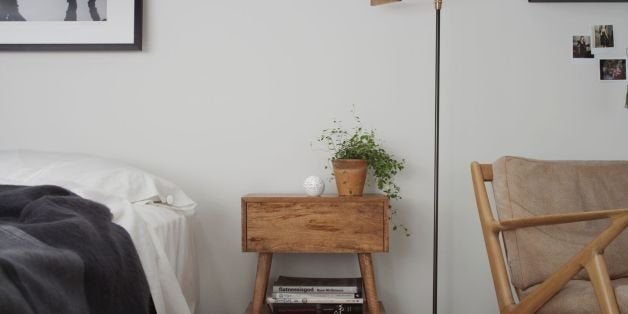 James Proud is the founder and CEO of Hello, the maker of Sense, a bedside device that tracks your sleep and your sleeping environment. In answer to my questions, he shared his insights on why what you keep in your bedroom matters, the link between sleep and decision-making, and the potential of new tech tools can improve our lives.
Why did you see a need for Sense? What inspired you to create the product?

We spend a third of our lives sleeping, but we spend very little of our time thinking about how we can sleep better. Sleep is the foundation on which we build everything else, and since our goal at Hello is to help people to live better, we felt like sleep was the best place to start.

What did you consider when designing Sense? What makes it different from other sleep trackers out there?

The bedroom is a highly personal space, and people take great care in choosing what they bring into it. In creating something meant to be placed in on a nightstand, it was important to us that it should be something beautiful -- almost like a piece of art -- that people would enjoy having there anyway.

Beyond its design, what sets Sense apart is its ability to do more than simply track your sleep during the night. With an array of sensors, Sense can help you to better understand how things like light, sound, temperature, air quality, and humidity impact the quality of your sleep. This gives us a more complete understanding of how to then improve things.

Describe your Kickstarter campaign -- what level of interest did you get? What did people have to say about Sense?

Our Kickstarter went far beyond our expectations -- with a goal of $100,000, we raised just under $2.5 million from over 20,000 backers in just one month. We were amazed by the response we received. As a result of the people who supported us, we were able to prove that people care deeply about their sleep, and that gave us immense drive to create the best product we possibly can.

How can a device like Sense actually improve sleep?

By giving people the information to think about sleep and then make better decisions on a daily basis. Sense tells you more than how much you moved about during the night. By monitoring your environment and recognising your sleeping patterns, Sense is able to provide you with detailed insights that allow you to better understand your sleep. When you have access to this kind of information, you're able you to make more effective decisions about your routine, and sleep better as a result.

What do you see as the future of the sleep technology business?

My thoughts on the future are less around the actual technology or business, but more on how can we use these increasingly sophisticated tools to help people with their daily lives. Once we do this well enough, the rest will follow. In recent years, many health centric technologies have become an almost mainstream embrace. Ultimately this is about people wanting to feel better, less tired and more able to enjoy work, family and friends. I believe that sleep is beginning to experience a similar move into mainstream acceptance, but one that we believe will be even more beneficial to people given it impacts almost everything else. The response for products like Sense is one example of just that.