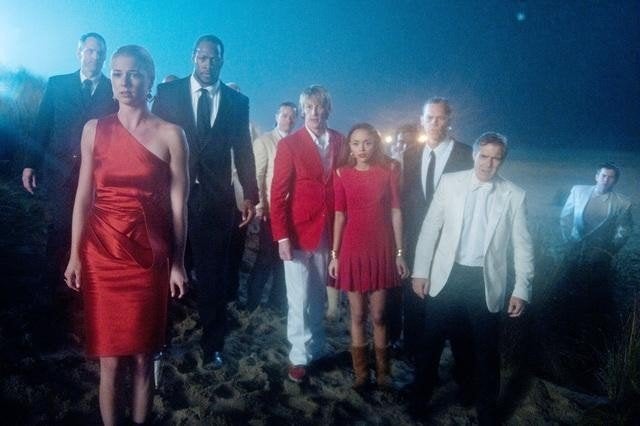 ABC executives have been mostly mum about the late-season arrival of James Purefoy, the hunky British actor who joins the cast of Revenge as the show returns from hiatus on April 18.
It was announced in January that Purefoy would portray Dominik Wright, the mysterious old flame of the show's cunning matriarch, Victoria Grayson (Madeleine Stowe), but though producer Mike Kelley has called Dominik "an artist," that's about all we know about him. Purefoy has not yet given interviews about his role -- as far as I know -- possibly because he's swamped. He's also preparing to play a serial killer opposite Kevin Bacon in a high-profile Fox pilot, scheduled for the 2012-2013 season. This means that Dominik's wooing of La Grayson may be short and sweet -- or spicy and not so sweet -- spanning just a few episodes. After all, the show's title and theme affect each character's motives, so maybe Dominik will join forces with Emily Thorne and begin plotting Victoria's downfall, as other bloggers have gleefully predicted.
But no need to fret about spoilers. The photo below seems to be the first glimpse of Purefoy as Dominik -- check out his paint-spattered duds! Last month at PaleyFest, Madeleine Stowe did tell a reporter that she and Purefoy were busily shooting flashbacks that would shed light on her character's younger years, and last week she told another journalist that her romantic scenes with Purefoy were so intense, some might hit the cutting-room floor before the broadcast.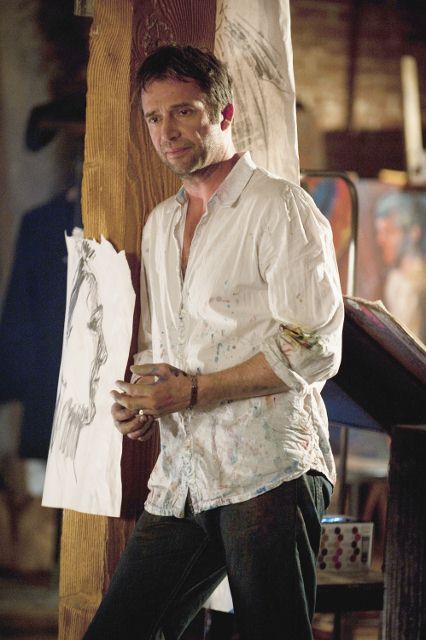 Photo from Revenge/"Justice" (Colleen Hayes, ABC).
These hints may generate a little buzz for the 17th episode called "Doubt," but anyone familiar with Purefoy's work will have no doubt whatsoever that his romp with Victoria will turn up the heat for the cast as well as the audience. This is the actor who as Marc Antony in HBO's Rome (2005-2007) made unbridled love to Atia (Polly Walker), Cleopatra (Lyndsey Marshal), Octavia (Kerry Condon), and assorted servant girls. And last year his louche, sexually insatiable King Lot was the only smart reason to watch the short-lived Starz Camelot, a show that became unmoored whenever he left the screen.
Purefoy is handsome and noticeably buff, nice assets for a leading man, but he's no lightweight. As the product of British training and stage experience, he has no trouble shedding his core persona -- in fact, he becomes one with each character he inhabits. Some fine examples: he morphed into a shy, chaste knight bedazzled by a flaky princess in George and the Dragon (2004), a charming PG film, and he was eloquent and noble as the king who championed a peasant boy (Heath Ledger) in A Knight's Tale (2001). He embodied deep conviction as a grieving father bent on changing the world in NBC's The Philanthropist (2009), and wielded a sword with skill and ferocity as a tormented Crusader in Ironclad (2011). And the guy can also do light comedy: he aced the role of a suburban dad trying to outwit a deranged chef (Chevy Chase) in Goose on the Loose (2006).
I confess I have not seen his current film, John Carter, or the BBC Injustice series that has not yet run in the U.S. But he's rarely idle, as his IMDB page attests.
So kudos to ABC for casting this versatile actor whose instinctive choices are never boring. It will be wonderful to see him back on American TV, seducing his leading lady in Revenge. And while he's working in the States, maybe he'll take a fact-finding trip to Manhattan, because after his success in London last spring as the star of Terence Rattigan's Flare Path, Broadway might be an ideal future showcase for his many gifts.
Related
Popular in the Community