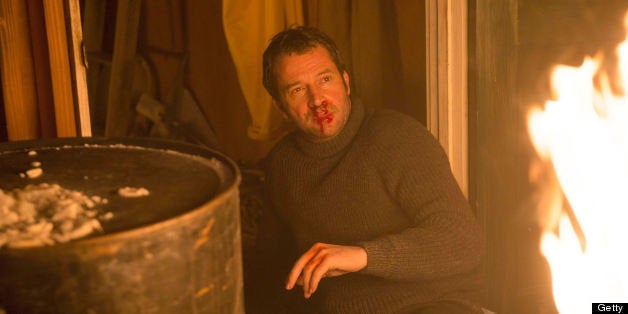 So what's next for Joe? Williamson wouldn't say much, but he did hint at flashbacks and and an inside look at Joe's past.
"[He] may need to reimagine who he is as a man and a killer," Williamson said. "That Edgar Allen Poe stuff didn't work out so well, so he's going to have to figure out a new way ... How did this man become this way? What happened in his past? Where were the seeds of evil planted?"
Joe is certainly known for his evil ways in the Fox drama, starring Kevin Bacon, and ahead of the Season 1 finale Purefoy opened up about just how "mad" his character actually is.

"The trouble is that Joe, he's mad," Bacon told The Huffington Post. "So, whatever kind of logic you try and apply to him, whatever kind of consistency will always be inconsistent because he's mad. So, if you're looking for a pattern it's like tea leaves in the bottom of a cup. There is no pattern. The only shape is what you see in it. It's like shapes in the fire, it's what you as a viewer make of him. I can't really make any excuses for him apart from that. He is insane."
"The Following" returns to Fox in the fall.
PHOTO GALLERY
'The Following' Season 1