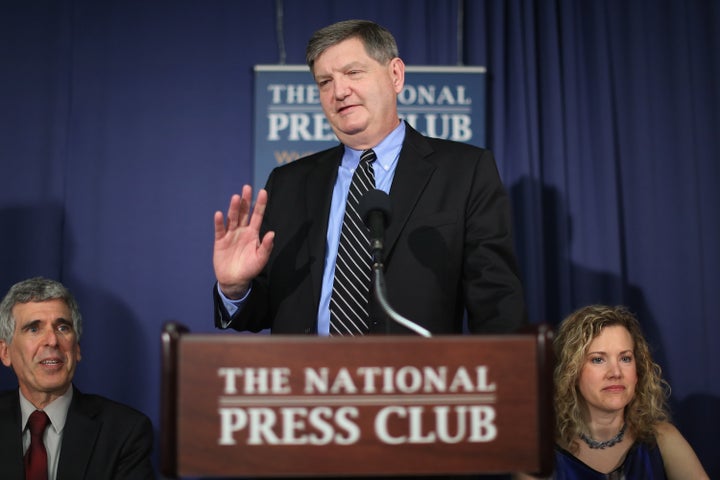 Two-time Pulitzer Prize-winning journalist James Risen, who spent seven years fighting off government efforts to force him to reveal a confidential source, will continue to advocate for the First Amendment as director of the First Look Press Freedom Defense Fund, HuffPost has learned.
Risen will also join The Intercept, the First Look Media news organization launched in 2014 by journalists Glenn Greenwald, Jeremy Scahill and Laura Poitras and backed by billionaire eBay founder and philanthropist Pierre Omidyar.
At the Intercept, Risen will serve as senior national security correspondent, writing a column based on his own reporting, and help steer the site's investigative work.
"I am incredibly excited by this amazing and unique opportunity to combine my journalism with efforts to defend press freedom," Risen said in a statement. "I am honored to help lead the fund as both America and the world face unprecedented threats to freedom of the press, while also writing and reporting and helping [Intercept editor-in-chief] Betsy Reed and her incredible team continue to turn The Intercept into one of the most important investigative reporting outlets in the nation."
Risen, 62, was among the most prominent journalists to leave the New York Times last month in the paper's latest round of buyouts. Times executive editor Dean Baquet described Risen at the time as "one of the giants of national security and investigative reporting."
In nearly two decades at the Times, Risen delved deeply into national security, intelligence, and surveillance matters. He was part of a Pulitzer Prize-winning team delving into the aftermath of the Sept. 11, 2001, terrorist attacks and won a second Pulitzer with colleague Eric Lichtblau for their 2005 investigation into the National Security Agency's secret domestic spying program.
Risen also battled attempts by both the George W. Bush and Barack Obama administrations to compel him to reveal a confidential source for a botched CIA plot described in his 2006 book, State of War: The Secret History of the CIA and the Bush Administration. Risen, whose legal fight finally ended in 2015, has expressed concern that the Obama administration laid the groundwork for the targeting of journalists under President Donald Trump.
"There is no journalist better equipped to cover the national security scandals and abuses of the Trump era than Jim Risen," Reed said in a statement.
"We're honored and thrilled to have the country's leading national security journalist bring his vast experience and vision to our team at this critical time," she added.
The Intercept was co-founded by journalists at the forefront of reporting on the disclosures from former NSA contractor Edward Snowden, and the site has quickly distinguished itself for aggressive coverage of national security issues.
But the site also came under fire in June following accusations that its reporters failed to protect contractor Reality Leigh Winner, the alleged source of top secret NSA document revealing Russian hacking efforts ahead of the 2016 presidential election.
Following an internal review, Reed said that "at several points in the editorial process, our practices fell short of the standards to which we hold ourselves for minimizing the risks of source exposure when handling anonymously provided materials."
The company announced last month that First Look's Press Freedom Defense Fund would help provide support for Winner's legal defense, a role it intends to play for journalists and whistleblowers in future cases.
First Look Media president Michael Bloom cited Risen's first-hand experience in a statement on the company's newly created defense fund role.
"Jim is not only a respected journalist who was prepared to sacrifice his own freedom to protect a source," he said, "but a very real example of how the press can challenge those in power who misuse laws to fulfill a political agenda."
Related
Popular in the Community