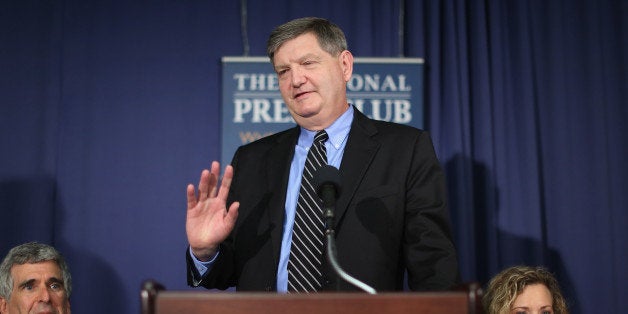 NEW YORK -– New York Times reporter James Risen acknowledged in his new book, Pay Any Price, that he posed in one instance as an investor to look into money laundering in the Middle East, a break with the journalistic convention of always identifying oneself as a reporter. One reviewer said the practice would be a firing offense at another newspaper.
Going undercover isn't encouraged at the Times either, which mandates in its handbook that "staff members may not pose as police officers, lawyers, business people or anyone else when they are working as journalists." A Times spokesman told The Huffington Post that a reporter would need to first discuss the possibility of doing undercover work in advance with a masthead-level editor.
Risen went undercover for reporting that appeared in his book, and not the newspaper. He recently told HuffPost that he chose to disguise his identity so he could meet with a Palestinian man suspected of laundering money. The FBI had considered investigating the man through a sting operation, Risen said. "I felt that it was necessary for the story to meet this guy," he said. "And I felt the only way to do it was undercover."
Risen elaborated on that decision Tuesday, and also lamented how the practice is now out of vogue in modern newsrooms.
In the series of tweets, Risen recalled being a journalism student in Chicago in the 1970s when the Sun-Times newspaper opened a bar called the Mirage Tavern in order to uncover how city inspectors shook down small business owners. Risen said he hadn't gone undercover himself since the early 1980s when, as a reporter for Detroit Free Press, he posed as a General Motors security official in order to report how the company and Toyota were working on a joint venture.
Risen remarked in a few tweets how the practice isn't used much anymore in the news business:
I never did undercover work again until my new book. It went out of fashion in journalism. Now the conventional wisdom is against it.

— James Risen (@JamesRisen) October 28, 2014
Trends and fashion come and go in journalism. I just think its too bad news organizations today aren't willing to do The Mirage.

— James Risen (@JamesRisen) October 28, 2014
Maybe its because it would cost so much to buy a bar.

— James Risen (@JamesRisen) October 28, 2014
Popular in the Community