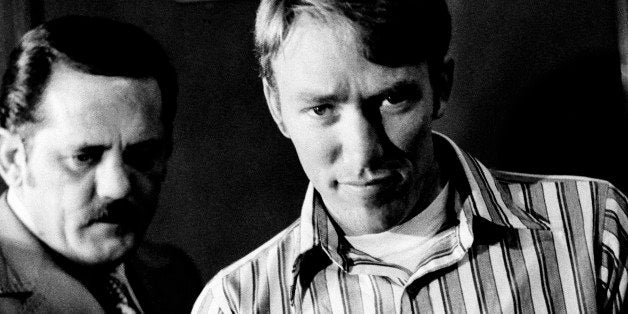 April 1 (Reuters) - One of three men who kidnapped a busload of school children in California more than three decades ago and buried them alive in a van won initial approval for parole on Wednesday, the Los Angeles Times reported.
Although the 26 children and their bus driver all survived, kidnapper James Schoenfeld, now 63, has been in prison for 37 years for the 1976 abduction in the town of Chowchilla in central California.
Schoenfeld has been considered for parole 19 times before, the Times reported, citing a spokesman for the California Department of Corrections and Rehabilitation.
It could take up to six months before a final determination on whether to release him is made, the paper said.
Reuters could not independently verify the report. Representatives for the state corrections department did not immediately respond to request for comment.
James Schoenfeld, his younger brother Richard and accomplice Frederick Woods all pleaded guilty for their roles in the crime, which was dramatized in a 1993 made-for-TV movie "They've Taken Our Children." Richard was released in 2012 after more than 34 years in prison.
The bizarre but carefully planned incident unfolded on a July day in 1976 when the children, 19 girls and seven boys aged 5 to 14, were abducted on a country road on their way back from a swimming trip.
They and their driver were herded off the school bus at gunpoint into two vans and driven around for 11 hours to a rock quarry about 100 miles (160 km) away in Livermore, California.
There they were entombed inside a van that had been sunken into the ground, sealed with a metal plate and topped with two heavy tractor batteries and dirt.
The bus was later found hidden in a drainage ditch outside of Chowchilla.
After 16 hours in captivity, bus driver Frank Edward Ray and some of the older children managed to dislodge the roof of their underground prison and dig their way to freedom.
All three of the kidnappers, who were in their 20s at the time, came from affluent families and hatched the scheme to get $5 million in ransom to help recoup losses from a failed real estate deal. (Reporting by Curtis Skinner in San Francisco; Editing by Hugh Lawson)
REAL LIFE. REAL NEWS. REAL VOICES.
Help us tell more of the stories that matter from voices that too often remain unheard.