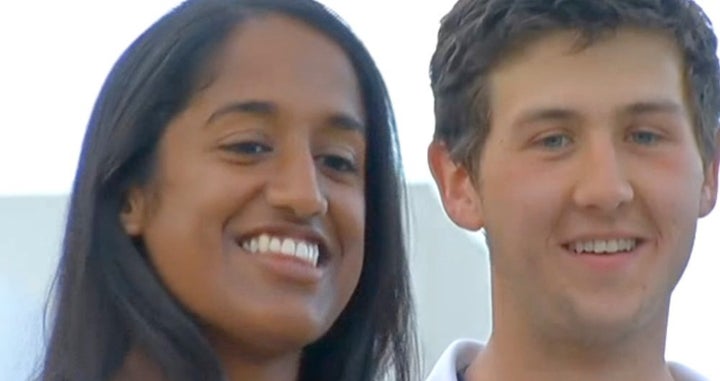 UPDATE: Despite a worldwide storm of media attention, Shelton High School Headmaster Beth Smith said in a public statement Thursday afternoon that she's sticking to her decision to ban James Tate from the prom, Shelton Patch reports.
"There has been a practice at Shelton High School for many years that students receiving an in-school or out-of-school suspension after April 1 for any reason would not be allowed to attend the prom."
She says the parents and students were made aware of this by daily announcements, posted signs, letters and automated phone messages.
--------------------------

Chivalry may not be dead, but it's sure been squashed at one Connecticut school.
High school senior James Tate made no secret he wanted to go to prom with Sonali Rodrigues; the writing was literally on the wall. And it's for that reason he's now banned from the event.
Tate and his friends snuck onto Shelton High School grounds one night last week to tape up hand-cut cardboard letters in a message that read: "Sonali Rodrigues, will you go to prom with me? HMU (Hit me up) - Tate," WFSB reports.
For his efforts, he was rewarded with a "yes" from Rodrigues, followed by in-school suspension and banishment from prom.
The AP scholar and golf team member tells NBC Connecticut he's remorseful, but all he wanted to do was ask Rodrigues in a creative way:
"I'm a jerk, you know, because I was telling her for the longest time I was going to go with her. But you know, I was waiting for a special time, a special way to ask her. And I did that and this is what happened."
The friends who helped him tape up the letters are also banned from the prom. WFSB reports that Shelton Superintendent Freeman Burr responded in a written statement Wednesday:
"I am aware of the local, state and national media attention surrounding the situation and I have no further comments regarding the matter at this time."
Tate says headmaster Dr. Beth Smith issued the punishment because he trespassed onto school property and that his actions posed a safety risk, according to Shelton Patch:
"It's not like we broke into the school or anything, though," Tate said. "And I wore a helmet and brought friends along to hold the ladder and hand me the letters with tape on them."
People from all over are supporting him on Twitter with the hashtag #TeamTate, and on a Facebook page, which had more than 38,000 "likes" as of Wednesday at 6 p.m. EST.
What do you think of the school's decision? Weigh in below.