Entering the storied Madison Square Garden Wednesday night I had a distinct moment of uncertainty; of feeling I was in the wrong place. I was there to see two pop legends perform, yet judging from the median age of the crowd it looked more like a "Golden Girls" convention. It was also a very white crowd. In fact, it was the oldest, whitest audience I had ever watched a concert with. We could've been at a nursing home in South Carolina.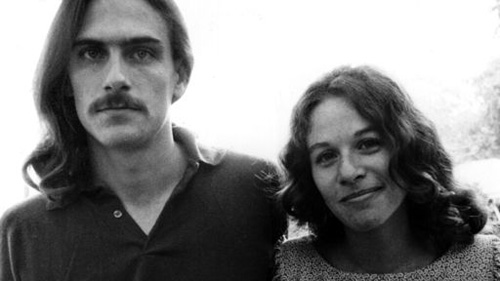 But the truth is, at 68 and 62 respectively, Carole King's and James Taylor's fans are as old if not way older than the two rockers who bounced around the stage for 2 1/2 hours like teens on Red Bull. With an astounding 130 years between them, Taylor and King still have more talent, charm, energy and relevance than performers half their ages. It was an incredible evening of some of the best pop songs in music history.
Performing in the round on a slow moving stage, Taylor and King took turns singing their iconic hits with a duet thrown in every now and then. Shortly after the open, to rousing applause and repeated standing ovations, Taylor mirthfully acknowledged that this is what they meant by "we've got to get back to the Garden," referring to the classic lyric from Joni Mitchell's "Woodstock, made famous by Crosby, Stills Nash & Young. His easy charm and wickedly dry sense of humor--qualities almost as appreciated as his music--was evident throughout the performance. While relating the meaning behind his lovely lullaby "Sweet Baby James," written for his brother's newborn, he told of being away when his nephew was born. "I was a broad for a year. Wait, that didn't come out right. That's how rumors get started."
Taylor later recalled how he and King got together last November to work on their set list. They had a hard time choosing, he said, because there was just too many songs between them and they wanted them all. "Would've been a 6-hour show," he said, as the adoring crowd shrieked their approval. "Oh you say that now," he jokingly warned. But the crowd was loving every minute, and surely would've stayed six hours had Taylor and King indulged them.
Taylor went through his greatest hits with the precision of a master, his voice still hitting the highs, and largely staying true to the songs' Top 40 radio execution, but injecting just enough blues and soul to keep them from getting tired. And when he crooned "Fire and Rain"--a song he's so identified with that he's surely at some point in his career resented having to perform it--he seemed to comfortably embrace this classic and truly appreciate that, at 62, he still has 20,000 people absolutely ga-ga to hear him sing it. After a brief intermission, JT traded in his suit and blue dress shirt for some chinos, a brown polo and an Irish cap; a wardrobe change which made him look more like his 70's self.
King was amazing as well. Remember this woman's age. At 68, she was adorable, sexy and playful, with boundless energy. At one point she sidled up to legendary guitarist Danny Kortchmar, and in a back-and-forth vocal tease she sensually mimicked his elongated guitar licks. Hard to imagine any one of today's young pop stars pulling something like that off at almost 70, and looking so natural doing it. Not sure I'd even wanna see them do it today. When King belted out "Natural Woman," she brought the house down. A rendition so soulful and emotional that you'd have to be dead not to have felt its raw power and beauty.
To be sure, it's truly astounding how many incredible songs these two giants have written between them. And seeing them perform them together was as joyous for the audience as it was so clearly for them. Their trust, love, respect and appreciation for each other shined throughout, and was infectuous. Watching King buoyantly dance around to "I Feel the Earth Move," matched by Taylor bouncing up and down as he rocked "Up on the Roof," you felt fortunate to be in the presence of ageless greatness, witnessing something very, very special.
The only beef was the mile-long bathroom lines. But I suppose that's what you get when you throw 20,000 old folks under one roof.

Support HuffPost
The Stakes Have Never Been Higher
Popular in the Community