James Turrell seems to be everywhere this summer. His light-centric works are illuminating the Guggenheim, LACMA and Museum of Fine Arts, Houston -- and if you're really lucky, your summer guest house.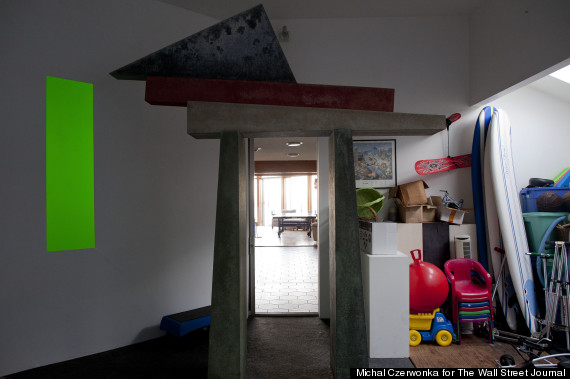 Tobey Cotsen, a Malibu, California homeowner, received an unexpected housewarming gift upon realizing a rectangular recess she had been using for storage was actually a light installation by the nation's contemporary artist du jour.
According to the Wall Street Journal, Costen was exploring Turrell's LACMA retrospective when she first saw the light, so to speak. There was an oddly familiar feeling to a piece on view, titled "St. Elmo's Breath 1992," which is composed of sharp-edged orange and purple fields of light that appear flat to the eye despite caving into the walls.
"Where have I seen that before?" Costen recounted to the Wall Street Journal. "I've seen it in my house." Costen realized then that her home's small, neon green-tinted storage space might actually be a million dollar artwork.
Cotsen took a photo of the potential find and sent it to Turrell's studio in Flagstaff, Arizona, where its status as a genuine light work was verified. The studio confirmed the work was indeed created by Turrell, and sold to art collector Sydney Goldfarb, the prior owner of Cotsen's home. Cotsen is now hoping to sell the piece. We reached out to Kayne Griffin Corcoran gallery and are awaiting an official estimate on the work.
See more of Turrell's work in the slideshow below and let us know what you would do if you found one in your humble abode.
PHOTO GALLERY
James Turrell
Calling all HuffPost superfans!
Sign up for membership to become a founding member and help shape HuffPost's next chapter