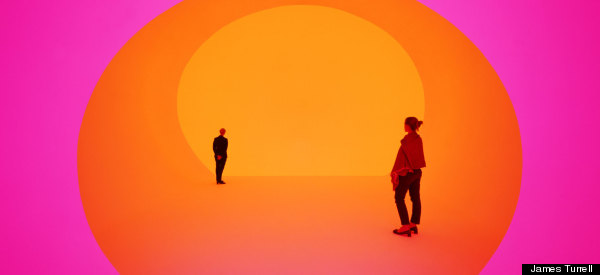 James Turrell might be an alien -- or at least knows something about the universe that the rest of us don't. He likes to say, "It's possible to gather light that's older than our solar system." And so, Turrell is finally having his well-deserved moment after 50 years of practicing his light-based art. Pick a city in the USA, and chances are there is a Turrell on display -- and in the past month, institutions in New York, Los Angeles and Houston, have opened up major surveys or retrospectives for the public to experience the totality of Turrell. The Guggenheim has unveiled its Aten Reign, the largest site-specific installation the museum has ever seen; LACMA has 11 original light works that nearly didn't get completed on time, and Houston is exhibiting 12 works from their permanent collection, seven of which have never been seen before.
All the museum attention is a triumph for Turrell, who even after 50 years in the game flew slightly under the radar up until now -- but some of his best work to date too opened up, and neither are in a museum, gallery or typical art-viewing space. The summer saw the unveiling of two installations at the Shops at Crystals. That sounds like a mall, and a mall it is. In Las Vegas.
In a bait 'n switch as every mastermind has been known to do, Turrell has undertaken a project almost anathema to the earth-connected, sensory-perception art that he's invented. This May saw the unveiling of the James Turrell Installation at the Shops at Crystals. That sounds like a mall, and a mall it is. In Las Vegas. "Las Vegas is about distraction," quips Turrell. In truth, this public spectacle to which he refers is a Daniel Libeskind-designed mecca of luxury brands -- Louis Vuitton, Lanvin, Tom Ford, Burberry -- so to call it a mall might be a bit of a misnomer; especially when Turrell has inserted a hovering aperture-installation reigning the ambiance of its interiors. "But working like this is a challenge for me because I don't usually work in spaces so public with all kinds of other distractions," he continues. And the three-hour light cycle work, seen through four cut-out windows (aperture), that change color every 20 minutes, a frosted Wide Glass LED screen and ceiling-cutout Space Division, is, in essence, a portal to the Vegas City Center. The Turrell experience actually houses the Crystals' station of the monorail, a spaceship of sorts to a city compound that is rather alien to any other metropolis in this country. It is certainly unexpected, and Turrell adds, "People coming upon situations that are accidental are the most interesting because we're not really looking for something -- and this tries to take advantage of that kind of situation."
And despite having these vastly public exhibitions across the country at the moment, Turrell's foray into Lights City doesn't just stop with his Crystals monorail station. And it's against the openness of the arid wilderness and the onslaught of artifice in Vegas that a Ganzfeld exists, commissioned by Louis Vuitton. "Light knows when you're looking at it, " he warns. Such a statement is the crux of "Akhob," the largest Ganzfeld to date, tucked away on the third floor of the iconic French house Crystals' store (the other two are in Paris). Open to only four people at a time, "Akhob" is held in two chambers with separate light sequences operating on three 25-minute cycles; and the effect is other-worldly, like literally being transported to weightless cosmic planet.
Perhaps that's all Turrell is creating in his practice -- spaces that feel distant and alien, but are wholly grounded in the earth and keep us, as people, connected to it. And the irony of these on-site sanctuaries in the midst of the hustle and hedonism of Vegas is not lost -- but then again, Turrell is staunchly American, and a master of dualism. His Vegas pieces are somewhat symbolic of Turrell's artistic reception: he has his Medicis, a court painter for the royals of luxury capitalism, but then he also is the wizard of personal reflection, waving his wand of light to the transcendental state. And that he uses light as his medium is heady, but after all, as Turrell says, "Light itself is a revelation."
Popular in the Community