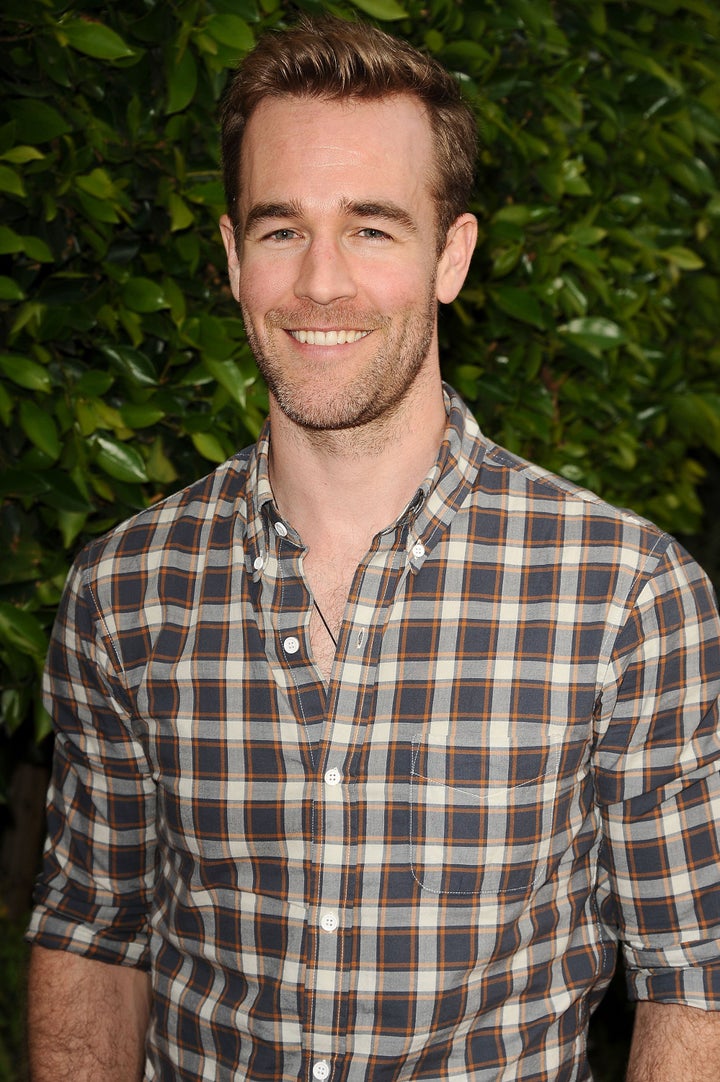 "Don't Trust The B---- In Apt. 23" may have been canceled, but its former star James Van Der Beek is moving in on another show's territory.
"I just love the sincerity that he's able to muster time and time again," Van Der Beek said of Harrison in a phone interview with The Huffington Post. "I just thought it was hilarious. I mean, I believe him!"
Van Der Beek also talked about the next reality TV show he plans to poke fun at, how much he misses "Don't Trust The B---- In Apt. 23," his new "Friends"-esque pilot, whether or not "Dawson's Creek" will be following in the footsteps of "Veronica Mars" with a Kickstarter campaign and much more.
Did you watch any episodes of "The Bachelor" to prepare for "The One"?
I did actually. I got on YouTube and started doing my research. I had seen it way back in the day, but I hadn't watched it in years. So I just started looking at the top videos and what people had been watching the most and I thought, "Oh, this is going to be fun to parody."
Have you heard from Chris Harrison?
No, but I just love the sincerity that he's able to muster time and time again. I just thought it was hilarious. I mean, I believe him! I believe him when he talks and that's probably why he's so good at it and why the show's been on for so long. But I thought that sincerity, in the context of the HTC deal, would be hilarious. [Laughs.]
Are you still reeling from the "Apt. 23" cancellation?
The really tough thing is I loved everybody that I worked with. It was one of the best groups of people to go and laugh with everyday. At this point, I'm really proud of it, which might sound funny because it was so ridiculous, but I really loved it. So at the end of the day, I flash forward to three, five years from now, all the episodes will be available at some point, somewhere digitally and you can watch them in order. I said to the cast when I found out that we weren't going to make anymore, "From this moment forward, this is no longer a cancelled show; this is now 26 episodes of awesome that we can all be proud of of." And there's still eight episodes that nobody's seen! It was one of things that, on a network level, nobody could really figure out how to program it so that it worked in their business model, but it's something that I still hold dear to my heart and I love all the people involved.
You and Krysten Ritter both booked pilots pretty quickly thereafter. Have you filmed the "Friends With Better Lives" pilot?
Yeah, we shot the pilot last week. It was great! It was a lot of fun. You know, it's a live audience, multi-cam sitcom and James Burrows directed it, who is the godfather of that medium. It's a really good cast and it was just a blast! It's something new for me -- I have not done a lot of multi-cam sitcoms so it's going to be a challenge and we'll see. We'll find out in May whether or not it's able to crack that CBS lineup. [Laughs.]
What's your character, Will, like?
He's a newly divorced guy, just four or five weeks out of separating and just starting to come to terms with the fact that his marriage is over. And he's got this support group of five friends who are helping him through it, two of whom have been married and have two kids, one of whom is perpetually single and then another one who just got engaged.
The "Friends" comparisons seem inevitable. It sounds a bit like that six-some group, just 10 years later.
Yeah, I think so. These people are a little bit further down the line. I think it's somewhat of a fair comparison. What I liked about it was that they're dealing with the realities of being in your 30s.
Is it weird to be filming a comedy that isn't "Don't Trust The B"? Have you talked to Krysten about that?
It was weird -- and I haven't talked to her about this aspect of it yet -- but I felt like the new kid at school. We even did the read through at 20th Century Fox, which is the same room we used to do the read throughs for "Apt. 23" in and that first day, it was strange to be there without my friends. It felt like I had moved to a new school -- or the entire school had moved and I was still in the same building. [Laughs.] But that's the business. I've been doing this 20 years now, long enough to appreciate what it is to be part of a good group of people and also, long enough to know that you pick up and you look to what's next and you try to find something a little different to do.
Ever since James Van Der Memes, it's seemed like comedy is a natural fit for you, but people never really thought of you that way. Had you wanted to do more comedic projects, but just fell into dramas after "Dawson's Creek"?
I just always wanted to shake it up. I mean, I started out with drama, but I'm really having fun with comedy. And this summer I did probably the most elegant movie I've ever been a part of -- [Laughs] -- which is "Labor Day." Jason Reitman directed and it's Josh Brolin and Kate Winslet. At least on my end, there's no comedic element to that at all and that felt very natural. But I've always kind of been a smart ass, privately. [Laughs.] I was always finding the most inappropriate thing to say at any given moment.
With the "Veronica Mars" Kickstarter success, there's a lot of TV revival chatter happening. Could you see a "Dawson's Creek" reunion or movie happening with fan funding?
[Laughs.] If you can get all four of us in a room together, go for it. [Laughs.] Everybody's so busy. Everybody's got their own career and everybody's doing really well, but there's no script. Kevin Williamson could not be busier or more successful with all of his shows and you know, with "Veronica Mars," that was a show that was canceled before its time. I don't know that anybody involved with "Dawson's" feels that way. [Laughs.] I mean, we went into the college years. You know what I'm sayin'? [Laughs.]
In addition to premiering on Funny Or Die, James Van Der Beek's HTC commercial will also air across TBS and TBS.com, Adult Swim and AdultSwim.com, truTV and truTV.com, as well as TeamCoco.com beginning the week of April 15. Movie-going audiences will also see the Funny Or Die content on 8,000 screens exclusively in NCM's FirstLook pre-show program in hundreds of theatres nationwide from April 26-May 23.
PHOTO GALLERY
TV Reunions We Want To See
Calling all HuffPost superfans!
Sign up for membership to become a founding member and help shape HuffPost's next chapter
BEFORE YOU GO