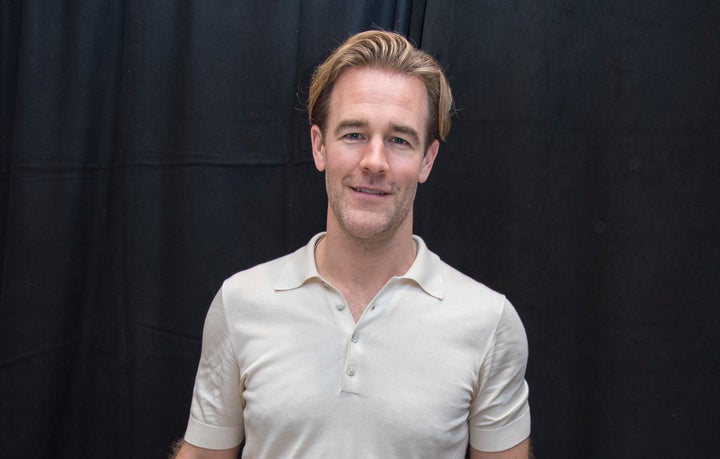 James Van Der Beek has written a heartbreaking yet uplifting post about miscarriage that's resonating with his many Instagram followers.
On Friday, the "Pose" actor shared a photo on Instagram that shows him sitting next to his wife, Kimberly, as they hold their youngest child, Gwendolyn, who was born in June. In the caption, he wrote that he and Kimberly have experienced three miscarriages over the years.
He then noted his problem with the word "miscarriage" itself.
"'Mis-carriage,' in an insidious way, suggests fault for the mother ― as if she dropped something, or failed to 'carry,'" he wrote. "From what I've learned, in all but the most obvious, extreme cases, it has nothing to do with anything the mother did or didn't do. So let's wipe all blame off the table before we even start."
The actor got candid about the many emotions the couple felt while going through this experience together.
"It will tear you open like nothing else," he wrote. "It's painful and it's heartbreaking on levels deeper than you may have ever experienced. So don't judge your grief, or try to rationalize your way around it. Let it flow in the waves in which it comes, and allow it it's [sic] rightful space."
The actor ended on an inspiring note, encouraging people who have gone through similar challenges not to forget about themselves, and to "try to recognize the beauty in how you put yourself back together differently than you were before."
As of Monday, the post had received more than 2,600 comments, many from people who thanked Van Der Beek and described their own experiences with miscarriage, stillbirth and rainbow babies.
Van Der Beek, a father of five, is known to share up-close looks at the life of a parent on social media. In June, he shared a photo after Kimberly's home birth with Gwendolyn, complete with a view of a "placenta in a mixing bowl."
"For so many women, and not just women in the spotlight, people feel very entitled to know, 'Do you want kids?'" she said. "A lot of people, especially people that have fertility issues, just say 'no' because that's a lot easier than being honest about whatever is actually going on. People mean so well, but they have no idea the harm or frustration it can cause."