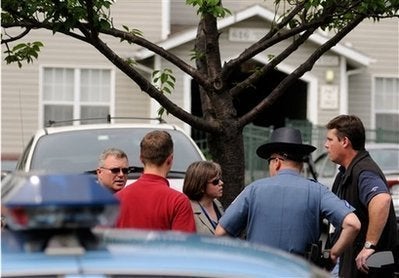 A white separatist acquaintance of alleged Holocaust Museum shooter James von Brunn told the Washington Post that Von Brunn had lost his Social Security and was growing increasingly despondent and violent-minded in the weeks leading up to the attack.
"He said his Social Security had been cut and that he was barely making it," de Nugent said. "He felt it was the direct result of someone in Washington looking at his Web site." ... He was about to give away his computer, his primary connection to the fringe world of radical racists. He was living hand to mouth.

The e-mails were getting violent in tone: "It's time to kill all the Jews."
Other locations on the list included the U.S. Capitol, the White House, the Washington Post, and a FOX News location.

Investigators followed up at each of the locations, trying to find out if there were any sightings of the suspect or any correspondence.
NBC News' Pete Williams reported the news on the "Today" show, saying that despite the list of multiple targets and extra ammunition, police believe von Brunn acted alone:
Popular in the Community