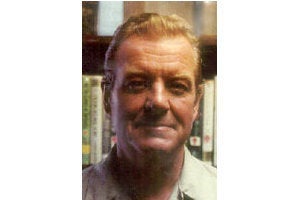 Law enforcement sources told WTTG/Fox Washington that during a search of a car that is believed to belong to James von Brunn -- the alleged shooter in the fatal Holocaust Museum attack -- investigators found a notebook with information about six to nine locations in the D.C. area, including the National Holocaust Museum.

Other locations on the list included the U.S. Capitol, the White House, the Washington Post, and a FOX News location.

Investigators followed up at each of the locations, trying to find out if there were any sightings of the suspect or any correspondence.
NBC News' Pete Williams reported the news on the "Today" show, saying that despite the list of multiple targets and extra ammunition, police believe von Brunn acted alone:
WASHINGTON -- A frustrated artist and an angry man, the suspect in the U.S. Holocaust Memorial Museum shooting once tried to kidnap members of the Federal Reserve board, a "caper" thwarted when a guard captured him outside a board meeting carrying a bag stuffed with weapons. James Von Brunn, 88, a white supremacist and Holocaust denier, describes the assault with apparent pride on his Web site, the source of fulmination against Jews and races other than his own.
Von Brunn was sentenced in 1983 to more than four years in prison for attempted armed kidnapping and other charges in his Fed assault. He was released in 1989.
"The subject resides in my memory like old road-kill," he wrote. "What could have been a slam-bang victory turned into ignoble failure. Recalling all of this presents an onerous task. I am getting near the end of the diving board."
Despite the revolver, sawed-off shotgun and knife found in his bag that day, Von Brunn insisted he was trying to place the board under "legal, non-violent citizens-arrest."
A self-described artist, advertising man and author living in Annapolis, Md., Von Brunn wrote an anti-Semitic treatise, "Kill the Best Gentiles," that he said no one would publish. He decries "the browning of America" and claims to expose a Jewish conspiracy "to destroy the White gene-pool."
Von Brunn also wrote, "The 'Holocaust' Religion is destroying Western Civilization. The Aryan gene-pool dies, 'unwept, unhonored and unsung.'"
His lengthy, often rambling online biography aside, law enforcement officials are trying to piece together details of Von Brunn's life.
Two law enforcement officials, speaking on condition of anonymity because they were not authorized to discuss the case, said investigators are trying to better understand time he spent in Idaho, and how he acquired the .22-caliber rifle used in Wednesday's attack. At the request of the U.S. Park Police, the Bureau of Alcohol, Tobacco, Firearms, and Explosives is tracing the weapon. Under federal law, convicted felons cannot purchase firearms.
In his account of his "Federal Reserve caper," the St. Louis native relates his "character shapers" _ among them a schoolyard bully who beat him up, vacation days on the Mississippi River, his service on a PT boat in World War II, and what he said was his first trouble with the law _ a year in jail for tussling with a sheriff on Maryland's Eastern Shore in 1968, the year he moved to the area from New York City.
Von Brunn applied to have his art shown at the Troika Gallery in Easton, Md., around the time the gallery opened about 12 years ago, two of the owners, Laura Era and Jennifer Wharton, told The Associated Press. They said they turned him down because it was not up to their quality and that made Von Brunn angry.
"He stomped out," Wharton said. "You don't normally get that reaction from artists."
They say his work was not strange or violent, but the artists they show have many years of professional experience.
Era and Wharton said they had heard that Von Brunn had been in jail because of his political beliefs and knew that he had prejudices. They did not feel comfortable around him, but said they didn't want to make him an enemy.
One time Von Brunn arrived at the gallery livid because he had just seen a mixed race couple getting married at the garden of the historical society nearby, Era and Wharton said.
Von Brunn was not around for years, but turned up a year or two ago. He did not spend as much time at their gallery as before and they did not encourage him to, the women said.
They said Von Brunn's work depicted images such as horses and buffalo in the American West or an eagle with the U.S. flag.
Von Brunn's biography on the artists' directory askart.com says his father, Elmer, was superintendent of Scullin steel mill of St. Louis, and their family, on both sides, migrated from Germany and Austria in 1845 or near that year. He is listed as producing portraits, illustrations, graphics and more.
Von Brunn's accounts of what shaped his character as a boy and young man are heavy with dark episodes blamed on Jews and other minorities. After each account, he draws a "moral."
"Life and Death are opposite sides of the same coin. Fate flips the coin."
"Things to be proud of often involve high risk. You can't hide from death. It always finds you."
"It's better to be strong than right _ unless you like dying. Crowds hate good guys."
On his Web site, Von Brunn says he was a PT boat captain in the U.S. Navy Reserves during World War II.
In 1981 Von Brunn attempted to place the treasonous Federal Reserve Board of Governors under legal, non-violent, citizens arrest. He was tried in a Washington, D.C. Superior Court; convicted by a Negro jury, Jew/Negro attorneys, and sentenced to prison for eleven years by a Jew judge. A Jew/Negro/White Court of Appeals denied his appeal. He served 6.5 years in federal prison. (Read about von Brunn's "Federal Reserve Caper" HERE.) He is now an artist and author and lives on Maryland's Eastern Shore.
In a recent blog post, Von Brunn wrote that Hitler's "worst mistake" was that "he didn't gas the Jews."
Mark Weber, the director of the Holocaust-denying Institute for Historical Review, told The Atlantic's Jeffrey Goldberg his group had nothing to do with the attack.
Weber said that the shooting is a "terrible and stupid and criminal thing, and any reasonable person would condemn it." He said he knew of Van Brunn because "people have sent me things from him, but that's all I know about it."

I asked him if his far-right organization, which sponsors conferences and magazines that deny key aspects of the Holocaust, has created an atmosphere in which white supremacists feel compelled to attack Jewish targets. He got angry and said "every movement and organization has insane people in it. What was this guy's point? I can't even figure that out."
Von Brunn's book, "Kill The Best Gentiles! A New Hard-Hitting Exposé Of The JEW CONSPIRACY To Destroy The White Gene-Pool," is available online. Salon has compiled some representative passages. The preface:
The purpose of this book is to present to WHITE YOUTH factual information conventionally suppressed or distorted by the mass media, and denied them by schools and universities â€" which are forced to promulgate the Marxist line or lose their government subsidies. Appearing throughout the text are quotes from world authorities whose credentials appear in the bibliography. Upon reading TOB SHEBBE GOYIM HAROG! (KILL THE BEST GENTILES!) you will understand that â€" despite loud protests of denial â€" an age old CONSPIRACY does exist to destroy Western Civilization. At this moment we are engaged in a deadly war with the HISTORIC ENEMY to determine whether or not our Nation will endure. We are losing that war because an Iron Curtain of censorship has descended over the landscape abrogating the First Amendment to the Constitution of the United States. Without Freedom of Speech our system of government cannot function. The hour is late. You and your family are in grave danger. We will present the FACTS then discuss what actions must be taken.
NBC News' Pete Williams reported that Von Brunn had been arrested before, in 1981, for walking into the Federal Reserve Headquarters with two guns.
The man authorities say they've arrested in connection with the shooting has a record. in 1983, or rather 1981, of walking into the Federal Reserve headquarters in Washington with several weapons claiming at the time he wanted to take members of the Federal Reserve board hostage to focus attention on what he said was their responsibility, high interest rates ... he was captured by the guard after he tried to run to the second floor. He was stopped outside the board room carrying a handgun and sawed-off shotgun and he was then arrested and convicted and on his website, he claims that he's very anti-Semitic, remarks about the Justice system. He said there were Jews on the court.
Popular in the Community