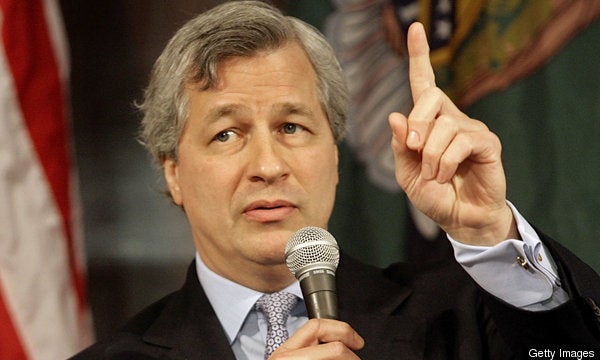 April 4 (Reuters) - JPMorgan Chase & Co CEO Jamie Dimon received $ 23.1 m illion in compensation in 2011, an 1 1 percent increase fr om the previous year, the company said in a public filing on Wed nesday.
Dimon, 56, was paid a bonus of $4.5 million and given $17 million i n s tock and options on top of $ 1.4 m illion in salary, according to a disclosure using a format specified by the U.S. Securities and Exchange Commission. The previous year Dimon had received total compensation of $20. 8 million, in cluding a $5 million bonus and stock instruments worth $14.2 million.
Dimon's pay as head of the biggest U.S. bank by assets was higher than that of chiefs of the other three banks which have more $1 trillion in assets. At Wells Fargo & Co, the fourth biggest bank, CEO John Stumpf received $19.8 million, up about 5 percent from 2010, and Citigroup Inc CEO Vikram Pandit received $14.9 million, up from a nominal one dollar in 2010, according to the SEC formula. [nL2E8EFAZS ] [nL2E8E8EEG ] At Bank of America Corp, the second biggest U.S. bank, CEO Brian Moynihan received $8.1 million, more than four times as much as he received in 2010.
JPMorgan shares in 2011 declined 22 percent. Revenue declined 5 percent during the year while net income available to common shareholders rose 11 percent to $17.6 billion from the prior year.
According to JPMorgan's preferred format for disclosing compensation, which uses a slightly different time frame than the SEC, Dimon was paid the same amount for work he did in 2011 as in 2010, $23 million. He received some of the 2011 compensation in this calendar year.
The SEC disclosure method also shows how much compensation executives received during a year and includes perks such as private use of company aircraft. In 2011, Dimon's other compensation amounted to $143,277, which was primarily for personal use of aircraft and cars. That was down from $579,624 in 2010 when he was also reimbursed for $421,458 in moving expenses.

Related
Popular in the Community