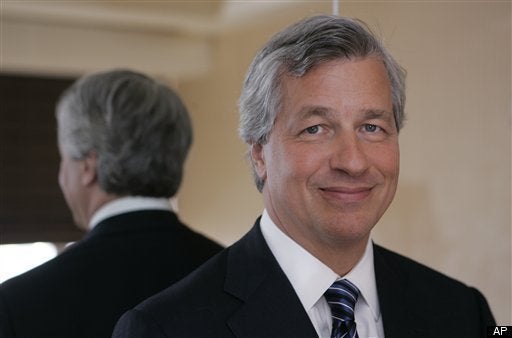 The New York Post reported this morning that lawmakers are discussing JPMorgan Chase CEO Jamie Dimon as a potential replacement for current Treasury Secretary Timothy Geithner.
Leaving aside concerns that appointing a Wall Street CEO to the Treasury's top position would draw heavy criticism over Wall Street's coziness with Washington, it's not clear that Dimon would be a natural fit in the Obama administration. According to the Wall Street Journal, Dimon departs from White House policy on a handful of key issues.
For one, President Obama has pushed establishment of a consumer-protection agency that would keep watch over credit card and mortgage companies, but Dimon opposes the agency on grounds that it will drive up costs. JPMorgan says recent legislation regulating credit cards could cost the bank up to $750 million a year, a burden that may be passed along to consumers.
And while the White House's position on how to handle too-big-to-fail banks is still evolving, Dimon has staunchly defended big banks' right to exist -- and to fail. In a Washington Post op-ed this month, Dimon wrote:

"...ending the era of "too big to fail" does not mean that we must somehow cap the size of financial-services firms. Scale can create value for shareholders; for consumers, who are beneficiaries of better products, delivered more quickly and at less cost; for the businesses that are our customers; and for the economy as a whole. Artificially limiting the size of an institution, regardless of the business implications, does not make sense. The goal should be a regulatory system that allows financial institutions to meet the needs of individual and institutional customers while ensuring that even the biggest bank can be allowed to fail in a way that does not put taxpayers or the broader economy at risk."
Anonymous sources told the NY Post that Dimon "would love to serve his country," but is demurring. He has no plans, he says, to leave JPMorgan for the next "six or seven years."
For now, Geithner is still contending with critics in Congress. He was attacked last week during an appearance before Congress's Joint Economic Committee. "Mr. Secretary, the public has lost all confidence in your ability to do your job," Rep. Kevin Brady (R-Texas) told him.
Related
Popular in the Community