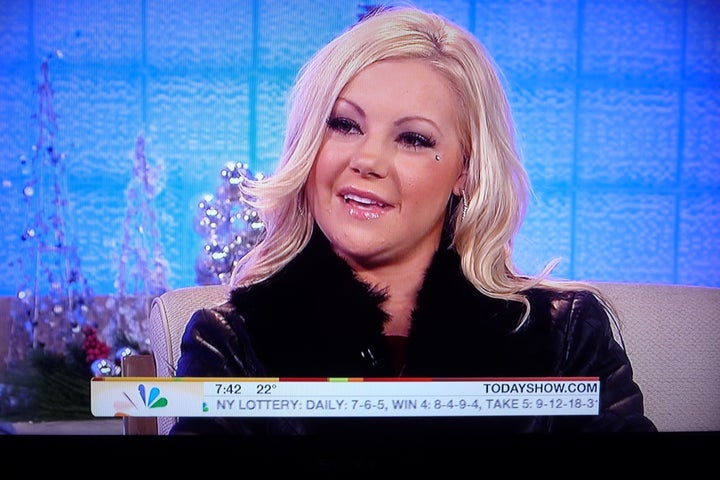 Jamie Jungers, a Las Vegas woman who claims to have had an 18-month affair with Tiger Woods, spoke with Meredith Vieira on the Today show this morning. Jungers explained how she met Woods, revealed her true feelings for the golfer, and forcefully denied rumors that she has worked as an escort and used money from Woods to pay for liposuction.
Jungers told Vieira that she loved Woods, but never told him and ultimately got "nothing out of this relationship but a broken heart." Jungers said she met Woods in 2005 at a Las Vegas nightclub. (The Sun says it was at the Bellagio.) According to Jungers, Woods "had a VIP host call me over to his table and requested to meet me." At first she was skeptical that it was actually Woods, but before long they were "hanging out, drinking."
Woods, Jungers and some of the golfer's friends allegedly went back to "the mansion at the MGM, continued drinking more.... It kind of became clear to me that Tiger was interested.... The more we drank, the more -- I guess -- flirtatious we got.
Jungers says she "absolutely" expected it to be just a one-night fling, but Woods called the next day.
Jungers also told Vieira that she had feelings for Woods. "I've had a crush on him for a while. I was excited and honored he wanted to meet me." The couple allegedly grew more comfortable over time. "It became more and more of an actual relationship," she said.
Woods only mentioned his wife, Elin Nordegren, once, the first time Woods and Jungers met, when Jungers asked him about Nordegren.
Shockingly, Jungers says Woods did little keep their relationship a secret. "People were taking our pictures in the nightclubs. We went together to restaurants.... He didn't" try to hide the relationship.
Vieira asked Jungers if she has ever worked as an escort, relating allegations from a prominent madam. Jungers flatly rejected the claim: "I've never even heard the woman's name. I've never been an escort and never will be an escort."
Jungers ended the relationship when she was in need of money and finally asked Woods if he could assist her. When Woods declined, Jungers said, "That shows to me how much I mean to you." Asked whether Woods got what he deserves, Jungers declined to answer: "I don't want to be the one to say that. I don't want to be the one to judge."
Related
Popular in the Community