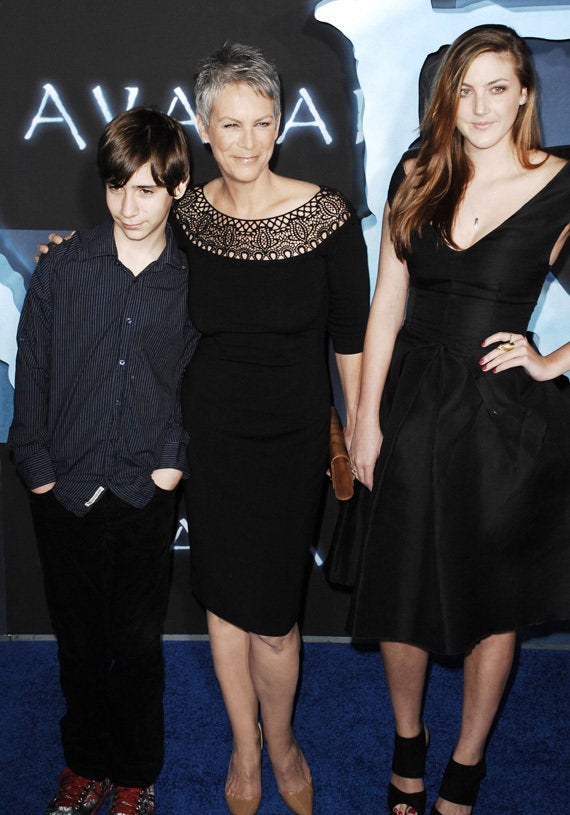 Around this time of year, it's hard not to reflect upon Jamie Lee Curtis -- the actress, activist, children's-book author and HuffPost blogger whose performance in John Carpenter's original Halloween made getting scared personal (and suburban), simultaneously launching her storied career. She's come a long way from fending off unstoppable slasher Michael Myers three decades ago (and then, when the genre returned to trendiness, cleverly fending him off again). From Trading Places and Perfect to Forever Young and Fierce Creatures, it's not unreasonable to dub her an icon of '80s and '90s hipness, a quality which she's craftily transformed into maternal roles in more recent movies like Freaky Friday, Beverly Hills Chihuahua and You Again.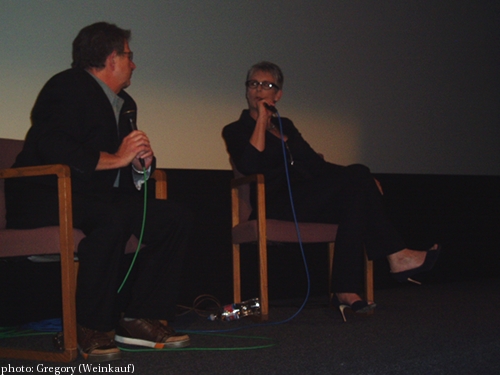 Lee Cohen interviews Jamie Lee Curtis.
Elegant, astute and ticklishly real, Ms. Curtis (a.k.a. Lady Haden-Guest) recently spent a long, fun October day amongst friends and fans in Santa Monica, discussing a few of her finest films at the Aero theatre and signing her children's books at the grand opening of the new gallery location of Every Picture Tells a Story. I attend a lot of events, and yet I never use this phrase: It was a blast.
The day began with an afternoon screening of Mark Waters' madcap remake of Freaky Friday, starring Curtis and some feisty girl called Lindsay Lohan -- after which Curtis entertained the crowd, including lots of children, with reflections on making the movie -- including especially the useful life-lesson that acting "is just make-believe." Regarding Lohan, Curtis happily revealed, "I did love working with her -- I love her very much." She then cracked everybody up when asked about her onscreen collision with Lohan:
"It hurt a lot! And that's why God invented stuntwomen -- and those women it hurt a lot. And then when Lindsay and I did it, it hurt a lot. You know, guys, you see professional athletes do it all day long, that thing when you jump up in the air and you throw your chests forward and, chest-bump? It hurts when you're a woman. Again -- children in the audience -- but there's a reason why it would hurt a lot more for women to do it than men. And Lindsay and I -- it hurt, if you know what I mean."
The robust Lady Curtis remained stalwart and direct when asked about her feelings for her recently-departed father, Tony Curtis: "The truth of the matter is I never really knew him... that being said, I loved him and appreciated very much his great work, and I think he appreciated mine." She offered fond reflections of swimming with him and her sister, actress Kelly Curtis, off Sardinia, as well as:
"I remember he came to the True Lies premiere, and I remember sitting next to him when I did the dance -- in the movie True Lies, which none of you children have seen, or will! -- and there's a moment in the dance that's very funny, and I remember he laughed, how thrilled he was. I remember that very well."
Hilarity ensued when Curtis was asked about her children's-book career, at which point she admitted it was never a goal. Ever the entertainer, she rose up and delighted the crowd by acting out the following scene: "My daugher was four years old, and I was sitting at my desk, and she walked into my office, and she went like this: 'WHEN I WAS LITTLE, I WORE A DIAPER, NOW I USE THE POTTY!' -- and she walked out of the room." Gesturing to host Lee Cohen, "And the look on my face was the look on your face. It was like, what just happened? And I sat down at my desk -- I took my pencil and I wrote down on a piece of paper: When I Was Little: A Four-Year-Old's Memoir of Her Youth. Which made me laugh out loud. And then I wrote a list of those accomplishments. And at the end of the list of accomplishments I wrote three things that made me cry, so at the end of this list I had tears cascading down my face. And I went, oh, I think this is a book. And that's how I wrote my first book. I never thought about it one second before it occurred... and so in my life, every single good thing that's ever happened to me has popped into my life, like: Boom."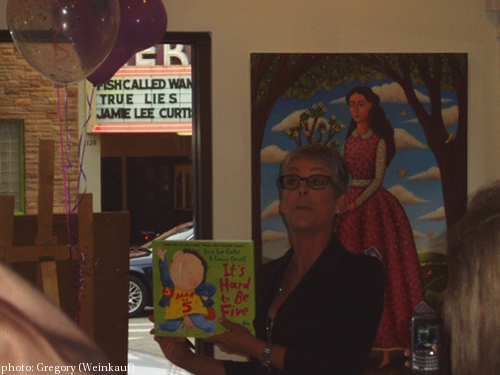 Curtis-palooza!
On that excellent note, Curtis adjourned to Every Picture to sign her several books, including her new My Mommy Hung the Moon: A Love Story. Surrounded by revelers as well as imagery and books ranging from Snoopy to superheroes (and, this being October, a "Halloween Tree" as well as a portrait of Ray Bradbury gazing down from the wall), Curtis tirelessly held court. She not only led a chorus of "Happy Birthday" for a five-year-old fan, but did it twice, since his guardian's camera konked on the first take. That's class.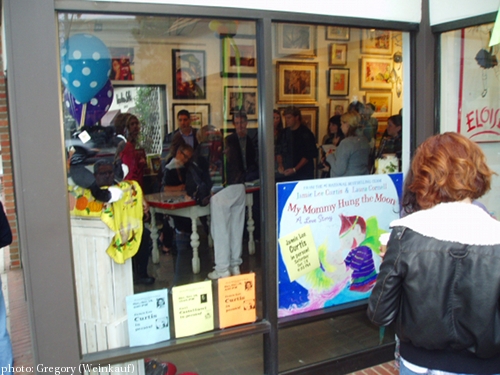 Arty party at the new Every Picture Tells a Story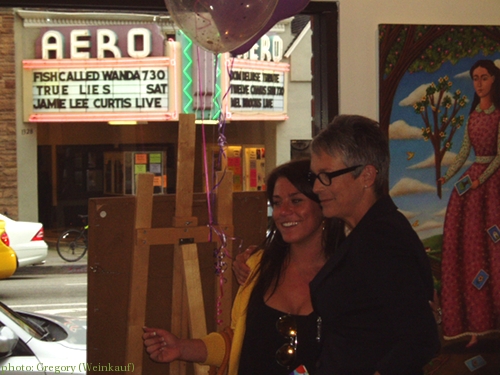 Curtis poses with an admirer.
Yet another crowd then filled the Aero for the double-feature of A Fish Called Wanda (so funny, so weird, so wonderful) and True Lies (which I'd never seen before: Cameron is best when he simply amplifies a familiar genre; Arnie was born for ultraviolent clowning). Between, Curtis blazed through another, more raucous Q&A, hosted by actress Lee Garlington (notably of two Psycho sequels, as Curtis' mother Janet Leigh starred in the first).
Her charm and wit somehow quadrupling as the day wore on, Curtis immediately and faux-conclusively joked, "Good! Thanks for having me!" at the notion of being Hollywood royalty -- then settled in, sighed, and clarified matters: "Look, I'm fifty-two years old, I've spent my life defending myself, if you will. I've spent a long time trying to own my own life, even though everyone would say that I have the life I have because of my parents. And the truth is: I have the life I have because of my parents. And: I made my own life."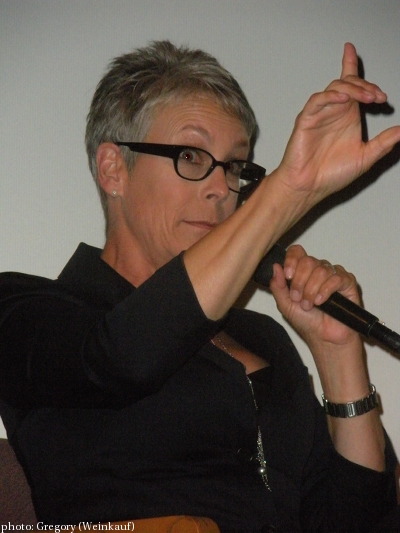 Jamie Lee makes a point.
She mused at how Halloween led to John Landis led to Trading Places led to an English friend telling her a Python was after her: "I of course thought he meant he was looking for my husband (Christopher Guest), who is brilliant and funny. And he said, 'No, he's looking for you.' And I was like, 'Okay... right.' And John Cleese took me out to lunch on Sunset Boulevard, and said, 'I'm gonna write a movie for you, Kevin Kline, Michael Palin and myself. It's gonna be really fun, it's gonna be really funny, and it's gonna be really successful, would you like to do it?'" Curtis then scanned the audience: "There are no kids here, right? That shit happens to me every day!" (Guffaws ensued.)
With such a rich career, there was much to discuss, but my fave part was when Curtis absolutely lost it to prolonged fits of giggles when recounting her work with Donald Sutherland on the "just dreadful" trainwreck of a sci-fi thriller, Virus -- which this pro critic would like to rave up as "ASTOUNDINGLY TERRIBLE!" Oh, those laughs felt good.
The exuberant star's personal and professional philosophy led her right back to her work on Halloween:
"For me, I just show up and do what I do. And for me it has to be real -- anything I do, I don't care what it is. On Halloween, I can remember, John Carpenter's first and only real direction to me was, 'I want people to believe this is a real person.' All I care about is trying to make anything real -- and then because I'm brave I'll try anything."
It was an awesome day. I close this piece as Jamie Lee Curtis closed the evening: "Peace and love." And Happy Halloween!