Curtis was adamant the climate isn't a political issue.
"I'm not proselytizing," said Curtis. "I don't care what side you're on. It's happening, and there are things we can do to ameliorate it and to try to stem the tide, excuse the pun."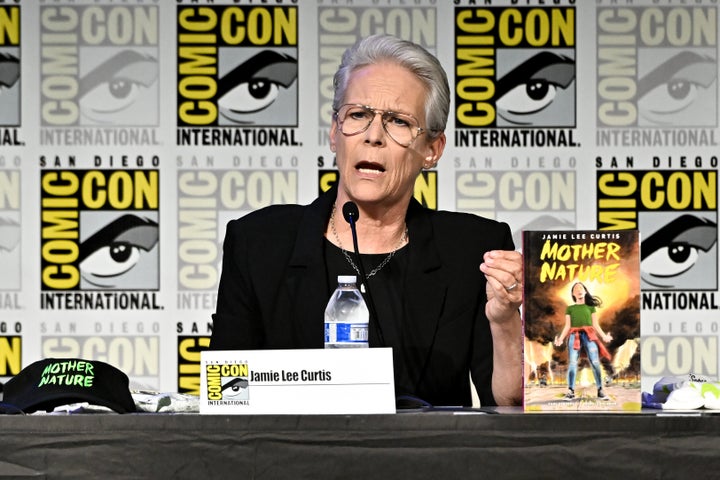 Her graphic novel, "Mother Nature," co-written by Russell Goldman and illustrated by Karl Stevens, centers on a young activist who is desperate to avenge her father's death and believes an unscrupulous oil company is to blame. The woman eventually stumbles upon an experimental new extraction project that unleashes untold horrors.
At the panel, Curtis emphasized the immediate relevance of the novel's themes.
"Shit is happening, and so it feels absolutely on point right now," she said.
"It's happening today!" Curtis told the crowd, per THR. "We are the hottest we've ever been in this country this week. I mean, talk about good timing. Seriously, we couldn't be talking about something more important."
Curtis initially pitched the idea for the novel to her husband, filmmaker Christopher Guest, as a potential movie, but he suggested a more literary approach. Curtis, who is already a bestselling author of numerous children's books, ultimately settled on graphic novel form.
"We may well make this into a movie at some point," said Curtis, per EW. "That would be fun. Maybe I'll direct it, maybe I'll co-direct it, maybe I'll be in it, and maybe I'll do all of it. You know, I'm 65 years old this November, but my point is that I have no time to waste."
"I joke about it, but I'm going to die way sooner than later, and therefore, I have shit to do!" Curtis continued. "This is one of the things that I needed to do, and I'm excited about it."
"Mother Nature" hits shelves Aug. 8.
Support HuffPost
The Stakes Have Never Been Higher
Popular in the Community