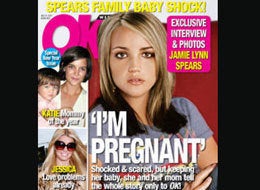 More updates and OK! excerpts throughout
Britney Spears' younger sister Jamie Lynn Spears has announced in OK! Magazine that she is pregnant. Meanwhile her mom Lynne Spears' book on Christian parenting, due in Spring 2008, has been indefinitely delayed. Us Weekly reports Jamie Lynn's father - Lynne's ex-husband Jamie - is "furious" that mother and daughter sold their story to OK! and "devastated" at the news that his youngest child is pregnant. Jamie Lynn supposedly got a $1 million back-end deal for the interview and a planned photo shoot after the baby is born.
Jamie Lynn, who is the star of Nickelodeon's hit show Zoey 101, on which she plays a schoolgirl, turned 16 on April 4 and is a high school junior. She tells OK! Magazine, on newsstands in New York and LA Wednesday and nationwide Friday, that she and (possibly ex) boyfriend Casey Aldridge are expecting a child, that she is 12 weeks along, and that she is keeping it.
She was adamant that she and Casey do not currently live together and each live with their own parents.
Meanwhile, TMZ claims she may be much further than 12 weeks, and that it could be a spring baby. She says she has overcome morning sickness, has yet to experience weird cravings and does not show. "I definitely had sickness, but it's getting better. It was at its worst a few weeks ago... I haven't really got much of an appetite right now. I mean, I eat, but I'm not going crazy or anything."
According to People, Jamie Lynn's family "adore" Casey, who "took amazing care" of her over the years. But, another glossy reports the pair are on the rocks after breaking up "numerous times". Jamie Lynn says Casey, "has always been good with babies. He's like a big teddy bear, especially around babies, so I know he'll make a good dad." (See Casey's high school yearbook photo here.)
"It was a shock for both of us, so unexpected," she tells OK!. "I was in complete and total shock and so was he."
"As soon as I found out for sure from the doctor, I took two weeks to myself where I didn't tell anybody," she says. "Only one of my friends knew because I needed to work out what I would do for myself before I let anyone's opinion affect my decision. Then I told my parents and my friends. I was scared, but I had to do what was right for me."
Spears also says, "I'm looking forward to being the best mom I can be."
She also plans to find out the sex. "I want to find out as soon as I can because I'm impatient. I just want a healthy, happy baby, so the whether it's a boy or a girl really doesn't matter."
As for Lynne Spears, Jamie Lynn and Britney's mom, she was shocked. "I didn't believe it because Jamie Lynn's always been so conscientious. She's never late for her curfew. I was in shock. I mean, this is my 16-year-old baby."
And don't ask ask if Jamie Lynn and Casey should get married. "We're not going there. We're focusing on the baby. We've got so much to focus on right now."
She found out Jamie Lynn was pregnant when she got handed a note at Thanksgiving: "She came to me and said: 'Mom, I have to tell you something. Here, it's in a note.' I was taken aback. I read the note, which of course said that she was pregnant, and ran into the living room. I said: 'I don't believe this. This is not funny!' I looked at Casey, and he was staring straight ahead. She said: 'Yes, Momma, it's true.'"
Lynne says she loves grandchildren (two grandsons from Britney), and doesn't care boy or girl: "My grandsons are so adorable! Of course, another little boy would be precious, but a little girl would be precious too. It doesn't matter so long as it's healthy -- that's what's important."
Jamie Lynn plans to raise the baby in her home state of Louisiana "so it can have a normal family life."
"I definitely don't think it's something you should do; it's better to wait," Jamie Lynn says. "But I can't be judgmental because it's a position I put myself in."
It is rumored she and Aldridge met in church and Lynn Spears says they've been dating for years. One report says the relationship started when Jamie Lynn was 13. Casey's father works in a paper mill in Tennessee. But, it is unclear if they are still together. A message on what appears to be Casey's MySpace page, updated Tuesday, lists his mood as "blah" and has the message, "ME AND JAMIE ARE OVER..... :("
Here is a picture of the couple a year and a half ago, when they were already serious. Aldridge is supposedly in college in Mississippi. In July of this year, the National Enquirer claimed the couple was pregnant, while other sites had the couple moving in together.
According to TMZ, Britney, mother of two kids herself, did not know her sister is expecting and is now frantic.
Update: A rep for Britney Spears tells E! News exclusively that the pop star has heard the news and "wishes her sister nothing but the best and asks for privacy during this time."
Nickelodeon released a statement to Extra saying:
"We respect Jamie Lynn's decision to take responsibility in this sensitive and personal situation. We know this is a very difficult time for her and her family, and our primary concern right now is for Jamie Lynn's well being."
Update: Nickelodeon is now considering a Linda Ellerbee-hosted special on teen sex and love following the news of its "Zoey" star's pregnancy.
Here is Jamie Lynn in September at a Teen Vogue event: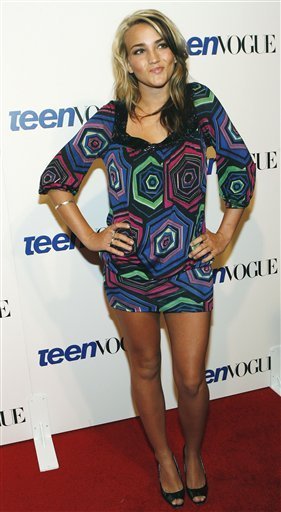 And here are Jamie Lynn and Britney at a 2002 awards show: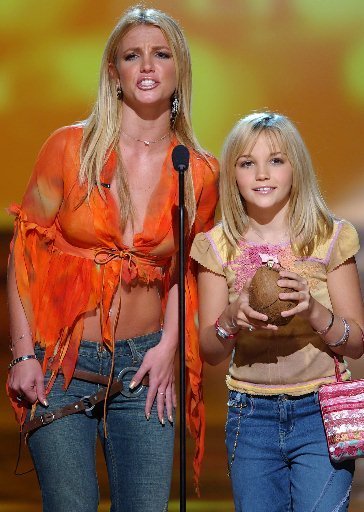 Popular in the Community