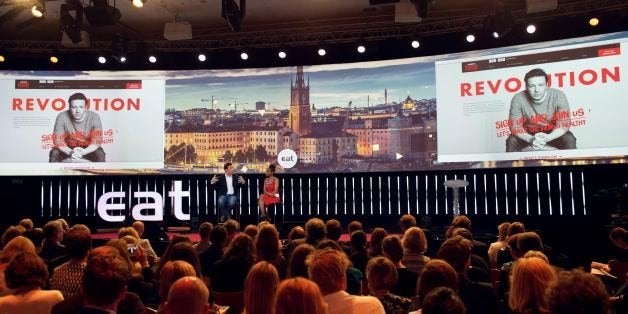 We all know the alarming statistics. Currently 41 million children under the age of five are overweight, while another 159 million are too undernourished to grow properly. This is a global problem, faced by every single country in the world. In many communities, and even homes, obesity and undernutrition live side by side.
Alarmingly, in the UK a recent report has shown that taxpayers are spending more money treating obesity-related conditions than on the police or fire service. That's insane. According to the chief of the NHS, Simon Stevens, £16 billion a year is spent on the direct medical costs of diabetes and conditions related to being overweight or obese. In comparison, the fire and police service cost £13.6 billion each year. Things need to change.
But there is some good news. The Food Revolution is well underway and we already have an army of people around the globe fighting with us. Never before has it been so easy to spread and share information, to provoke debate, to lobby governments and to harness our buying power as consumers in such a way that big business and industry have to change their practices for the better. We're facing an exciting, but scary time ahead, and the health of future generations really is in our hands.
That's why I'm so excited to have been at the EAT Stockholm Food Forum this week, and to be working alongside incredible people from the political, scientific and business communities who are involved in this terrific initiative -- together, I believe we can inspire enough positive change to fix the broken food system.
2016 has already seen some great activity. Back in April, it was announced that through the introduction of a sugary-drinks tax, Britain has now joined Mexico and France in taxing businesses when they compromise the health of our children. This will come into play in 2018. ​So you're probably thinking, what's all this fuss about. A tax? We hate tax, right? Who wants to give more money to the government? But it goes much deeper than that. This is a profoundly important moment. Yes, the tax is designed to lower consumption of sugary drinks and will redirect revenue to fund sports and breakfast clubs in schools (which is what our taxes should be spent on, right?), and it will turbo-charge sugary-drink reformulation in the industry, all of which is really important for public health. But, what's really symbolic is that it signals the government finally saying enough is enough.
Now, we all know that a tax on sugary drinks alone can't solve this crisis we face. Of course, to create a healthier, happier world, we need to consider many other factors, but it does prove that governments can take intelligent and brave action. Next up here in the UK will be the long-awaited Childhood Obesity Strategy, which we hope will be just as bold and will tackle marketing, labelling, food education and reformulation. That's what Prime Minister David Cameron is set to announce in the summer. We'll be watching closely.
This year we've also had our 5th annual day of global action. Food Revolution Day took place on 20 May and saw positive activity happening all around the world. We hosted the longest-ever Facebook Live campaign, reaching an incredible 115,296,411 million people, and were joined by a host of famous faces and world-renowned chefs from Brazil to Kenya and Australia to Tanzania. Read all about it here.
We also relaunched the campaign, to make it so much more than just one day. At the heart of this is our new Food Revolution hub. Here we'll shout about both the beauty of cooking and the ugly truths of the food industry. We want to strike a balance between celebrating the incredible artisans, activists and communities who are already out there making a real, positive difference, and bring to light the food issues that urgently need to change to allow us to create a better, healthier, happier world.
In May I also headed to the World Health Assembly in Geneva where, alongside meetings with Health Ministers from around the world, I joined a special panel discussion with the head of the World Health Organisation, Margaret Chan, and several other eminent figures. The focus of that discussion was the double burden of childhood obesity and undernourishment and, incredibly, the event saw countries including Canada, Finland, Kenya, Namibia, the USA and the UK all make SMART commitments toward tackling the global crisis of child malnutrition, placing their flags on the Food Revolution map. What we need now is for every country to join the revolution.
However, it's not just about government. Businesses also have a key role to play. Last week I ran a poll on my Twitter asking everyone who they thought was responsible for the obesity epidemic -- government or business? Of course, it's not that simple and it's not about blame, and there are loads of other factors at play, but interestingly the results showed that 77% of people believe that big businesses are more to blame than governments.
I'm a businessman, and I feel an incredible responsibility both for the people I employ, and for the impact my business has on the world. We need to get to a point where big businesses feel empowered to act and become part of the solution, rather than the problem. And we really need to stop marketing junk food to our kids -- this is a massive sticking point in the UK and something I hope Mr Cameron will be decisive about in his Strategy.
The Global Nutrition Report is published tomorrow and reinforces these issues: worldwide, millions of kids are eating too much of the wrong food, while millions more aren't getting enough of the good stuff to let them grow and thrive. The report will show clearly that 44% of countries have a serious problem of both underweight and obesity.' Access to good, nutritious food is not simply a matter of personal choice -- it's a matter of government and business responsibility. It's time for our world leaders to step up and make bold, brave decisions to tackle all forms of malnutrition.
And every one of you guys reading this blog also has the power to make a difference. Please sign up now and join the revolution. Doing so will give you up-to-date access to all the food news you need to know about, and we'll keep it fun with inspiration, too. We want you to comment, to interact, to share information, and ultimately, to help us shape where this food revolution is headed. Every child deserves access to good, healthy food -- that's a basic human right. Let's act now, let's make that a reality, and let's begin a legacy we can all be proud of.
This blog post is part of a series produced by The Huffington Post and the EAT Foundation, in conjunction with the latter's inaugural EAT Stockholm Food Forum (Stockholm, June 13-14, 2016). The third EAT Stockholm Food brings together some of the world's brightest people in the fields of science, politics, business and civil society to shift food systems toward greater sustainability, health, security, and equity within the boundaries of our planet. To read all of the posts in the series, visit here. For more information about EAT Stockholm Food Forum, read here.
Calling all HuffPost superfans!
Sign up for membership to become a founding member and help shape HuffPost's next chapter