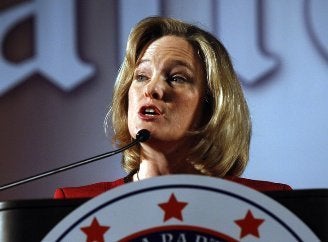 Jamie Radtke, the leader of the Virginia Tea Party Patriots who recently announced she will run for U.S. Senate in the state's 2012 match-up, delivered a blow to the Republican party when she spoke at the first Senate Tea Party Caucus meeting, according to the National Journal.
"The Tea Party movement would not exist today if the Republicans had not failed under the Bush years," she said, adding that if elected in the next election cycle she would join the political affinity group recently established by Sen. Rand Paul (R-Ky.).
The Wall Street Journal reported last month:
In an interview, Ms. Radtke said she decided to run after watching Congress pass legislation during this month's lame duck session, including a package of tax cuts, that added to the national debt.

"It has become clear that many in Congress still don't get it," she said. "The tax bill did nothing to cut the huge debt burden on all of us."
Also vying on the Republican side for the seat currently held by Democratic Senator Jim Webb, who has not yet confirmed he will seek reelection, is former U.S. Sen. George Allen. The AP recently reported:
The Republican former governor who lost his Senate seat in a 2006 campaign riddled with embarrassments said in an Associated Press interview he will run a more disciplined campaign focused on issues straight out of the tea party playbook.
Allen announced his candidacy earlier this month in a video e-mailed to supporters.
His 2-minute, 45-second video, sent to supporters and around noon Monday, champions sharp cuts in federal spending, an end to Democratic health reforms and a domestic energy policy more dependent on coal.

He also promised support for constitutional amendments that would allow states to veto federal laws, give the president line-item veto authority and require balanced federal budgets.
According to the National Journal, Radtke signaled that she believes she has the conservative cred to defeat Allen in Virginia's GOP primary.
"I'm strongly pro-life and I'm strongly pro-family and pro-marriage and that will not change on the campaign [trail]," she explained. "George Allen has some explaining to do on his pro-life position."
Calling all HuffPost superfans!
Sign up for membership to become a founding member and help shape HuffPost's next chapter