We first met Jamie Shupak, a reporter for New York's local TV news channel NY1, at a crafting event. "You have to see Jamie's house, it's amazing," said P.S. I Made This founder Erica Domesek, "It's all DIY." We have to admit, we were a bit skeptical about how crafty this high-heel-wearing traffic reporter really was. But we took Domesek's word for it and ventured to the West Village in New York City to check out the home she shares with her boyfriend, New York Times media reporter Brian Stelter.
As we walked through the amazing lobby, which had all those great old New York City details (deep jewel-toned colors, classic traditional furniture and flattering lighting) we wondered if the home would retain the same appeal. When we finally reached her sixth floor apartment, we were greeted by a smiling Shupak and a whole lot of DIY -- seriously. From small projects like the chalkboard paint wall in the dining room to an Ikea mirror she whitewashed one weekend, it's obvious this reporter loves to create. "I like things that feel really old," she told us. "And if it's new, I like to make it look old."
We were most impressed with how Shupak goes about putting together a space she considers "bohemian." First of all, she gets her motivation from her sheer hatred, yes hatred, of decor that looks mass-produced. For example, she couldn't find anything unique when looking for shelving, so she went down to a lumber yard and collected slabs of plain white plywood, which she then stained and polished herself. "When you go into any store, every shelf looks the same," she said. "Even when it [looks] funky, it's really not."
Shupak also can't stand spending an excessive amount of money on something that she can make herself, like lamps. When she came across lighting made from plumbing material she loved from ABC Carpet & Home, she inquired about the price -- a shocking $12,000. Shupak wasn't about to drop that sort of dough, so she took a picture of the lamp and showed it to an employee at her local hardware store -- and together they created an almost identical product for a mere $73.
With her passion for the unique comes her undying love for her local flea market, the Brooklyn Flea. There, Shupak plays hardball with the sellers to get the best price on items. "I'm not scared to sort of Google things to try and get an idea of what something would cost," she said. Of course, there are some things, like her desk table which originally belonged to a medical institution, that Shupak just has to go with her gut. "If it's a one-off thing and you love it, get it," she said. "You won't regret it."
Shupak also has a knack for incorporating personal items from her grandparents' and parents' homes. From candlesticks on her table to a vase filled with matchbooks, Shupak is a firm believer in showing off anything that's interesting in her home. "My mom keeps so much [of my grandparents'] stuff in boxes, which is fine... but I want to put it out," she said. "The stuff individually is all so cool looking."
It also doesn't hurt that Shupak pretty much has free rein over the decorative decisions. When the couple first moved in to the space right after Labor Day, the few items Stelter kept with him included his televisions, computer chair and the dining room table. But even the table was turned into a project when Shupak decided to buy new legs and install them herself. "He is so, so trusting," Shupak gushes.
Though Shupak still has a desire to be creative while most of their home is complete, the two are now focusing on hosting fabulous dinner parties -- and finding the perfect living room table like the one found in Solange Knowles' Brooklyn home. But hey, who doesn't want that table?
To see all the fabulous DIY projects in Jamie and Brian's home, click through our slideshow below.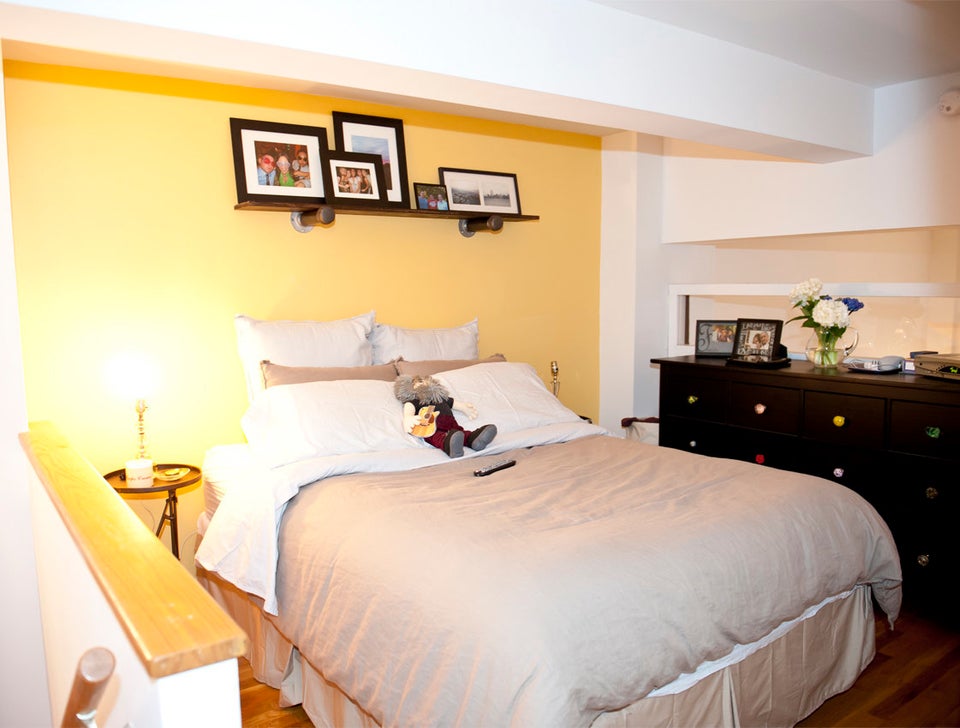 House Tour
Do you have a home story idea or tip? Email us at homesubmissions@huffingtonpost.com. (PR pitches sent to this address will be ignored.)
Related