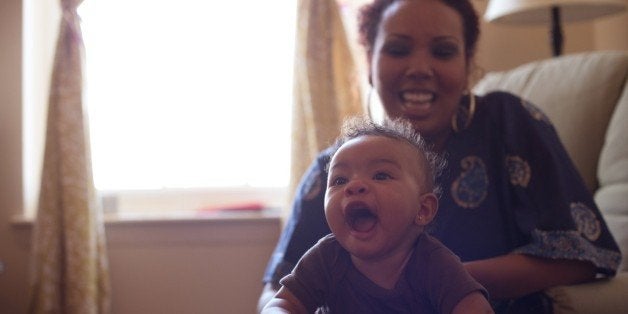 As one of the Internet's fiercest and most-heard voices on today's cultural issues, Jamilah Lemieux has made fans and detractors alike thanks to her no-holds barred insights on racism, gender, and class as Ebony.com's digital news and lifestyle editor. Her 19,000+ Twitter followers can read her thoughts on everything from New Jack Swing to Stop And Frisk. But there's one subject the writer has been considerably mum on: the story behind her path to motherhood.
"I had an informal list of things I wanted to accomplish before becoming a mother," Lemieux explains now. "I really wanted to purge myself of all my selfishness, travel the world and be married. [But] that's just not how things worked out."
Last year Lemieux found out she was pregnant by her boyfriend of two years in the middle of a stormy breakup.
"At the time I was incredibly in love with this person who was no longer in love with me," she says. "There was a lot of shame because I was going into single motherhood -- it wasn't that I was in a relationship that ended during the pregnancy, or right after the pregnancy, or two years later."
After much reflection Lemieux ultimately decided to have the baby despite her concerns. She co-parents her daughter, Naima Freedom Lemieux-Giles, with her ex who has since gotten married, and remains a strong daily presence in their daughter's life. "We're both committed to raising a strong and healthy girl," Lemieux says. "I'm very happy that she has a great relationship with her dad. I may hate the man, but I don't hate the dad."
Despite the dramatic circumstances around her conception, Naima's squeals and obvious love of life -- along with the added purpose she has brought her mother -- only prove to confirm what Lemieux believes was the right decision.
"This child in this moment is supposed to be here," Lemieux says. "I'm lucky that for the situation that we have, I got the child that I needed."
What were your thoughts on single motherhood before you became a mother?
I always thought being a single mother was the absolute last thing in the world that I would ever, ever, ever want to be. Ultimately I chose to do it, but I'm co-parenting with somebody who got engaged to another woman that he started dating the week we conceived, got engaged to when I was five months pregnant, and married when we had a 2 month old. I am not OK with the situation, but if I have to sacrifice my personal comfort for the sake of my child and her relationship with her father, then that's something I will do gladly.
Being a single parent, in a lot of ways, requires a level of self-sacrifice that I did not want to make. I see a lot of women who I feel had to live for their children and sacrifice everything, and it just seemed that there's nothing left for them. I have a mother who pretty much gave up her life in a lot of ways -- her pursuits and some of the things she wanted to do personally and professionally -- to just become a mom. That's not to say that's not enough and it can't be fulfilling, but it's not what I want for myself and it's not the sort of relationship I want to have with my daughter. I think that she'll be happy that we'll get to experience a lot of cool things together -- and if I do have other children in the future the same goes for them -- because I haven't put the brakes on everything that makes me me just to be a mom.
I [think] that as much as this child deserves to be loved and nurtured and all the things that I'm giving her, I would like someone to give to me. I still believe that I shall have those things in time. I'm a good-looking woman, I have a beautiful child, I have a career, I'm independent... that ain't for everybody. There are plenty of guys out there who have no interest in dating a woman with children and that's fine, but there are those who would and I do feel that partnership and love will come to me in some form or fashion. It might not be in the way I'd imagined it, but it's not something that I'm not invested in anymore.
Calling all HuffPost superfans!
Sign up for membership to become a founding member and help shape HuffPost's next chapter
BEFORE YOU GO
PHOTO GALLERY
Mater Mea Moms