In the since-deleted post, multiple pictures of a woman with superficial injuries were spliced together with a caption that appeared to be written from the point of view of a woman in an abusive relationship with Crowder.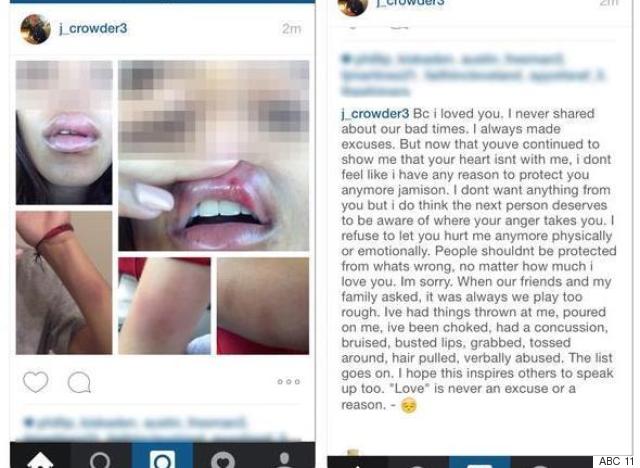 Posted on Wednesday night, Crowder's own Instagram accuses him of domestic violence. (Source: ABC 11)
The caption accuses of Crowder of inflicting physical and emotional abuse:
Bc I loved you, I never shared about our bad times. I always made excuses. But now that you've continued to show me that your heart isn't with me, i don't feel like I have any reason to protect you anymore Jamison. I don't want anything from you but I do think the next person deserves to be aware of where your anger takes you. I refuse to let you hurt me anymore physically or emotionally. People shouldn't be protects from what's wrong. No matter how much I love you. I'm sorry. When our friends and my family asked, it was always we play too rough. Ive had things thrown at me, poured on me, I've been choked, had a concussion, bruised, busted lips, grabbed, tossed around, hair pulled, verbally abused. The list goes on. I hope this inspired others to speak up too. "Love" is never an excuse or reason.

On Thursday, Crowder's agent denied the allegations to ESPN, claiming that he was hacked.
Crowder, a rookie fourth-round pick from Duke, has yet to respond to the accusation.
In a statement given to ABC 11, the Redskins confirmed knowledge of the Instagram post, citing it as an "off-field situation."
"We have been in touch with the NFL office and will continue to follow proper League protocol and assist them in any way we can to gather all of the facts. We will not be making any further comment at this time."
REAL LIFE. REAL NEWS. REAL VOICES.
Help us tell more of the stories that matter from voices that too often remain unheard.