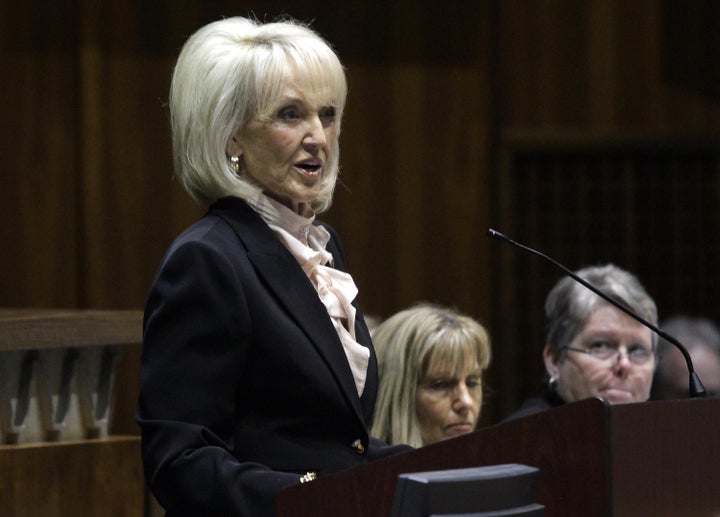 Arizona Gov. Jan Brewer (R) is standing by her state's firearms laws following an undercover investigation that showed just how easy it was to purchase guns there.
"We believe our laws are fair and just in the state of Arizona,'' Brewer said Monday, according to the Arizona Daily Sun. Her comment followed the dissemination of a video exposé contracted by New York City Mayor Michael Bloomberg that showed investigators purchasing firearms unimpeded at a gun show without first submitting to a background check.
HuffPost's Elise Foley reported Monday on the examination:
The investigators also purchased a Glock 9mm -- similar to the gun alleged Tucson shooter Jared Loughner used -- without a background check from a private seller at the gun show, which is legal under a loophole in federal firearms laws. Although federally-licensed gun-dealers are required to make background checks before selling guns, private and supposedly "occasional" dealers are not required to conduct such checks.
Bloomberg on Monday used this evidence as a launching pad to argue for a renewed legislative push by Congress to enact stricter national gun-control laws.
According to the Daily Sun, Brewer admitted later that she had not seen the videos, nor listened to Bloomberg's response to the findings. Instead, she maintained her absolute support for Second Amendment rights and suggested that firearms laws are "something that the Legislature and I decide," not independent monitors sent by the mayor of New York City.
The Daily Sun reports that Brewer also opened the door to further loosening gun-law restrictions, already some of the nation's most lenient:
Last year Brewer signed legislation making Arizona only the third state in the nation to let anyone carry a concealed weapon without a state permit, training and a background check. But Brewer said Monday she remains open to further liberalizing of the state's gun laws.
Popular in the Community